Kodak MD853 Digital Camera (Review)
by Tim Robinson
Why a camera review in a Linux magazine? Because Linux has arrived at the desktop. It is not necessary any longer to switch over to some other operating system in order to use specialized multimedia devices such as digital cameras. As you will see below, in PCLinuxOS, digital cameras "just work."
Many years ago, I fell in love with photography. I was young, in the U.S. Army, and there was this photo shop where I could process film (black & white), and make all the enlargements I wanted to at no cost. Wow!
Money was tight then, and my first camera wasn't much, just a simple range finder 35mm. Later, as I became more capable and became more entranced with the picture making process, I earned enough taking portraits of GIs for them to send home to their girls, that I wound up with a couple of quality cameras - a Contarex (Zeiss' best ever), and a Leica M-3.
When I came home and began to raise a family, the hobby waned, especially as I had to then pay for all those chemicals, paper, enlargers, etc. Later, after I became single again, I set up a darkroom in my closet and began taking pictures again. Then the digital revolution began. I still have my Contarex, though the Leica was traded to another GI for a lens for the Contarex. After 45 years, it still works perfectly, shutter speeds are still dead on and now it's a collectible. But in the interim, I got older too.
I developed cataracts as a side effect of long term diabetes, and neuropathy in hands and feet that makes holding anything steady a serious challenge. Money always in short supply, I first invested in an Aiptek Pencam with 16MB of dynamic RAM. It had auto exposure and took "high resolution (640x480) pictures - a maximum of eight before I had to empty it out.
About two years ago, I purchased on clearance an Aiptek 1.3 Mega that offered native 1280x1024 resolution and was happy for a while. Same concept, dynamic RAM and limited quantities of that. It could hold about 40 pictures, but if I bumped the camera inadvertently, the battery could lose contact, the RAM emptied, and all the pictures I had not downloaded were lost. Of course, battery life was also a problem. When I came home from a picture taking day, I had to immediately download the pictures to my computer and then remove the batteries, as the batteries would only last about two weeks, keeping the RAM active.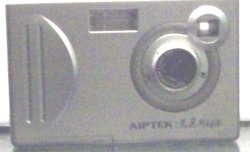 Speaking of downloading, that was painful. It took approximately 30 minutes for PCLOS via Digicam to download 20 pictures! Never figured out why, I just figured that was the way of it. And of course, even though the images looked good on my screen, I knew in my heart that the resolution simply wasn't good enough to satisfy me even for small prints, let alone anything as large as 8x10.
Yesterday, all that changed. I found the Kodak MD 853 on sale at a local superstore at a very good price and invested in it. I also purchased a 1GB SD memory chip and a USB stick housing for it. I think digital photography has finally arrived for me. Here are the basic specs for the camera:
Ultra Compact Digital Camera Compatible with Secure Digital Memory Card, MultiMediaCard (M), Secure Digital High Capacity Card
Includes Battery Charger (via USB cable)
8.2MP
2.5" LCD Screen Features Indoor/Outdoor Display for Sharper Images, Image Rotate
3x Optical Zoom for Snapshots and Vacation Photos; 5x Digital Zoom for Minor Cropping
Shooting Modes: Easy Mode, LCD Gridlines, Image Stabilization, Continuous Shooting (Burst), Infinity; 16MB Internal Memory Storage Capacity
It's a nice looking unit, with well thought out control layout. I was bit overwhelmed by the number of functions, but after reading through the short manual provided, they all made sense, and I knew enough to begin using the camera.
The first thing that impressed me was the auto-focus capability. For many years, I've had trouble focusing my cameras, since my eyes no longer adjust for distance (the cataract surgery implanted two plastic lenses in my eyes), and my glasses aren't custom focused for my film cameras, that's a real problem. The camera auto focuses as you move it, watching the image on the view screen on the rear. When ready to take a picture, one presses the shutter button halfway and that causes the auto focus and exposure to "lock". Further depressing the button takes the picture.
An aside here: when looking at cameras, I noted that some had excessively long shutter delays - one was published as 1.3 seconds! That completely eliminates using such a camera for anything requiring a quick shutter finger. The MD853 has almost no delay when the shutter button is depressed, though I was unable to find the exact delay on the Kodak site.
Then I found the image stabilization feature. Wow! Somehow, the software in the camera can overcome my instability and produce sharp, unblurred images. I have no concept how that is done, but I have to say it works as advertised. Every image is clear, something I could no longer be sure of with my film cameras. Most of my film images, when converted either to final prints or computer images, look like they were taken with cheap, throwaway cameras, by amateurs who don't know you have to hold still while taking a picture. I had become very discouraged over the past few years.
Today, I took my little dog and went to the mountains near Denver to shoot pictures. I experimented with the 3x optical and (total) 5x zoom via software. My feeling? Stick with only the optical zoom. Once software begins interpolating pixels for non-multiple zoom ratios, image quality degrades slightly. For small prints, the degradation wouldn't be noticeable. For enlargements of 8x10 or greater, it would.
The camera has a number of color shooting modes, which must be selected when turned on. So far I haven't found how to change the default. They are: Normal Color, Low Color, High Color, Black & White, and Sepia. The three color modes are exactly what they indicate - they determine the saturation of the color in the image. I found "Normal Color" to be quite acceptable for most shooting. The High Color setting gives images a slightly Kodachrome look a la National Geographic Magazine. Brilliant colors, but a bit over the top for my taste. YMMV. The Low Color setting yielded results similar to those I had achieved with my previous, Aiptek, cameras - not bad, just not brilliant.
The Black & White setting is nice to have for those images that look better that way, but it lacks the "snap" that one can attain with old fashioned B&W film. The Sepia setting was disappointing; the color and saturation are a bit too red and intense, lacking the subtle tones available in a conventional B&W image that has been toned in Sepia.
Of course, I had to try out the video recording capability. I hand held the camera, set the zoom to 3x, the optical zoom maximum, and recorded 15 seconds of a television program, directly off-screen. The results were surprising. Either the image stabilization feature works on the video setting, or I was steadier than I thought I was. The image records at 640x480 resolution. Sound was OK, but nothing to rave about. If I went to a party, I could use my camera to record the boss making a fool of himself and maybe get that raise I need.
This camera has an 8.2 megapixel sensor. Internally, the images are sensed and recorded at 3296 x 2472 pixel resolution. See screenshot below:
This results in a typical file size of 1 to 1.2MB. Since I have a 1GB SD card, that translates into about 750 pictures before having to download from the camera. Whew! How long a trip would that take? Why only about 750 pictures? There is some overhead involved in the file system on the SD card and the camera's own database. When empty, the 1GB SD card has about 970MB available for use.
OK, I guess it's time for some pictures to show off my new toy. Of necessity, the images in the PCLOS Magazine, whether PDF version, or the online html version, must be cut back to lower resolutions that what I got. I hope the staff can set a couple of these on their server at full resolution for you to check out. The level of detail is amazing. Kodak claims this image size can be blown up to 30 x 20 inches. That would result in a "dot spacing" of about 100 dots per inch, about what most magazines use when producing offset images.
Herewith a couple of my best from today:
Note: Click each picture for the original 1mb high resolution photo.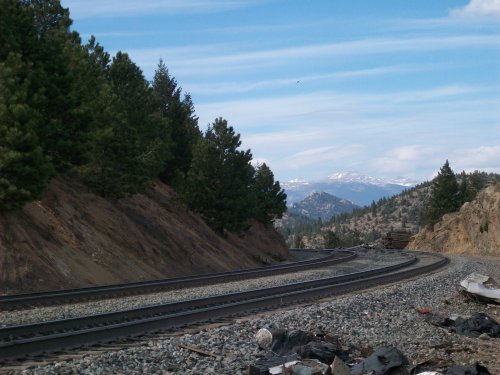 (Note the bird in the image above.)
I mentioned my miserable experience downloading pictures from my previous digital camera. That problem does not exist now. the 38 pictures I took today loaded from the MD853 in about 30 seconds, though I didn't time it. I also took the SD chip out of the camera and tried it in the USB carrier. PCLOS instantly mounted the stick and opened it for me to look at. Access time is just a hair slower than directly from hard drive, but not by much. This means I can completely skip the use of DigiKam if I wish. DigiKam is a fine program that organizes and manages the access to pictures taken with a digital camera, but in some respects, it holds my hand a bit more than I like. It insists on organizing things into directories it manages and tracks with its own database. If I make a change to anything in those directories outside of DigiKam, it complains. Other than that, though, DigiKam works perfectly, recognizes my camera and downloads quickly.
In conclusion, I have little to say that is not going to involve superlatives, except... Doggone it, twice today, I forgot what I was doing and tried to look through the (nonexistent) viewfinder. In my opinion, since everything is handled so well by the software and overall quality of the camera, some of us old timers would find it a little easier to use if it had a simple framing viewfinder in addition to the nice viewscreen on the back.
Psssstt! This would make a VERY nice Christmas gift for someone special.