Miro, Miro on the wall
Gary L. Ratliff Sr.
This is from Snow White as we learned as children. "Mirror, Mirror, on the wall who's the greatest of them all. The purpose of this article is to introduce you to the video player: Miro.
I ran across this in an issue of Linux Magazine I had just purchased while working on the article for REALbasic. This stated that it could play virtually any of the many video formats currently in use.
As it is nearly impossible to obtain a PC without having Windows pre-installed on it, I will make the assumption that you have viewed videos in some of the formats currently used in this and also in some of the viewers in use on Linux, and specifically PCLinuxOS.
There is Windows Media Player and the wmv format, Real Player and the rm format, Quicktime and the mov format. (As a funny aside in an earlier experience in obtaining software it seems that Windows kept trying to play my rpm file downloads in Real Player.)
In Linux there is the Totem movie player, Kaffeine, Xine, Gstreamer, mplayer, kmplayer, and the VLC player to name just a few. I am not familiar with the Apple viewers, my only experience was using an emulator on my Atari computer which let me run software for a very early version of the MAC. However, if you have used a MAC you know that it too is very capable of playing video files. Then of course there is the Flash player and the Shockwave player from Abode and the formats used on You Tube and Google Video.
So wouldn't it be great to be able to use one video player regardless of whether you were running: Windows, MAC, or Linux? That is just what the Miro player promises and delivers.
How to obtain Miro
Shortly after reading the article in LM, I checked the Synaptic package manager to see if PCLinuxOS had a version of Miro available. And there it was. Previously we have shown how to use apt-get install to be a command line method for installing software. However, here we only recommend using Synaptic. Once you click on apply you will learn that the system will want to download 18 or more libraries in addition to the Miro package itself in order to correctly install this to your system. I also checked the Fluxbox version of PCLinuxOS and learned that this wanted to install 22 packages. My first attempt to download the system failed as the system reported that some of the libraries could not be found. The way to correct this is to go to the repositories section and select a different download site. Currently the default download site is from the University of Indiana. After choosing a different site, click the Reload button to download a list of all the available software. You should now be ready to install. Click on the Apply button and shortly you will have an install of Miro. To get this program for either Windows, or MAC, simply visit:
Then download and install the version for your system.
Setting up to use Miro
On its initial run, Miro will ask if you want to have it run on startup. Then it will ask if you would like it to search your system for videos and where it should look to find your videos. As I use my MYBOOK for archiving most of my downloads I had it search there and was able to find the lessons from the REALbasic TV website and view them. Next, it will have a set of predefined channels for the new user. One of these channels is using Miro and one should download and view the instructions offered. The video on the basics of Miro will show that there were some 1508 channels available. However, at present the system will report that there are now some 3500 channels from which you may chose to download videos. The program uses bit torrent for its method of download and will thus obtain videos in short order.
Because I like old movies the iMovie channel and the Public Domain Movies were some of my first selections. However, you will find channels for every taste. Next, if you which to create a channel the system offers to search You Tube and Google Videos for videos on any subject for which you may conduct a search. Then these search results are turned into a customized channel for you. (By searching for Linux I learned that there was a video demonstrating the PCLinuxOS is the fastest Linux install of all versions of Linux. This video runs just over 2 minutes and 20 seconds and shows a live real time install of the system.)
The system will download the items as you select them. There are three settings once you select a desired channel: NEW will only download the items which arrive as NEW to the channel. ALL will download ALL the items available in the channel. And OFF will stop downloading from the selected channel. (One might be wary of selecting ALL in a channel which has many videos available as it will load up your hard drive till virtually full. If so, in order to install additional software or burn Cd's you will need to go to the channel and delete several items to free up room so you may use your system for these tasks. Once you've done this you may wish to turn that channel to OFF.)
Other features of Miro
Once you have obtained some videos you are ready to view them. You are able to select delete if you no longer want the video once viewed. If you find an item useful just select keep. Miro also lets you share a video with your friends. I sent a copy of an old movie: "Teenagers from Outer Space" to my brother in Nashville, Tennessee and also to the Editor of this magazine. Of course, as I wanted to learn how this worked, I also sent a copy to myself. Once the e-mail is opened it will contain a link. Clicking on this link will open a player. The Windows system played the movie by opening my Quicktime player. Opening the same e-mail in PCLinuxOS opened mplayer and played the movie.
Recommendation
If you enjoy watching video on your computer and would like to explore what type of videos may be available the Miro player is hard to beat. Also it is possible to contribute to the developers of this system painlessly. There is an extension for the Firefox browser for Miro. This will set it up to contribute a percentage of any purchases you make from the Amazon web site to the developers of this software. This will allow you to contribute easily and also take advantage of the savings on books which Amazon offers.
Here we see one of the default channels selected by Miro. This is useful for learning to use this player. At the time of writing this article there were ten items in this channel. Note that the items which have a green bubble have been completely downloaded and are ready to play.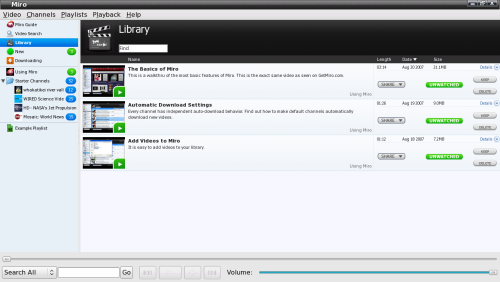 Videos which have been downloaded as well as those which were found in the initial search of your system are placed in the Library. To play the video from the Library just click on the thumbnail of the video.