Joble: In His Own Words
The magazine's series of articles profiling the folks behind the scenes, doing the work that helps make PCLinuxOS what it is, and who help keep things running smoothly, continues. This month, we get to learn more about Joble, in his own words. Joble is a moderator on the main PCLinuxOS Forum, and is one of the administrators on the PCLinuxOS Magazine's Forum. Often known for his wit and for being sometimes wacky, there is a serious side to Joble — a serious side that comes out in his autobiographical "Behind The Scenes" article.
— Paul Arnote, PCLinuxOS Magazine Chief Editor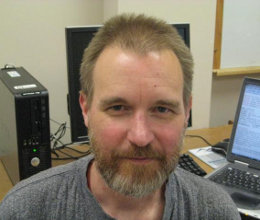 I'm not on the magazine staff, but I like to read anything and everything related to my distro of choice, PCLinuxOS. So I was very happy to be invited to help administer the new magazine forum. I am a retired USAF Security Policeman. My first experience with computers was when our electric typewriter was replace by a Z100 with no hard drive, and WordPerfect came on five floppy disks. I got pretty good at writing creative batch files and doing some basic programming in basic, to do the things I couldn't already do on the computer. I think they call those little files "Utilities". I took some classes in computer science, learned a little Pascal and C++, and soon became known as the "Computer Guru". If you need it, and it doesn't already exist, I can write a "Utility" for you, that will get it done. For a while I was almost indispensable. Those days didn't last long. I was a cop, after all.
Some years later, long after I was the "Guru", Vista came out. Here I sit with a laptop and WinXP. I read that Windows will soon stop supporting security updates for XP, which I have known for a long time are essential to safe internet browsing. My brother was using Red Hat at the time, and he could host his own web page, run his own mail server and compile source code. Well, I know it's been a long time since Basic stopped shipping with Windows. I was familiar with Open Source Software, however. I was using Firefox, OpenOffice and a free version of Apache on my XP box. The move to Linux came naturally, but finding the right distro was not so easy.
I first found a version of Puppy Linux that would run from a USB stick in Windows. I liked what Linux had to offer. I did my research and downloaded several distros from Distrowatch and burned them to CD. I tried Scientific Linux, basedon Red Hat, cause I knew I could call my brother and get help. I also tried Ubuntu, Puppy, and a few others. Now some limitations came into play, and these limitations are the reason I use PCLinuxOS today.
After searching extensively how to get online with wireless (the only way I could get online), I soon discovered I needed something called ndiswrapper, and none of the distros I had tried had it. I read all about how to use it, how to find my windows drivers, how to install it, but of course I had to download it first and I had no way to do that, until I read one day about this distro called PCLinuxOS and saw what was installed by default on the Live CD, NDISWRAPPER! Having a Live CD that would go on-line, naturally this was the first distro that ever got installed on my system, which at the time it was dual-boot. I was such a chicken, but I was learning Linux, and I began to learn as much as I could about ndiswrapper and wireless, in order to help others in the forum.
My next big challenge came when there was a serious need for packagers. I vowed to learn it and help the distro in any way I could. I'm still not a very good packager, but I did manage to get a few things into the repositories, and I'm still learning. I have made a lot of friends in the process and I love testing stuff out for them. I really enjoy testing pretty much anything, and take great pride in "breaking my install" and fixing it again, without reinstalling from a Live CD. I have done this now, many times.
My goal for the future is to learn kernel configuration, compiling and packaging, as I believe there is a need for that. Linux is to big to master, just as I specialized in wireless and continue to help where I can, I think my next step is to find something more advanced to "specialize" in.
Do one thing and do it well.
Joble