Wallpaper Sites
Have You Seen This?
There are always questions in the forum about the wallpapers that are used (everyone's screenshots are so awesome!!!!). I'm sure there are tons of sites you can visit, but these seem to come up again and again…
http://www.digitalblasphemy.com/dbhome.shtml
Digital Blasphemy has all different categories of wallpapers, from quiet to really "out­there".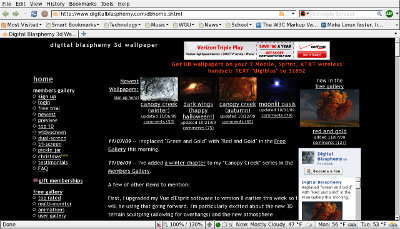 http://www.vladstudio.com/home/
VladStudio has some really different stuff.
http://www.desktopnexus.com/
Desktop Nexus has another assortment.
http://www.3datadesign.com/gallery/eng/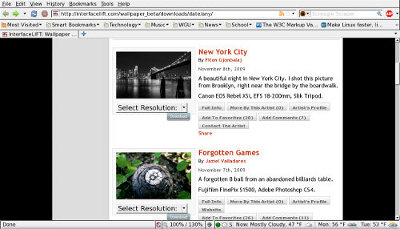 http://mashable.com/2008/03/31/13­awesome­resources­for­hdr­wallpapers/
Some of the sites in the list are already in this article.
http://linfx.com/gallery/index.php
This is the PCLinuxOS site that many of our users post their wallpapers on. There are also some logo files, Compiz skydome pics, etc. It's a great site.
http://www.crosscards.com/
This is a Christian site — but the wallpapers are very pretty. Many of them have calendars on them and some quote Bible passages.
http://www.graffitiwallpaper.com/index.php
Archie shared this one earlier and there are some nice ones there as well.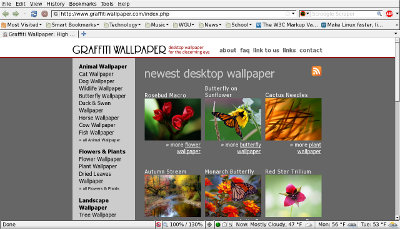 http://photography.nationalgeographic.com/photography/photo­of­the­day
National Geographic posts a "Photo of the Day" which can be downloaded… They have been doing it for several years, so they have archives which can be searched for just the right pic!
http://www.socwall.com/browse/index.php
Social Wallpaper has many free, high quality images for use as wallpaper.
http://www.picturecorrect.com/freewallpaper.htm
While not the most extensive collection of wallpaper, they have a collection of very high quality images for free use as wallpaper.
http://www.linuxwallpapers.org/linux­wallpapers.htm
LinuxWallpapers has a large collection of wallpapers, especially geared for use by users of Linux.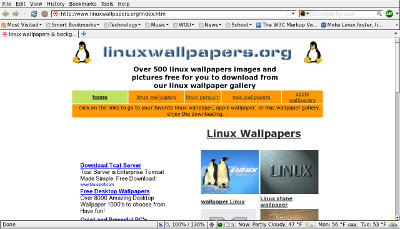 http://www.caedes.net/Zephir.cgi?lib=Caedes::Gallery&gallery=abstract
Caedes Desktop Wallpaper has a very large collection of free wallpapers for your computer. Especially nice is their collection of abstract wallpapers (linked to here). But when there, be sure to browse their entire (massive) collection.
http://www.webdesignerdepot.com/2008/11/40­wallpapers­loaded­with­color/
The Web Designer's Depot has a nice collection of original wallpapers, free for your download.
http://stockwallpapers.blogspot.com/
High Definition Stock Wallpapers offers some really nice wallpapers for your desktop.
http://www.freeewallpapers.com/index.html

http://www.hongkiat.com/blog/category/freebies­online/free­wallpapers/
If full color spectrum rainbows or auroras are your thing, Hongkiat has a wide assortment of free wallpapers. They also have categories for wildlife, Halloween, Christmas, Marvel Comic Book heroes, and dual monitor setups, just to name a few.
http://antwrp.gsfc.nasa.gov/apod/archivepix.html
If astronomical pictures (the subject, not necessarily the size) are something that interests you, you will like this site. You may have to do some minor editing, but you can get some stunning wallpapers from here.
http://hubblesite.org/gallery/
The Hubble Telescope site has a gallery of pictures and a section in the gallery with wallpapers that can be downloaded in many different sizes. (I was even advised of the best size for my desktop!)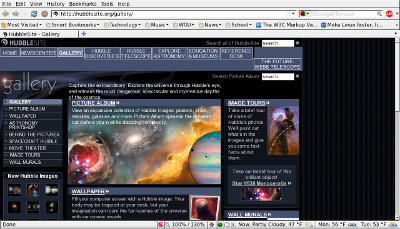 http://www.startrekdesktopwallpaper.com/startreknewwallpaper.shtml
If you are a Trekker, you can make the journey through your computer universe in style, with a wide variety of wallpapers featuring your favorite characters or ships from the Star Trek universe.
http://www.wallpapersuggest.com/
This site literally has a collection of wallpapers that goes into the thousands. A very wide range of interests are featured.
Don't forget:
http://www.kde­look.org/, http://www.gnome­look.org/ and http://www.xfce­look.org/
Certainly, there are many, many more wallpaper sites available. But this should get you started (with rocket propulsion) towards finding outstanding wallpaper for your PCLinuxOS desktop. If you haven't visited some of these, have fun, and enjoy hours of delightful wallpaper searching!!!
Also, if you have a favorite wallpaper site that does not appear in the list above, please send it to the PCLinuxOS Magazine's Chief Editor, Paul Arnote. The easiest way is to send a private message on the PCLinuxOS Forum to parnote. We'll include a link to your favorite wallpaper site in a future issue of the PCLinuxOS Magazine.
This list was compiled by Meemaw and Paul Arnote.