Gadgets & Gear: Christmas Gift & Stocking Stuffer Guide
by Paul Arnote (parnote)
Ah! December arrives. And along with it, city stoplights flash red and green. Shoppers scurry from store to store, shop to shop, trying to find that perfect gift. This month, Gadgets & Gear goes shopping for you (in a way), and offers up some Christmas gift ideas and stocking stuffer suggestions that are sure to excite and entice any PCLinuxOS user. I went to two of my favorite online retailers — Newegg and Amazon — to find items that should be of interest to many users
From Newegg.com
Foxconn R20-S4 Intel 945GC 1 x 240Pin Intel GMA 950 Barebone — Retail
Have you ever wanted a second workstation on your home network, but didn't want to lay out a large bundle of cash. The Foxconn R20-S4 barebones system may just help you fill out your wish list, while not breaking the bank. Priced at less than $120 (U.S.), the Foxconn R20-S4 doesn't skimp on features. It sports a dual core Atom 330 processor that runs at 1.6 GHz (FSB 533 MHz, HyperThreaded, 1 MB Level 2 Cache). Video is supported by on-board Intel video, using the Intel 945GC chipset. Six channel sound is handled by the Realtek ALC662 on-board audio. Only one memory slot is available, but up to 2 GB of DDR2-533 memory is supported. There is one PCI expansion slot available. The storage chores are handled by two SATA 3.0 Gb/s serial ATA connections, and there is plenty of room inside the case for a 3.5" SATA hard drive and a 5 1/4" SATA DVD burner. There are two USB 2.0 connections, along with two audio jacks, on the front of the case. On the back of the case, are PS2 mouse and keyboard ports (nice, since you aren't forced to use your available USB ports to run your keyboard and mouse), four more USB 2.0 connections, a VGA port, three audio jacks, an RJ45 ethernet port, and the power cord receptacle. The power supply is a modest 150 W model, but then this should be sufficient to handle your needs, especially given that the Atom processors are known to have very modest power consumption.
Couple this purchase up with a hard drive (80 GB: $35, 160 GB: $40), a DVD+/-RW ($30), and 2 GB DDR2 533 memory ($50), and you have yourself a brand new computer for under $250. (Notice that I'm not adding in here a mouse, keyboard, or monitor, since many computer users have access to "spares" just laying around, or know where to find them inexpensively.)
LITE-ON Black 24X DVD+R 8X DVD+RW 8X DVD+R DL 22X DVD-R 6X DVD-RW SATA CD/DVD Burner — Bulk — OEM

It seems to be a fact of life in the computer world — DVD burners die over time. So if your PCLinuxOS user is in need of a new DVD burner, you'll be hard pressed to find a better deal. At 24X write speed, this drive can burn a 4.7 GB DVD+R in only 5 1/2 minutes. It also supports burning of DVD+RW, DVD-R, DVD+RW, and DVD+R DL discs. While this particular drive has a SATA interface, there is a similar model with a PATA interface that also supports DVD-RAM, and has LightScribe capabilities. Both drives sell for less than $30 (U.S.).
GEAR HEAD 8X DVD+R 8X DVD+RW 6X DVD+R DL 8X DVD-R 6X DVD-RW 5X DVD-RAM 8X DVD-ROM 24X CD-R 24X CD-RW 24X CD-ROM 2MB Cache USB 2.0 Black Slim External DVD Burner Model 8XDVDEXTLS — Retail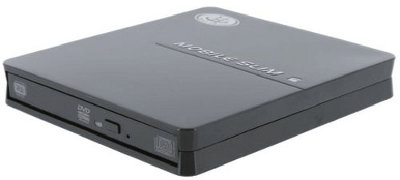 Maybe your PCLinuxOS user has no more expansion bays into which to place an internal DVD burner. Or, maybe your PCLinuxOS user is a "road warrior," and has a new netbook, without an optical drive. This affordable slim line DVD burner might just be the answer. It requires the use of two USB 2.0 ports to connect (one for data transfer, the other to help provide power to the drive). Small and lightweight, it is easy to carry in a small laptop bag to allow easy connection while on the go. This drive, with its 8X write speeds, sells for $48 (U.S.).
Kingston 4GB Micro SDHC Flash Card with microSD/SDHC USB Reader Model MRG2+SDC4/4GB — Retail

If you are anything like me, you can never have too much flash memory. This item is just plain cool. It is a 4 GB microSD SDHC card, that comes with it's own minuscule USB card reader! The microSD card fits into the card reader, which can then be plugged into any open USB port. You can use it merely as a USB flash stick. But another excellent use for this item is to help move music, video, and picture files off of and onto your cell phone. Since many cell phones on the market accept the microSD cards as memory expansion cards, all you need to do is to copy the picture, music, and video files from their storage on your computer to this card, and then insert the card into your cell phone's microSD card slot. How many times have you taken pictures with your cell phone's built-in camera, but have had difficulty getting those photos onto your computer? This item can make your life a whole lot easier when trying to tackle that task. Copy the photos to the card in the phone, take the card out, place it in the card reader, and insert it into one of your computer's USB ports. And, at under $12 (U.S.), this item makes a perfect stocking stuffer.
Kingston DataTraveler Mini 10 4GB USB 2.0 Flash Drive (Red) — Retail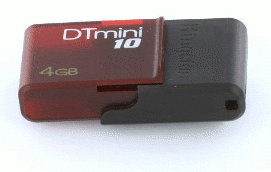 Sometimes, all you need is a simple USB flash drive. Perfect for making a Live USB, or just for general portable data storage, this item is perfect for all your needs. And, with an affordable price for around $12 (U.S.), it will make a perfect stocking stuffer for any PCLinuxUS user
SYBA CL-USB-FRAG USB Fragrance Oil Burner for Aroma Therapy — Retail
Ah! The sweet smell of success! Ok, maybe not, but then why not have some pleasant smell around while you are working, success or not. Powered by an open USB port, this device heats up a small portion of fragrance oil or potpourri candle wax to emit the pleasant fragrance of your choice. This stocking stuffer is a very affordable $7 (U.S.)
SYBA CL-ACC20018 USB Massage — Retail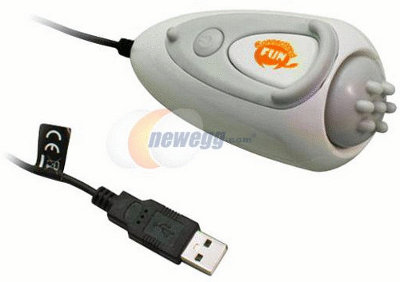 Imagine all the pent up stress after a hard day of packaging. Oh, how you could use a massage. This item is ergonomically designed to massage your neck, shoulders, and wrists, courtesy of an open USB port on your computer. Who needs a masseuse? You can have your massage, whenever you want it, for $11 (U.S.)
Newo corporation 087 Dream Cheeky USB Plasma Ball — Retail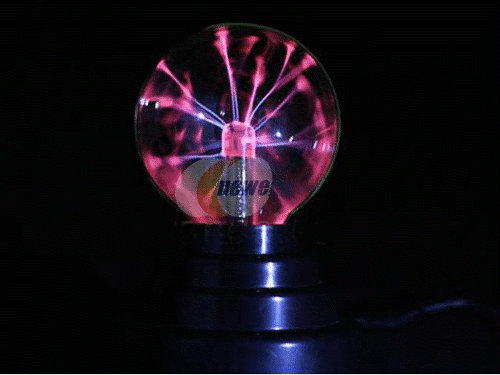 Does this thing serve any purpose? Heck no! It's just cool. Powered only by an open USB port on your computer, you can watch a plasma light show right on your desktop. Touch the sphere, and the electricity is drawn to your touch on the globe. This bit of computing distraction can sit on your desktop for a mere $20 (U.S.)
Rosewill RX355-U 3.5" USB 2.0 External Enclosure — Retail
Do you have an older 3.5" IDE hard drive lying around and not in service? This hard drive enclosure will allow you to put that older hard drive to use as an external USB hard drive. The case is built of heat-dissipating aluminum, and sports a removable cooling fan. A blue LED indicates that power is on, and it changes to green to indicate that the drive is being accessed. It comes with its own power supply, and the cables necessary to connect it to an open USB port on your computer. Additionally, the drive enclosure comes with a stand that allows operation in either a vertical or horizontal orientation. $20 (U.S.)
EAGLE EB-240-00065 2.5" USB2.0 to IDE mesh External Enclosure — Retail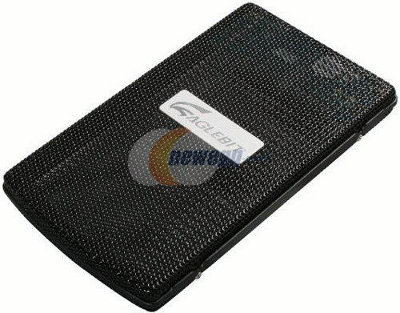 Similar to the previous item, this item allows you to place an older 2.5" IDE hard drive to use as an external USB hard drive. Assembly is easy and quick, and the mesh of the case allows for excellent heat dissipation. Small enough to fit into a shirt pocket, this item comes with USB cables and a leatherette carrying case. $10 (U.S.)
HP LaserJet P1006 Personal Monochrome Laser Printer — Retail
If you are anything like me, most of the printing you do is plain text. And for this chore, a personal laser printer excels — without the pitfalls of an inkjet printer. The expense of ink cartridges just doesn't make sense in today's economy. Because of the expense, I won't even print out photos from my digital camera, opting instead to go to the neighborhood drug store to get actual photographic prints at a price far less than it costs me to print them out at home. I tired of purchasing two ink cartridges for $70 (one black cartridge for $30, and one color cartridge for $40), just to print out two or three photos. (I wouldn't have a need to print out additional photos for two to four months, and by then, the ink cartridges would be all dried up.) There is no such problem with a personal laser printer, since toner doesn't dry up. Instead, it's always ready to print
This USB connected printer prints out 17 pages per minute at a 600x600 dpi (dots per inch) resolution. It is fully supported by CUPS and hplip in PCLinuxOS, so setup is very easy. And, priced at only $100, it's a very affordable printing solution. The printer comes with a 1/2 full "introductory" toner cartridge, which is good for printing 700 sheets. A full toner cartridge will print 1500 sheets before needing to be replaced
TRENDnet TE100-P1U Mini Print Server
Connected to you USB printer, and then connected to your home router via an RJ45 Ethernet cable, this mini print server makes your USB printer available to all the computers on your network. Sure, you can also do this via CUPS on a computer that's left running, but therein lies the problem: the computer to which the printer is attached must always be left on and running. This device allows your printer to be available to all the computers on your home network, without having to be connected to a computer that's always on. Using this mini print server allows your printer to be assigned an IP address on the network. You then send your print jobs to that specific IP address to be printed out. It's available for under $40 (U.S.)
BELKIN BP112230-08 8 ft. 12 Outlets 4320 Joules Pivot-Plug Surge Protector — Retail
Now who couldn't use some surge protection for their computers and electronics? The problem with most surge protectors is encountered when you attempt to plug in multiple "brick" type adapters. Then, the width of those brick adapters takes up two of the available plugs on the surge protector. The 12 Outlet Belkin Pivot-Plug Surge Protector allows the outside eight plugs to swivel, so that brick-type adapters don't take up more than their fair share of the space or available outlets. Rated for 4,320 Joules, with an AC clamping voltage of 330 Volts, this surge protector also protects coaxial cable connections, as well as RJ11 telephone jacks (one input, two output). All of this for $35 (U.S.), which is a mere pittance compared to the cost of the equipment you plug into it
Pixxo MA-W2G5 Black 1 x Wheel 2.4GHz Wireless Optical Mouse — Retail
Cut the cord and go wireless! With you mouse, that is. Being an optical mouse, it has no moving parts (no ball) to collect dirt to track its movements. It also sports a scroll wheel, which also has a "tilt" function, allowing for horizontal scrolling. It also has high resolution sensitivity, with a 1600 dpi resolution. Ergonomically designed, it also has an automatic "sleep" function, to help preserve battery life. When the battery gets low, an LED blinks to warn you and so that you can replace it before the batteries (two AAA) completely discharge. The mouse is able to be used up to 8 Meters (or just a little over 25 feet) away from the computer where the transceiver is plugged into the computer. And, it's very affordable, selling for just under $15 (U.S.)
From Amazon.com
Coby MP305-4G MP3 Player with 4 GB Flash Memory FM Radio, USB Drive and LCD — Black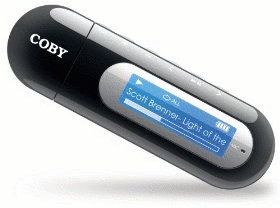 This MP3 player is small, lightweight, and easy to slip in your pocket as you head out the door. With its 4 GB memory capacity, you can store and listen to up to 1,000 songs (average 4 minute length, recorded at 128 Kbps, 44,100 Hz). Simply plug this MP3 player into an open USB port on your computer, and drag-n-drop files onto the device. PCLinuxOS sees it simply as a USB flash drive, allowing you to copy files over in Konquorer or Dolphin. The player runs off of one AAA battery, with a battery life of over 8 hours (you can substantially cut your battery costs by opting for rechargeable batteries). Additionally, you can listen to your favorite FM radio stations. And there's one more added benefit: besides music files, you can also store/carry other files (resume, spreadsheets, presentations, etc.). All of this is available for under $25 (U.S.)
SanDisk Sansa Fuze 4 GB Video MP3 Player (Black)
If you are wanting a little more substantial media player, one that plays video, one that plays not only MP3, but also OGG and FLAC files, and one that has an expandable memory via microSD SDHC cards, then the Sansa Fuze is for you. It's built in rechargeable battery goes for 24 hours before needing a recharge. Additionally, it's available in 4 additional colors (besides black): blue, red, silver, and pink. Currently selling for just under $50 (U.S.)
Animusic — A Computer Animation Video Album (Special Edition)
You will literally be mesmerized by the elaborate ingenuity of Animusic, and the way that music is produced — so much so, that you will not be able to look away from the 75 minute DVD. Animusic is the brainchild of Wayne Lytle, a progressive-rock keyboardist and a 1988 graduate of Cornell University's Program of Computer Graphics. Perhaps one of the most popular tracks is "Pipe Dream," where thousands of animated balls, popping out of an intricate system of pipes and barrels, bounce onto string instruments, drums, xylophones, cowbells, pipe bells, and more, to make the unforgettable music and visuals that go along with it. The 75 minute video will finish long before you are ready for it to end, leaving you wanting to watch more. Available for a very entertaining $20 (U.S.). A combo-pack of Animusic Volumes 1 & 2 is also available for $36 (U.S.)
Nikon Coolpix L20 10MP Digital Camera with 3.6 Optical Zoom and 3 inch LCD (Deep Red)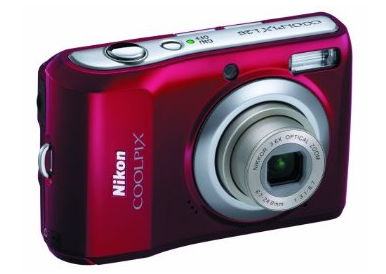 If you are looking for a bargain on a full-featured digital camera, look no further than the Nikon Coolpix L20 10 MP Digital Camera. And don't let the "point-n-shoot" appearance of the camera sell its full feature set short. This camera is packed with features, enabling virtually anyone to shoot very high quality pictures, right out of the box. And, with its 10 MP resolution, 16x20 prints are easy to make. The camera has a 3.6X optical zoom. Nikon is world-famous for the unique, high quality glass they use in their cameras and lenses, so you can be assured of getting a camera that produces very high quality images. The L20 uses standard SD/SDHC memory cards, which are widely available, as well as being powered by two AA batteries (again, using rechargeable LiON batteries will give you longer use per set, and help cut your battery costs). You can have this camera under your Christmas tree for just under $100 (U.S.)
Western Digital, WD TV Mini Media Player
The Western Digital TV Mini will take your collection of multimedia (stored on a USB drive) and play them on your television. It's perfect if you have a large collection of media stored on a USB hard drive. Just insert the USB hard drive into the USB port on the TV Mini, and play it back, either through the component video cables or the composite video cables attached to your television. When using the component video cables, the TV Mini will up-sample your videos to 1080p, for increased clarity. The TV Mini supports the following media formats for playback:
Video — AVI (Xvid, MPEG1/2/4), MPG/MPEG, VOB, MP4/MOV (MPEG4), RM or RMVB 8/9/10
Photo — JPEG, GIF, TIFF, BMP, PNG
Audio — MP3, WAV/PCM/LPCM, WMA, AAC, FLAC, MKA, OGG, APE
Subtitle — SRT, SSA, SUB, SMI
The TV Mini supports USB hard drives formatted with FAT32, NTFS, or HFS (non-journaled). The item can be yours for $70 (U.S.)
Targus PAUK10U Ultra Mini USB Keypad
One thing that many notebook and netbook users miss is a numeric keypad. Except, they don't have to miss it any longer. The Targus Ultra Mini USB Keypad gives notebook and netbook users the numberic keypad, connected by way of an open USB port. And, the Targus Ultra Mini USB Keypad provides two additional USB 1.1 ports along the top side for use with additional peripherals. Approximately $15 (U.S.)
There you have it — 20 gift ideas for that special PCLinuxOS user on your shopping list, and none of which will break the bank. Happy Holidays!