Gadgets & Gear: Samsung N510 Review
by Peter Kelly (critter)
The Samsung arrived in a rather uninspiring but practical brown, cardboard box. In one half of the box, held suspended between two rigid foam blocks, was the netbook, while the other half was occupied by a second brown, cardboard box.
This second box held the battery, a suitably pocket sized power supply, two power cables, a protective slip case, some very basic, multilingual documentation and a DVD containing backups of the system software and drivers.
As there is no optical drive on this machine, it means that you have to get access to an external drive, or dump the contents to some other media such as a USB stickm or SD card, both of which it can access. So no big deal there, especially as this is Windows software and I don't intend to spend much time in there.
So, what does it look like?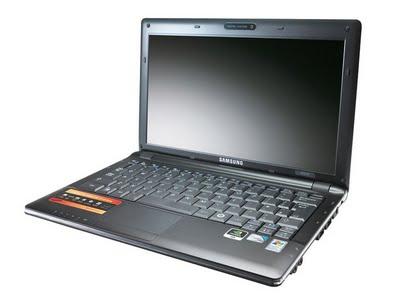 It looks like a laptop. A rather small and unassuming laptop in a black plastic case with a thin chrome strip around the edges and the name SAMSUNG in chrome letters on the glossy black lid. But this is no toy. This baby packs a punch.
With a tiny 29cm x 20cm (11.42 inches by 7.87 inches) footprint and just 3cm (1.2 inches) thick, the N510 weighs in at only1.4 kg, just a snowflake over 3 pounds, and that includes the battery.
At a little under GBP400, this netbook does not come cheap. What do you get for your money?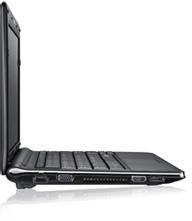 The N510 is powered by an Intel Atom N280 dual core processor clocked at 1.66GHz, and the UK spec machine with Windows XP Home is supplied with 1GB RAM, upgradeable to a maximum of 2GB.
Where this machine differs from most other pint-sized wannabes is the marriage of the Intel chip with Nvidia's Ion graphics, using up to 128 MB of memory. This, coupled with a needle sharp 11.6", 1366 x 768 LED screen, provides a very responsive and usable system.
Some netbooks, because of their diminutive size, score poorly in the usability stakes due to a small and cramped keyboard. No such problems here though.
The keyboard on the Samsung has full sized keys with a responsive feel and decent travel. It even has a special 'silver nano' anti bacterial coating, apparently. Most of the function keys have been assigned additional duties when used with the 'Fn' key, that allow you to do things like suspending the machine or changing the sound volume and screen brightness.
Anything else? Well yes, for a start there's a 160 GB SATA HDD, Synaptic touch-pad, WiFi, 10/100 Ethernet, Bluetooth, 1.3 megapixel web-cam, microphone, HDMI output and a standard vga video output socket. Then there are the 3 USB 2.0 ports, one of which is a powered port that you can also use to recharge small devices such as your phone. There are audio in and out sockets, a place to attach a Kensington lock security cable, a 3 in 1 card reader and finally, a six cell li-ion battery that is claimed to give around seven hours use. In practice, depending upon how you are using the machine, this is no exaggeration. It just goes on and on and…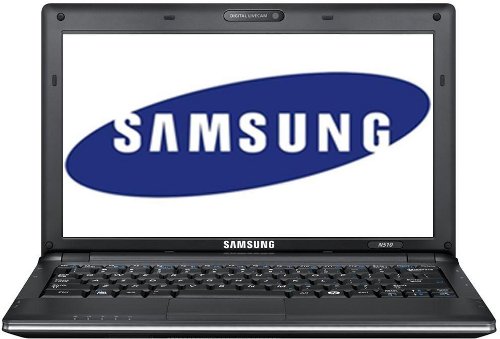 Starting up the machine led me through the system setup routine, which included the mandatory EULA acceptance and installation of Windows XP. I was pleased to find that it offered to split the remaining hard drive space, having already grabbed about 7 GB for a recovery partition. Default was a 50/50 split giving two 71 GB partitions, one for Windows and one for data. This could be easily changed by means of a slider, which I used to give Windows 40 GB, leaving one 100+ GB empty partition. The installation took around 40 minutes.
The guys at Samsung have done a really nice job of integrating the machine with Windows XP. Everything working smoothly and providing a very pleasant user interface, if this is your operating system of choice.
The included software was no more than you would expect. Trial versions of McAffee Security, Microsoft Office, and a couple of other 'get you started' offerings. Some Samsung utilities were included, in addition to recovery software and some diagnostics. On the desktop, was a multimedia type user manual that included instructions to upgrade the RAM.
I decided to do this and so shut down the machine, removed the power supply and battery, and turned the machine over. On the base of the machine is a single access panel secured by three screws. Removing this gives access to the hard drive and the single memory slot. I removed the 1GB module and replaced it with a 2 GB stick, reassembled and rebooted the machine.
Task manager showed that the memory had been recognized, so I decided to run the diagnostics utility. This went quickly, identified that my virtual memory was now too small, and gave me a 'Fix' button. This did the job.
I bought this net book with the intention of running PCLinuxOS on it, so I downloaded a copy of the 2009.2 iso and used Unetbootin to create a live USB stick.
I had to change the BIOS setting to allow booting from the USB drive, but after that, it went smooth as silk, pausing only to ask for my keyboard preferences before presenting me with the KDE 3 desktop.
I decided to try to set up the wireless network before installing the system, so I opened up the PCLinuxOS Control Center. The Realtek card had been recognized, but no drivers had been found.
I was prompted to set it it up using ndiswrapper, but none of the drivers offered would work. As I was in the control center, I used the 'Manage Local Disks' module to mount the Windows partition, and then back in the network module selected 'other' on the ndiswrapper page.
I had discovered that the card had a Realtek 8192 chip-set, and burrowing down through the directories, I eventually found what I was looking for in WINDOWS/system32/DRVSTORE/net819xp. In there were three files. I chose the one with the .inf extension. This worked, I was on line.
To install the system, I had the 100 GB partition to play with, and I used the control center to set up my partitions. I re-sized the partition to 67 GB, created a 4 GB swap partition and a final 31 GB ext3 partition.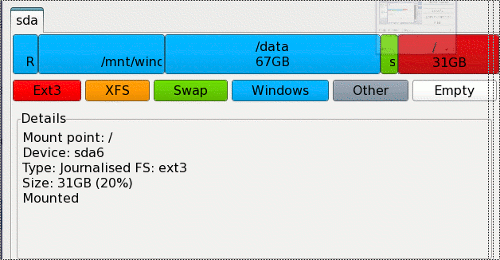 I ran the installer and set the 31 GB partition to be the root mount point. And that was it. The boot loader recognized the Windows partition, and I had a dual boot system.
I rebooted and realized that the screen resolution was wrong. From the utilities folder, I used the video card installation tool and soon had the full 1366 x 768 resolution and set up 3D effects. I made a few cosmetic changes and added some 'essential' applications.
From PCC, setting up access to remote directories on my desk top was a breeze using NFS. I now had full access to all my files.
What works under PCLinuxOS then?
Pretty much everything. Card reader, web-cam, all the input/output ports (haven't tried HDMI yet – no cable), Hibernation, Standby and CPU throttling. 3D graphics acceleration, Movies running full screen showed no stuttering. Compiz Fusion ran flawlessly with all of the effects that I tried and, well, just wow!
The keyboard works as well as it looks, but here I found a couple of things that I didn't really like. Nothing serious, but! Whatever possessed the guys at Samsung to swap the Win key and the Win-menu key? The backslash – vertical bar key, usually on the bottom left corner of UK keyboards, has been moved to bottom right, and the right shift key is a might too small. As I said, nothing serious, but a touch annoying.
The touch-pad is a nice size, responds well, is well sited and sports a nice textured surface that helps it to blend in with its surroundings. The bugbear here though, are the buttons, or rather button, as there is only one bar that works as a rocker switch rather than two distinct buttons. The upshot of this arrangement is that you have to be a little more precise, pressing the outer edges of the rocker bar, which I didn't manage to do on many occasions.
I found that only some of the fn key + function key combos worked 'out of the box'. The sleep button worked. The touch-pad on/off toggle worked, which was useful, as it is very easy to catch this while typing and scroll up a page or two. The volume up/down and mute keys worked flawlessly.
Those that didn't work included the battery level monitor (klaptop on the task-bar covered this), the Euro symbol key (never needed this any way), and the Back-light on/off (why would you want to do this? With no back-light the screen is useless). The screen brightness up/down keys don't work, but they do function in the GRUB boot screen if you set brightness control to 'user control' in the bios, so it is quite easy to pre-set the brightness. Also, the WiFi on/off keys do not work (but the commands ifup and ifdown in a root terminal do this). And a couple of Samsung app-designated keys did not work.
So no party stoppers here, and if somebody really wanted to, then I am sure that a bit of fiddling with a utility, such as keytouch, would resolve the matter.

There are a couple of things that let the package down for me, but this is only my personal opinion.
The glossy black lid is impossible to keep clean and fingerprint free, although when polished, it does look rather good.
The slip case provided is really a 'slip out of' case. With no fastener, only a fold over flap, and that glossy lid it would be very easy for it to slide out if grabbed in a hurry.
The sound is of quite reasonable quality, but even at maximum volume is very quiet. Used with earphones, as I suppose you may do with a net-book, this problem disappears.
I'm more than satisfied with my purchase. It does just about everything that I would want it to do, and it does it very well. PCLinuxOS sits well on this machine running KDE 3.5, and I have no reason to believe that it won't be just as impressive when the time comes to upgrade to KDE 4.
There is one thing that I am going to add to this machine to make it really stand out from the crowd – one of these: