Game Zone: Machinarium
by Paul Arnote (parnote)
In the gaming world, there are shoot-'em-up games. There are role playing games. There are arcade-type games. There are strategy games. There are card games. There are adventure games. And then there are puzzle games. This month's game, Machinarium, falls into that latter two groups of games, as an adventure game where you have to solve puzzles to advance to the next level.
Machinarium is created by Amanita Design, an independent Czech game development studio that was founded in 2003. Amanita Design has previously created the award-winning Samorost in 2003, and Samorost2, in 2007. From the Machinarium web site, the game is described as a point-and-click adventure game. Machinarium is a flash-based game, and there is a playable demo online, where you can play the first three levels of the game right in your flash-capable browser.
The premise of the game is fairly simple. You control a cute little robot, who has been mistakenly kicked out of a mechanical city. He must find his way back, rescue his girlfriend robot, and along the way, prevent a gang of hoodlum robots from setting off a bomb. To progress through the 30 levels on his way home, he must solve brain teaser puzzles. One puzzles tends to lead into another, yet each one is neatly separated from each other.
The game is provided in versions for Linux, Windows XP/Vista/7, and Mac OS X (10.4 and higher). The full version of the game features 30 levels of brain challenging puzzles to solve. It is available for purchase for $20 (U.S.), and includes copies for all three platforms, as well as a copy of the game's "soundtrack," providing you with the music from the game for you listening pleasure. Everything in the purchase comes DRM-free.
Since the game is entirely flash-based, installing the full version is very easy, and makes no changes, nor adds or alters any libraries, to your PCLinuxOS installation. Simply untar the game to its own directory, making sure that you preserve the directory structure.
Game Play
Using your mouse, you guide your robot through the various levels, solving puzzles along the way. Sometimes you will find things that you will have to read. Other times, you will have to find the materials to trick your way through the level. And yet other times, you will have to find a way to use the equipment provided to help you advance through the level.
Most everything you come across has the potential to be useful — always in the current level. As you come across items, you can take, and collect, them for later use. You can also combine collected items to make new tools, which are necessary to successfully complete the level. To make your new tools, simply click on one item and drop it onto another item in your inventory bar. Your inventory "stash" will be cleared as you complete each level.
To use your collected items, you simply move your mouse cursor to the top of the screen, and drag the item you want to use to the place where you want to drop it in the level. To put your item back (say, you've picked up an item, but cannot find a current use for it), reverse the process and drag the item with your mouse to the top of the game play screen, and deposit it in the inventory bar that appears.
Sometimes, you will have to locate "hidden" controls, and perhaps even re-wire those controls, to be able to get the machinery in the current level to operate in such a manner that it helps you complete that level.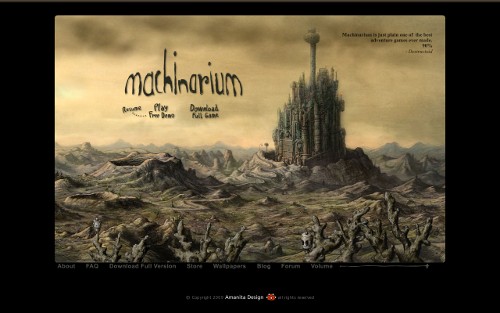 System Requirements
The system requirements to play Machinarium are:
1.6 GHz (or greater) processor
1 GB memory
380 MB Hard Drive space
1024 x 768 minimum screen resolution (1280 x 800 or higher recommended)
128 MB video RAM
I can attest that I personally played the game successfully on hardware with lesser specs. For example, I have played the game on an IBM Thinkpad T23, Pentium 3, 512 MB RAM, and 8 MB S3 video, running PCLinuxOS Phoenix 2009.4. While the game was virtually unplayable when it was set for play in a full screen, changing to playing the game in a window made it run at a speed that made game play possible, and even fun.
Hints & Tips
Game play is really quite simple, and you will catch on very quickly as to what you need to do to get through the levels — although I'm not saying that game play isn't without its challenges. Each level will present you with another brain teaser puzzle to solve before you are allowed to proceed to the next level. It does make you think.
If you get stuck, there are two built-in ways to help you along your way. First, at the far right of your inventory bar, you will see two items: a lightbulb and a walk-through book. The lightbulb provides a hint at what you need to accomplish in that current level. It's a rudimentary and crude drawing, but usually is enough to give you a valuable clue as to how to complete that level. The other, the walk-through book, provides more information on how to get through the level. To access the walk-through book, you must first guide the key through a spider-infested maze and into the keyhole to unlock the single, sepia and ink drawn cartoon panels that detail what must be done.
Additionally, a simple Google search will reveal all sorts of hints, tips, guides, and walk-throughs for Machinarium. Simply use the game name as your search criteria.
Pick up everything you can. Even the most seemingly inconsequential item will be useful. If the game allows you to take an item, then do so. There IS a reason, and it will be used somewhere in that level that you are on. Remember, your inventory will be purged as you complete each level.
From time to time, you will find passage ways back to areas that you have previously traveled through. There is usually a reason, such as additional items (that weren't available on your first trip through that area) that are needed to help you get through the current level. Explore everything, and every passage that is opened up to you throughout your game travel.
There is a problem getting the game to run on PCLinuxOS with the provided game launcher. For whatever reason, the provided launcher will hang on loading in the first introductory flash file. Fortunately, there is an easy way to work around this problem. First, install the Windows version on a Windows machine, or partition, or in a Windows virtual machine. Copy the 45 KB "machinarium.swf" file in the Windows installation directory to a USB flash drive, and copy that file into the main directory that you installed Machinarium to in your PCLinuxOS installation. Then, you can launch that file in your favorite flash-enabled browser, and play the game there. In Firefox, you can press F11 to switch to a full screen, enabling you to play the game full screen (if your hardware capabilities allow it). Otherwise, just play it in the browser window without making the switch to full screen.
Conclusion
Machinarium is a fun — albeit challenging — game. And this is coming from someone who is definitely NOT a gamer. The full version is definitely worth the $20 price tag it carries. The artwork is outstanding, and if you are like me, you will likely spend a good portion of your gameplay just admiring the scenery of the game. For me, the artwork reminds me of the illustrations from some of the higher-end children's literature books, like those from Maurice Sendak. But be careful, since Machinarium can become quite addictive.