Forum Foibles:
Forum Book Reviews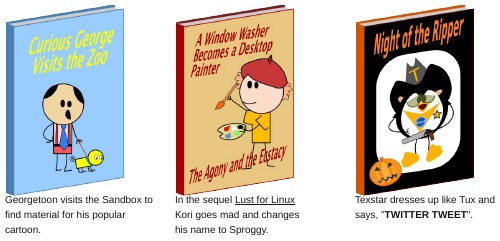 Hitchhiker's Guide to Linux

Critter finds himself zipped up in a terminal. Our hero messes around in a console and tries to get everyone else to mess in there too. He finally discovers that the ultimate answer to Life is Linux.

Tale of Two Systems

The protagonists are Win and Lin in this tale of revolution. They battle for the souls of fellow users. Freedom and choice are victorious.

House of Tux

A picture book of forum members … in wax of course.

The Linuxman Cometh

Self help book of vision and hope

A Few Good Men

A salute to Texstar and his dedicated team

Buried Treasure

A comprehensive review of the Linux Directories
A is for Archie B is for Bones C is for Crow

A neat little series that goes through the alphabet removing any trace of mystery about Linux.

The Bug

This collection includes BugGetter, Bug Off and Bug Wars. davecs reveals secrets of the PCLinuxOS underground.

Age of Reason

Ten best reasons to use Linux

Little Book of Horrors

Ten best reasons not to use brand W

les Miserables

More reasons not to use brand W

The Penguin Who Knew Too Much

A mystery? No, a comedy about a bunch of retirees in the Sandbox competing for the forum's most ridiculous post.

In Like Flux

Xenaflux is all a flutter and a flip over the new 2010 PCLinuxOS release.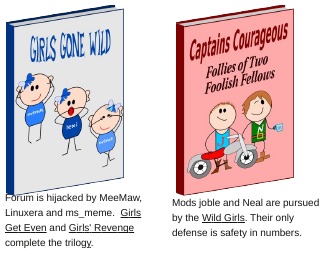 King Tex and the Golden Tux

After being fleeced out of his gold, King Tex grabs the Golden Tux and changes his name to The Golden Geek.

Fall of the House of MS

Science Fiction? No! A vision of the future! A good read with lots of evidence.

As Good as It Gets

A collection of essays of appreciation by forum members

Around the World in 80 Days

Statistics showing PCLinuxOS users to be of many ages, many countries and many genders

Linux Chronicles

An anthology of PMs between PCLinuxOS users. Found in the adult section in a plain brown paper wrapper

Big Bad Wolf

Little ms_meme turns the Big Bad WeirdWolf into a Big Bag of hot air.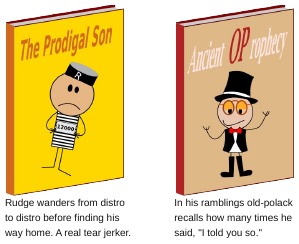 Fahrenheit 2010

The temperature in the forum keeps rising as members clamor for an updated PCLinuxOS. Over 10,000 messages fuel the fire in anticipation of The Big Bang. Will Texstar be able to take the heat?

Bring It On! Vols. I II III and IV

The collective clamorings for 2010. Authored by thousands.

MeeMaw's Aventures in Linuxland

MeeMaw falls down a mouse hole and meets the grinning SmileyB. Neal in a shocking turn about serves her tea instead of coffee. Sproggy shows her his Looking Glassy tutorials and Coffeetime suggests a flash 3D Croquet game. Andy makes a video of it all starring ms_meme as the Queen of His Heart. And that's just the first chapter.

Best Kept Secret

I have no idea what this is about, but it's rumored to be about the release date of 2010.
The Big Chill

Hordes of forum members are stranded together in the Brrrrrrrrr topic and bore each other to death while waiting for The Big Thaw.

The Games Penguin People Play

Linuxera's 10 exotic steps on how to play Game of 2nd Life. This book is kept under the counter. They don't call her SINdy for nuttin'.

The Great Books

Great Expectations … XP Great Disappointment … Vista Great Escape … PCLinuxOS

The Pathfinder

An intensive tutorial with case studies. Skills are taught through interactive text, illustrations, descriptions, questions and problems. A CD with self paced learning exercises is also included. This 100 page book is designed for the mastery of one thing and one thing only … the difference between / and \ .
Roots

Official handbook of sacred rites, rituals and procedures for the Linux cult. The sayings of Root are artistically highlighted in red calligraphy. Whether you choose the standard or the leather bound edition, both are designed to be a multifunctional paperweight and high quality dust catcher.
Discriminating users will want to display the coffee table version. It has a beautiful cover with gold embossed styling and a green ribbon bookmark. The perfect gift for a graduate or that special someone.
If you are among the first 100 to order you will receive a copy autographed by Root himself. But wait there's more. Call within the next 20 minutes and you will receive absolutely free your own unabridged MAN reference guide. And as a courtesy to those who cannot afford the phone call, you can pick up your free copy at any motel room.
Anthropologists will be studying the Root phenomenon for years to come.