Get The Little Plastic Spoons:
A Taste-Test Of The PCLinuxOS Flavors
by Andrew Strick (Stricktoo)
Much to my delight, PCLinuxOS 2010 was recently released. Adding icing to the cake, there are now more options than ever. Beyond KDE, the default, PCLinuxOS now comes in five flavors (with another on the way), as well as three mini versions. And you thought it couldn't get any better.
Of course, this awesomeness does have a small drawback: I have to pick one. Well, not really. After all, this is Linux; Tux has given the monolithic, "one size fits all" approach a vigorous kick out the window. My love of beautiful artwork remains, however, and if I ever want to accomplish more than admiring all the pulchritude (look it up) that each flavor has to offer I'll need to choose one. And I imagine that most of you are in the same boat, so to make your life a bit easier I'm going to give a short overview of each option, as well as my initial impressions.
General Requirements and Features
Since the flavors all share the same base, they have several common requirements and features. To save (digital) ink I'll list them here.
System Requirements
A CD or DVD drive (and BIOS capable of booting from that drive), or a live USB (and BIOS capable of booting from USB)
A modern Intel or AMD processor
Both KDE (including MiniME) and Gnome required a minimum 512 MB of memory, and 1 GB or more is recommended. Gnome ZenMini, XFCE, LXDE and E-17 require a minimum 384 MB, and 1 GB or more is recommended
A minimum 3 GB of hard disk space. 10 GB or more are recommended, especially if you plan on installing additional software
An nVidia, ATI, Intel, SiS, Matrox, or Via video card. 3D desktop support requires a a 3d-capable card
A SoundBlaster, AC97 or HDA-compatible sound card Features
Multimedia playback support for many popular formats
Wireless support for many network devices
Printer support for many local and networked printer devices.
Addlocale, a utility for easily converting PCLinuxOS to over 60 languages
GetOpenOffice, a utility for easily installing Open Office.org in over 100 languages
MyLiveCD, a utility for taking a snapshot of your system and making it into a livecd-capable ISO.
A Note on My Impressions
Please keep in mind that all of my impressions are from the livecds running in VirtualBox. I simply haven't had time to give each a proper hard disk- install, and for some odd reason VirtualBox is refusing to install them. Don't worry, though, as I'm sure we'll see plenty of reviews and testimonials for upcoming issues!
For hardware purposes, I allocated the following virtual hardware to each:
1.5 GB of RAM
1 virtual CPU
6 MB of video memory
Sound (via ALSA)
A network connection
KDE (Main & MiniMe)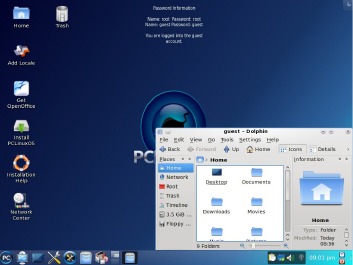 About
KDE is the default desktop and the flagship of the PCLinuxOS fleet. KDE itself is a popular, free and open source multi-platform desktop environment. KDE is stable, easy to use and has first-class support for internationalization. ease of use, stability, and first-class internationalization and accessibility support. KDE has all the vital tools for a modern computing, including file management, web browsing, file management, office suites and games. There is also a KDE MiniMe version available. As the name suggests, MiniMe ships with only KDE and the most vital programs, allowing users to build their own installs without any unwanted addons.
Vital Statistics
KDE main ISO size: 692 MB
MiniMe ISO size: 445 MB
Kernel: 2.6.32.11-bfs
KDE 4.4.2
Nvidia and ATI fglrx driver support
Produced by: Texstar
Features and Applications
Firefox 3.6.3
Thunderbird 3.0.4
Dropbox (online storage and synronization)
Pidgin 2.6.6
Kymoney
Ktorrent
Gimp
Digikam
Amarok
Smplayer
Parental Controls (in the PCLinuxOS Control Center)
Over 12,000+ additional packages available from our software repository
** PCLinuxOS does not ship Win32codecs or libdvdcss2 software
Impressions
Both the main version and MiniMe are excellent. While KDE can be a resource hog at times, even with limited virtual hardware I only noticed a slight drop in performance. However, I did not initiate many programs or enable desktop effects, which would have slowed the system down considerably. That aside, KDE is fantastic. The artwork is gorgeous, KDE 4.4 seems much more mature than 4.3, and overall I can safely say that Tex & crew's hard work has resulted in a superb distribution.
Download Main & MiniMe: http://pclinuxos.com/?page_id=180
Gnome Desktop
About
The GNOME Desktop: a popular, multi-platform desktop environment for your computer. GNOME's focus is ease of use, stability, and first-class internationalization and accessibility support. GNOME is Free and Open Source Software and provides all of the common tools computer users expect of a modern computing environment, such as e mail, web browsing, file management, multimedia, and games.
Vital Statistics
ISO size: 693 MB
Kernel: 2.6.32.11-bfs
Gnome 2.30.0 Desktop
Produced by: Slick50
Impressions
I've always enjoyed Gnome, and Slick50 has really delivered. The design is well laid-out and the artwork gives KDE 4 a run for it's money. I also found Gnome to be a bit quicker than KDE. Even though I mostly use KDE I could see myself becoming a convert (well, part time).
Download Gnome: http://pclinuxos.com/?page_id=184
Gnome ZenMini
About
Zen Mini is a minimal Gnome Desktop with a minimum of applications giving you the freedom to install and use the applications of your choice from our software repository.
Vital Statistics
ISO size: 343 MB
Kernel 2.6.32.11-bfs
Minimal Gnome 2.30.0
Produced by: Siamer
Impressions
Wow. ZenMini is gorgeous. Everything, from GRUB through the bootsplash, GDM and desktop have a beautiful, consistent look. And for being "mini" it's quite full-featured; all of the essentials come pre-installed, but redunancy and bloat have been eliminated. Consequently ZenMini is also fast and very responsive. I'm really starting to give serious thought to converting.
Download ZenMini: http://pclinuxos.com/?page_id=186
LXDE Desktop
About
The "Lightweight X11 Desktop Environment" is an extremely fast-performing and energy-saving desktop environment. Maintained by an international community of developers, it comes with a beautiful interface, multi-language support, standard keyboard shortcuts and additional features like tabbed file browsing. LXDE uses less CPU and less RAM than other environments. It is especially designed for cloud computers with low hardware specifications, such as netbooks, mobile devices (e.g. MIDs) or older computers.
In addition to the full LXDE version, there is also a Mini version with just the desktop and void of extra applications for those advanced users who wish to trick out their desktop with only the applications they want to install and use.
Vital Statistics
Main ISO size: 580 MB
Mini ISO size: 410 MB
Kernel: 2.6.32.11-bfs
Full LXDE Desktop
Produced by: Neal
Impressions
If I had to sum LXDE up in a word, that word would be "blazing". Even on minimal virtual hardware LXDE was extremely responsive. I didn't notice any lag or decrease in performance. In fairness I didn't begin any processor-intensive tasks, but I bet LXDE would probably hold up well. Also, while LXDE technically requires a modern processor and 384 MB of memory, it has been reported functioning perfectly on a Pentium II with 128 MB of memory.
Download LXDE: http://pclinuxos.com/?page_id=188
XFCE Phoenix Edition
About
PCLinuxOS Phoenix Xfce Edition features the lightweight but fully functional Xfce desktop enviroment. Is it designed for productuvity. It load and executes applications fast while conserving system resources.
Vital Statistics
ISO size: 619 MB
Kernel: 2.6.32.11-bfs
Full Xfce 4.6 Desktop
Produced by: Sproggy
Impressions
XFCE usually seems to market itself as a desktop environment that removes bloat without sacrificing functionality or requiring users to use the command line to configure the system. Phoenix stays true to this principle. It was fast (quicker than both KDE and Gnome) but still provided plenty of GUI tools for configuring the system. And like LXDE, Phoenix is not beholden to its "minimum" 384 MB of RAM; there are reports that Phoenix can run comfortably on a meager 256 MB.
Download XFCE: http://pclinuxos.com/?page_id=213
E-17 Desktop
About
Enlightenment is not just a window manager for Linux/X11 and others, but also a whole suite of libraries to help you create beautiful user interfaces with much less work than doing it the old fashioned way and fighting with traditional toolkits, not to mention a traditional window manager. It covers uses from small mobile devices, like phones, all the way to powerful multi-core desktops (which are the primary development environment). Enlightenment Desktop is for those who want the bling without the bloat.
Vital Statistics
ISO size: 610 MB
Kernel: 2.6.32.11-bfs
Full Enlightenment desktop
Produced by: Linuxera
Impressions
The Enlightenment e17 desktop is lightweight and snappy, yet rivals KDE 4 in graphics. It's also my understanding that the E17 desktop is incredibly flexible due to its widget-based nature. Due to its lightweight status that doesn't skimp on power, e17 if fast becoming a favorite among many Linux users. It takes a different approach to the desktop, and is extensible to your heart's desire, using widgets. And it does it all, without consuming huge amounts of computer resources. There are reports of e17 being successfully ran on a Pentium I with only 16 MB of memory.
Download E17: http://pclinuxos.com/?page_id=215
Conclusion
Unfortunately, the final version of PCLinuxOS OpenBox was not available when the magazine was published, but was reported to be very near completion. The OpenBox version will fit well with users who have older computers, since it is also a lightweight window manager that literally sips system resources. Like the other versions of PCLinuxOS, it is built on the common stable core produced by Texstar and the Packaging Crew.
Hopefully this brief overview will help in the decision-making process. Thankfully, "one-size-fits-all" is a phrase the rarely applies to Linux, and it definitely doesn't apply to PCLinuxOS. With so many great options, it's going to be hard to pick one. Then again, who says you have to pick just one? Of course, your choice may be somewhat dictated by the hardware you have on hand. Maybe you can pull that old computer out of the closet, and place one of the lighter weight desktop versions on it. Or imagine putting one of the light weight desktop versions on a modern, dual core processor with 2 GB or more memory. Whatever your situation is, there is a version of PCLinuxOS that is likely to fill your needs.
Finally, thank you very, very much to Tex, Slick50, Siamer, Neal, Sproggy, melodie and Linuxera, and to everybody involved in bringing the 2010 release to fruition. No words can adequately express how deeply your hard work and dedication is appreciated.