Firefox Add-ons: XMarks Marks The Spot
by Paul Arnote (parnote)
I have a netbook, a laptop I carry in my briefcase, two laptops that sit near my favorite spot in the living room, a desktop computer in a spare bedroom that runs my networked printer, and another desktop in the basement that serves as my test box. There's nothing more annoying, (to me, anyway), than switching computers and not having access to all of my favorite bookmarks in my web browser. Sure, I could manually enter all those bookmarks, but invariably some bookmarks will be left out. Let's not mention all the work involved to try to enter all those bookmarks manually on six different computers. It also becomes virtually impossible to keep the bookmarks on all six computers synced.
It's time to meet Xmarks. Originally named FoXmarks, Xmarks allows you to sync your bookmarks across multiple computers, automatically. No fuss, no trouble. Just set it up and it keeps your browser bookmarks synced and up-to-date across all of your computers that you have Xmarks running on.
Having broken away from its original exclusive domain of working only with the Firefox web browser, Xmarks also now works with Internet Explorer, Safari (Mac only), and Google Chrome. Despite requests for over a year now, the makers of Xmarks have no plans to support the Opera web browser any time soon. As you might expect, the version of Xmarks for Firefox sports the most features, since that's the browser where Xmarks got its start. Here is a graphic from the Xmarks web site that gives a breakdown of the features that are available under each browser:
One of the newest features of Xmarks is the ability to sync open tabs in a browser across the various computers you use. Simply activate the feature on all the computers you use, and you can go from computer to computer, and choose to open the same tabs. Currently, this feature only works under Firefox, Internet Explorer, and Chrome.
I've been mentioning throughout this review that some feature are only available to users of the Firefox web browser. Those exclusive features include Smarter Search, User Your Own Server, Secure Password Sync, Suggested Tags, and Site Info. Only time will tell how many of those features filter to the other supported browsers that are capable of utilizing the Xmarks plug in.
Of course, the whole reason for installing the Xmarks plug in is to sync all of your bookmarks across multiple computers. This is something that Xmarks does exceptionally well. What's best is that Xmarks syncs your bookmarks in the background, unobtrusively, and often times without you even realizing that it's happening.
As an added benefit of using Xmarks, you literally have total access to your regular bookmarks, regardless of what computer you are using, and regardless if that computer is running Xmarks or not. If you are on a computer other than your own that does not have Xmarks installed, you can simply go to the Xmarks web site and log in with your Xmarks username and password. Then, click on the "My Bookmarks" link and all of your synced bookmarks will be displayed in the browser window.
Installing Xmarks
To start with, head over to the Xmarks web site and download the plug in for your browser. Alternatively, you can often use the "find plugins tool" of your favorite supported browser to download and install the plug in. For the sake of brevity, I'm going to omit some of the more obvious screens in the Xmarks installation sequence.
The first screen you come to allows you to create an Xmarks account, or to log into your existing one. Since I already have an account, I've chosen to log into my existing account. If you choose to set up a new account, you will be given the opportunity to set up that new account.
In the next screen, I provide my username and password to the Xmarks server. Click on "Next" to proceed.
Since I'm installing this under Firefox, I'm given the opportunity to have Xmarks sync my passwords. My personal choice is to opt out of having Xmarks store my passwords, but your choice may be different.
You are then given an opportunity to enable the newest feature of Xmarks, which is to enable synchronization of open tabs. Again, my personal choice is to opt out of this option, since I often have different tasks underway on the various computers I have running. So my choice is based on how I work with my computers, and your choice may differ.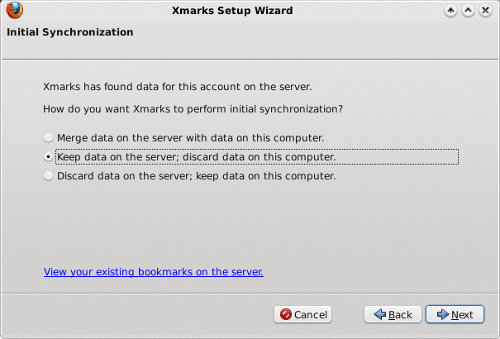 This is where the real activity takes place with Xmarks. The default choice on this screen is to merge the data on the server with the data on the current computer. Since I already have an Xmarks account and have things set up the way I like, I chose to keep the data on the server, and discard the data on the current computer. You may also discard the data on the server, keeping only the bookmarks on the current computer. If you're not sure of what to choose, you can view your existing bookmarks stored on the Xmarks server.
After displaying a warning message, presumably to give you an opportunity to alter your choice of which bookmarks to keep, Xmarks will sync your bookmarks with the Xmarks server. A confirmation web page will be displayed once your bookmarks are successfully synced.
Xmarks Settings
Under the first tab, Status, you can view your username, enter your password, tell Xmarks to remember your password between sessions, synchronize your bookmarks, or re-run the setup wizard.
The second tab, Sync, allows you to choose which items to sync using Xmarks, as well as a few synchronization options.
Under the third tab, Restore, you can choose to restore your bookmarks from a previous date. This, of course, is handy if your bookmarks become corrupted and sync before you realize the problem.
The fourth tab, Profiles, allows you to manage your Xmark profiles.
The fifth tab, Discovery, allows you to specify the Xmarks enhancements you want to employ when searching sites, or bookmarking sites.
Under the sixth and last tab, Advanced, you can set up whether or not you want to use encryption with your Xmarks server connection. You can also force overwriting the server data or the data on the current computer.
Conclusion
Xmarks is one of those must-have browser plug ins, at least for me. It has made the trap-riddled chore of syncing my bookmarks across multiple computers remarkably easy. It's done for me, without any thought or effort on my part. This has freed me up to tackle other tasks and pursue other interests - time that would have otherwise have been spent syncing my bookmarks.