LXDE: Add Wallpapers, Panel Decorations
by Paul Arnote (parnote)
In today's computer world, it might seem that changing desktop wallpaper might be a rather simple task. And, it is. But did you know that there are multiple ways to manage your wallpapers and panel decorations on PCLinuxOS-LXDE? Depending on how you choose to set it up, wallpapers and panel decorations can remain exclusive to each user, or they can be set up so that all users have access.
Wallpaper Method One: All Users Access
First, you need to open up PCManFM in the superuser mode, and move to /usr/share/lxde/wallpapers.
Next, open up another instance of PCManFM as a regular user. Move to the directory that contains the wallpaper(s) you wish to add.
Drag and drop the wallpaper(s) you wish to add into the /usr/share/lxde/wallpapers directory.
Right click on the file(s) you just added, and make sure the permissions are properly set. Both the owner and group should be set to "root." Permissions for the owner should be read and write. For group and other users, the permissions should be set to read.
Close both copies of PCManFM.
Now, under the "Appearance" tab of LXDE Control Center, select "Set Wallpaper." Alternatively, you can right click on the desktop, and select "Configure Desktop."
Your new wallpaper will now appear as a choice in the selection window. Choose it, and close out of the LXDE Control Center.
Advantage: All users will have your new wallpaper as a choice for their desktop.
Disadvantage: If you add too many graphics, you may start to crowd your root partition, which is typically much smaller than your /home partition. Requires root privileges to add/remove wallpaper graphics.
Wallpaper Method Two: Local User Only
In your /home directory or partition, there is a hidden directory called .local. Beneath that is another directory, named share. Create a directory in the $HOME/.local/share directory called wallpapers, if it doesn't already exist.
Now, copy your selected wallpapers to the $HOME/.local/share/wallpapers directory.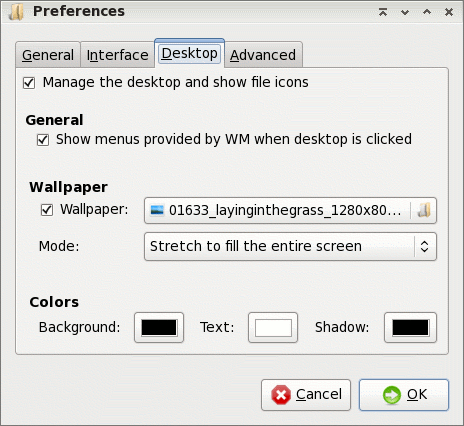 Go to the LXDE Control Center's "Set Wallpaper" button (which, by the way, is the same as choosing PCManFM's Edit > Preferences menu, then the Desktop tab). Click on the folder icon to the right of the selection box, then traverse to the $HOME/.local/share/wallpapers directory. Select your wallpaper, and click OK.
Alternatively, you can create an "Images" folder in your /home directory, and within it, create folders named "wallpapers" and "panel." Actually, you can create any folder you want in your /home directory, and use the steps above to display your wallpaper on your desktop. The advantage to the "Images" folder is that it helps keep you, and all of your wallpapers and panel graphics, organized.
Advantages: doesn't take up unnecessary space in your root directory (if your /home directory is on a separate partition). Wallpapers can be added by the end user, without the need for root privileges.
Disadvantages: wallpapers stored using this method are not available to other users of the same computer.
Panel Decorations
You can also perform similar actions with your panel. Just as easily as you can apply custom wallpaper to your desktop, you can also dress up your panel with custom graphics.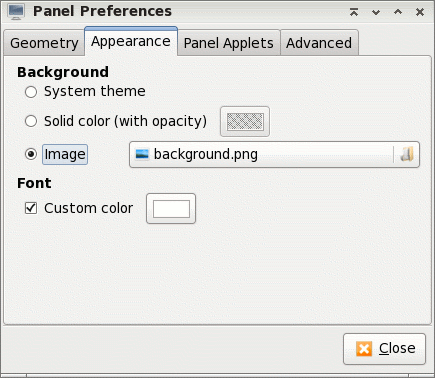 Right click on an empty spot on your panel, and select "Panel Settings" from the context menu that appears. Go to the "Appearance" tab, and you can select the background appearance of your panel. You can select from using the system theme, a solid color with user-selectable levels of opacity, and an image.
In a default installation of PCLinuxOS-LXDE, many of the graphics used to display the panel are stored in /usr/share/lxpanel/images. But just as we were able to change to another location when we changed our wallpaper, we can also change the location where lxpanel looks for the background images it uses. It's exactly the same procedure.
Conclusion
As you can see, it's very easy to customize the appearance of your LXDE desktop. You can be as creative as you like. It is, after all, Linux. Your Linux. Your desktop. Your choice.