Shotwell: A Lightweight Linux Graphic Tool
by Daniel Meiß-Wilhelm (Leiche)
While The Gimp is a great piece of imaging software, sometimes it can be a little too much. So I searched for a lighter application to handle my pictures, and to edit images.
I found Shotwell, a lightweight and simple application, to handle images.
From Shotwell's description:
Shotwell is a new open source photo organizer application designed for the GNOME desktop environment. It allows you to import photos from your camera, view and edit them, and share them with others.

Here are some key features of "Shotwell":

import photos from any digital camera supported by gPhoto
automatically organize events containing photos taken at the same time
rotate, mirror, and crop photos
export photos as they are or by specifying dimensions and JPEG quality to reduce size
You can find additional documentation about Shotwell at http://trac.yorba.org/wiki/UsingShotwell0.7.
Have no fear. It's not only for Gnome. I use it under LXDE, and it works fantastically.
Initially, it generates an index for all the images you have stored on your harddrive. This takes a while. After it is done, it will show all your images as a thumbnail in the window.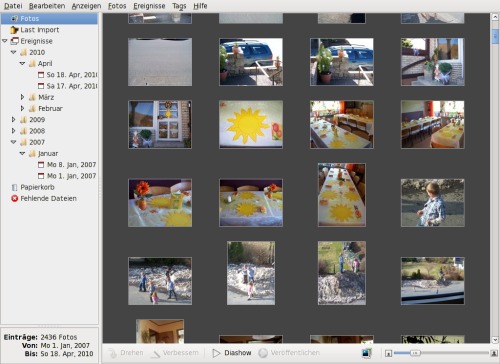 Click on Slideshow, and it will display all pictures. You can create your own slideshow, if you like.
To select a picture, click on it, and the viewer will show the selected picture.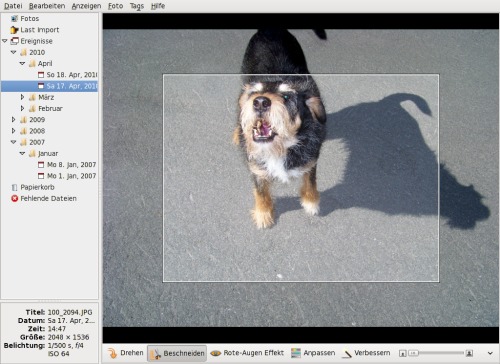 To crop picture, a simple click is need on crop (Beschneiden). A white box will appear over the photo. You can adjust the size by clicking and hold the mouse over the crop border. Drag the mouse to crop your picture. The box will change to display rule of thirds lines, to aid with composition.
When you are satisfied with the crop of your image, click on OK.
If you are not satisfied with the result, you can click again on crop and have another go at it.
For all the other ways to manipulate pictures, read the documentation. I needed Shotwell initially for this very simple crop tool. Well, that and the need for something to provide a simpler way to handle all my pictures. What I miss is a simple paint effect to generate balloons, but who knows what the future brings.
Have fun.