Game Zone: PopCap Games
by Paul Arnote (parnote)
One reason often cited by Windows users for not migrating to Linux is the lack of games. Sometimes, it's because they like playing certain games that are created to be played on the Windows platform.
Well, let's remove some of that stigma — and at least dispel some of those "reasons" for not giving Linux a spin around the block.
Enter PopCap games, who offers up a whole suite of puzzle games that are designed to be run on Microsoft Windows and Apple's OS-X. Many of these games are single player games, and offer a whole lot of entertainment value.
How to install and play
Because all of these games are created primarily for users running Windows or OS-X, you will not find any native Linux games produced by PopCap. Nonetheless, and certain to be of joy to PCLinuxOS users, is that I have yet to find a PopCap game that will not play under Wine, without modification.
So, once you've installed Wine from Synaptic, all you have to do is download the .exe installation file(s) from the PopCap games web site, and double click the file to install it on your computer. Once installed, the program will appear under the Wine menu entry on your PC menu. Simply go to the program's menu entry there to launch the game. It really is that easy.
What's available?
There literally are 50 different games in the PopCap PC Games download catalog. It would be next to impossible to cover and review them all here. So, instead, I'll review three of the ones I've downloaded and installed on my various computers.
Amazing Adventures: The Caribbean Secret
From the PopCap website:
Legend tells of a Spanish ship loaded with gold that vanished in the Caribbean Sea. A secret fortune of gold went missing 300 years ago — and now, you could be the one to find it!

To track down the treasure, you'll need to seek and find over 2,000 cleverly hidden objects in 25 amazing Caribbean locations. Piece together all the clues and solve tons of unique mini-games in over 100 levels, and you'll complete your adventure. Plus, when you find all the hidden skulls, you'll unlock two bonus game modes! Do you have what it takes to discover the cache of gold?
If you want a puzzle game that is extremely addictive, then this is the game for you. When I downloaded it, I literally spent hours playing this game over the course of a weekend, to solve all the puzzles and discover the ancient cache of Spanish gold.
In this game, you have to find the listed objects that are hidden in the displayed scene. Once you find all of the listed objects, you then have to solve another puzzle before moving on to the next stage of the game. As you complete each stage of the game, you receive a piece of a treasure map, which you have to reassemble after completing all of the stages of the game. Only then will you get the chance to solve the puzzles that will unlock the cache of Spanish gold.
You will be very happy to learn that this game is very playable on older computers, even on P3 with 8 MB video and 512 MB RAM. I ran this game on PCLinuxOS LXDE without any issues.
Zuma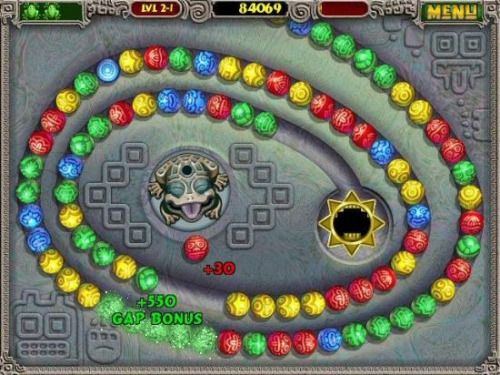 From the PopCap website:
Survive the ancient temples of Zuma, the critically acclaimed action-puzzler from PopCap! Deep in the jungle lie hidden temples bursting with traps and trickery, and it's up to you to uncover their treasures. Fire magical balls from your stone frog idol to make matches of three or more and clear the deadly chain before it reaches the golden skull.

Explore all the temples — if you're good, you'll rack up huge combos and special bonuses that'll help you on your way. But think fast and aim smart, or you'll be history in this action-packed puzzle challenge!
Zuma resides near the pinnacle of addictive, action-puzzle games that offer endless hours of single-player gaming fun and challenging time wasting. Once you start playing, you will find it difficult to just walk away. Trust me on this one. The premise is simple: shoot various colored balls from the stone frog idol to make three or more color matches in a row. When you do, the chain of marbles will explode. You can also shoot various "special" balls to slow down the progression of the marbles towards the golden skull, explode large chunks of the marble chain, or improve the accuracy of your shots.
This particular game requires a 3D accelerated video card, and was nearly impossible to play on my old P3 with 8 MB of video memory. However, it is very playable on my other laptop, which has a dual core Intel processor with a built-in Intel video card that has generous amounts of video memory.
Bejeweled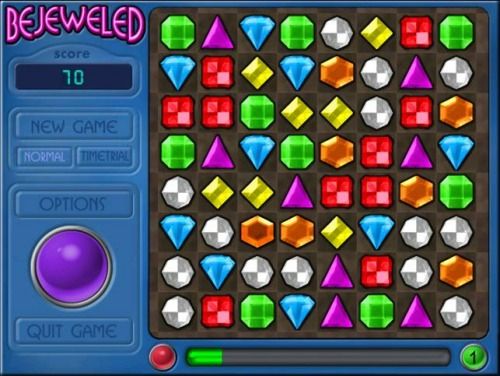 From the PopCap website:
It's the classic gem-swapping game that started the casual games phenomenon! Swap adjacent gems to match three or more sparkling jewels. The more matches you make, the higher your score. Relax to entrancing music and graphics. Get hints-on-demand when you're stuck. And when you're ready for a bigger challenge, try the Time Trial in both advanced and expert modes.

Bejeweled is the first and only puzzle game since Tetris to be inducted into the Computer Gaming World's Hall of Fame. Play it yourself to find out why!
Sometimes, you just need an game that allows you to escape, either for a short time or for hours on end, and that doesn't necessarily require a lot of thought. Bejeweled fits that description, to a tee. In fact, I can't even begin to quantify how much time I've spent playing this game, either on my computer or on my cell phone while waiting for a haircut or in the doctor's office. I'm sure it's much more than even I would be willing to admit.
Game play is quite simple: flip adjacent crystals so that three or more crystals align in a row or column. When you do, they vanish from the screen, and the crystals above it fall down to fill in the vacated space, while more crystals fill in from the top.
This game is playable on all of my computers that I tried it on, including my older P3 computers.
Caveats and Tips
Some games will require that you have a 3D graphics card. Others have exceptionally modest hardware requirements, and can be played on minimalistic computer hardware. It is a good idea to click on the "System Requirements" button on each game's web page to learn what the minimum hardware requirements are. Surprisingly, most of the games that I have tried fit into the latter category that has only modest hardware requirements.
The games in the PopCap Download Games catalog are intended as time-limited trial versions. However, I have yet to find a game in the catalog that you cannot play, in its entirety, under Wine. In some cases, you will receive a nag screen at the end of the 60 minute trial period, asking you to pay the $9.95 to continue to play the game. In such cases, simply closing the nag screen allows you to continue playing the game to its conclusion. In other games, the 60 minute trial nag screen never appears.
Conclusions
You won't go wrong downloading and playing the games that are in the PopCap Download Games catalog. They are very fun to play, and much of the time, present very challenging game play. They are truly designed to bring out the child that exists deep within all of us.
Answers to Mark Szorady's Double Take: (1) Turkey hair different; (2) Turkey snood smaller; (3) Chef hat taller; (4) Chef bib shorter; (5) "I" changed to "he"; (6) Cleaver different; (7) Bushes missing