2nd Annual PCLinuxOS Holiday Gift Guide
by Paul Arnote (parnote)
Last year, I published a holiday gift guide in The NEW PCLinuxOS Magazine, featuring affordable holiday gift ideas for your favorite PCLinuxOS user. So, I decided to give it another go this year. All prices are in U.S. dollars. I've only featured items at their regular prices, and have not knowingly featured any sale prices (since the sale will likely be over before the publication date of this article). Seeing how this is the month of December, chances are good that you will be able to find many of the items on sale, at a lower price, the closer we get to the winter holidays.
Rosewill RTK-045 45 Piece Premium Computer Tool Kit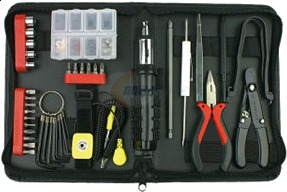 This computer tool kit comes with most things you will need to do repairs on your PC. It features a ratcheting screw driver handle, a wide assortment of screwdriver bits for most screw types, needle nose pliers, a wire stripper, tweezers, hex key wrenches, a collection of spare screws and nuts, the ever-important grounding strap, and a nice zipper case to store it all in.
SYBA SY-IPO20010 USB Car Charger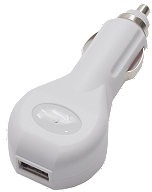 If you need a way to charge your MP3 player, or perhaps your iPhone, Blackberry, Droid or other cell phone while you're driving down the street, this inexpensive accessory may be just what you are looking for. Simply plug it into the accessory plug in your vehicle (from what I hear, it's no longer politically correct to call it a cigarette lighter plug), and plug a standard USB cord into the back end of the charger that has the proper sized USB plug for your device on the other end. It also features automatic shutoff overcharge protection. 12-24V input, 5V 450-500 mA output.
Rosewill RUA-F1 Stylish Mini Personal Desk Fan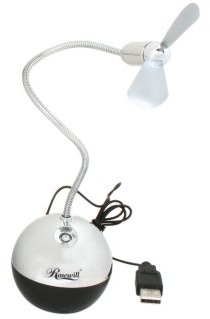 Featuring soft, nylon twin blades, this USB powered personal desk fan is just the answer to create a gentle breeze while you work at your computer workstation or laptop. The blades are mounted at the end of a bendable goose neck, allowing you the ability to direct the airflow wherever you desire. A fingertip pushbutton allows you to turn the fan off or on, without having to unplug the fan's USB connector.
SYBA PCI 1-Channel CardBus Host Controller Card Model SY-PCI-PCM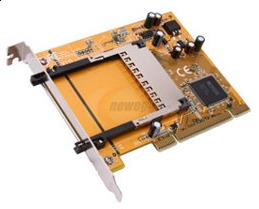 If you are a laptop user (or if you used to have a laptop), you most likely have an assortment of PCMCIA or CardBus cards that accompany that laptop. The problem is that there is no easy way to use those accessory cards for your laptop on your desktop system. For some reason, these scaled-down cards never caught on in the desktop market. But now, with the addition of this PCI card to your desktop computer, you can now use those PCMCIA and CardBus laptop cards on your desktop computer. I don't know about you, but I'm all for getting as much mileage as possible out of the equipment I already have on hand. It prevents me from spending additional funds on similar cards just for the desktop computer.
Rosewill NEC 4+1 Port USB2.0 PCI CARD Model RC-101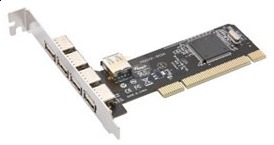 If you have some older hardware that you have used PCLinuxOS to resurrect and give new life to, there is a good chance that the USB ports on that older computer are the older USB 1.1 ports, that transfer data at 1.1 Mbps. While they will work, it's like waiting for Windows to load. It takes forever. But, if you have an empty PCI slot in that older desktop, you can easily upgrade those USB ports to the more modern USB 2.0 standard, and experience data transfer rates of up to 480 Mbps.
This card features four (4) external USB ports, and one internal USB port. This card should be plug-n-play with your PCLinuxOS system, after a reboot.
Zotac MAG HD-ND01 Intel Atom 330 NVIDIA ION graphics processor Mini / Booksize Barebone System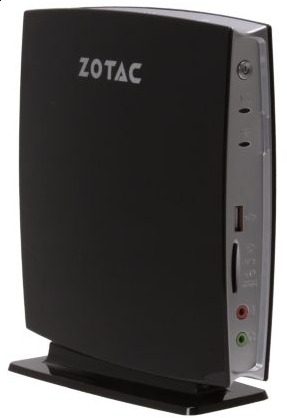 If you're looking for an inexpensive upgrade to replace an aging computer, the Zotac MAG HD-ND01 may be just the ticket. Sure, it's not the least expensive barebones computer system at
Besides featuring 10/100/1000 ethernet, the Zotac also has built in 802.11 n wireless with an Atheros chipset. It also features 8 channel audio, and a choice of VGA or HDMI video connections.
Pixxo MA-C1G5 RF Wireless Optical 1600 dpi 2.4GHz RF Wireless Optical Mouse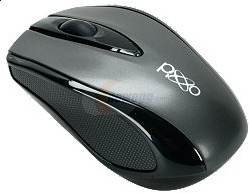 I know that wireless optical mice are as common place today as roses on Valentine's Day. I can personally attest to the quality of this mouse, since I own one. Besides, it's very affordable, as well. This mouse is a good size, and its weight gives it a very nice feeling in your hand. The receiver is very small, and stores in the bottom of mouse when it's not in use. The only thing missing from this mouse is a tilt wheel, but for the price, I don't miss it, and I doubt you will either.
This mouse sports a very precise resolution (1600 dpi), an automatic "sleep" mode to conserve batteries, a flashing low battery indicator light, and tends to be quite miserly with the batteries. It also has quite a good range for such a small mouse, with the transmitting distance a healthy eight (8) meters (about 25 feet). For only two dollars more, you can also get this mouse in either red or blue.
Kingston 4GB Micro SDHC Flash Card with microSD/SDHC USB Reader Model MRG2+SDC4/4GB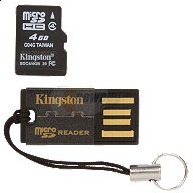 I admit it. I'm a flash memory junkie. But this is one of my all-time favorites. You get a 4 GB microSD/SDHC memory card, with the slimmest of USB microSD card readers. With the microSD card in place, it behaves just like any other USB Flash Drive, and works well as a Live USB. But the added benefit is that you can replace the 4 GB microSD card with the storage card from your cell phone and transfer files between your cell phone and your computer simply by plugging it into your computer's USB port. Plus, the price is hard to beat.
Embark 43041 Neoprene Notebook Slipcase w/Shoulder Strap — Fits up to 15.4" (Black)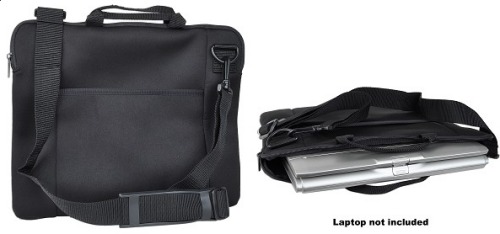 This neoprene notebook case will provide plenty of protection for the notebook computer of any PCLinuxOS road warrior, protecting it from the elements. It also features an adjustable shoulder strap and a front pocket for storage of papers and media.
19" 720p Widescreen LCD Monitor w/Speakers (Black)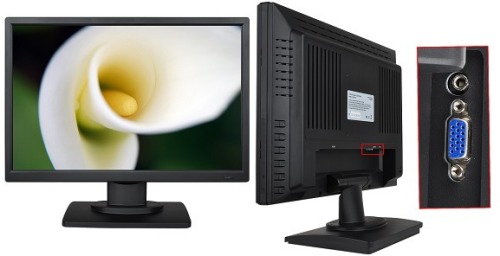 In today's tough economy, going "green" makes sense. So maybe it's time to replace that energy-sucking, larger-than-a-bus old CRT computer monitor that you've been using for the last 15 years. This widescreen 19" LCD monitor would make an excellent replacement. It has a 1440 x 900 screen resolution, features a 5 ms response time, a 500:1 contrast ratio and 160 degree horizontal and vertical viewing angles. It also has built in speakers, eliminating the need for additional external speakers — something that will save you desk space, especially if your desk space is at a premium. Since it is also wall mountable, you can save even more desktop real estate.
Ion Audio TTUSB10 USB Turntable/Vinyl Archiver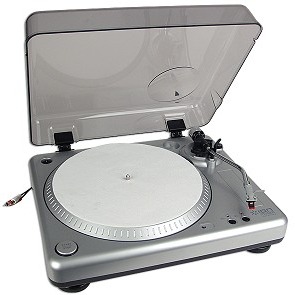 Also, Kohls.com, Regular $119.99, Sale price varies with the sale event, usually anywhere from $69.99 to $89.99, but could be lower.
If you're anything like me, you have a fairly sizable collection of vinyl records — 45's and albums — that are just sitting around gathering dust (hopefully, you have them in their sleeves). Plus, vinyl is making a comeback among audiophiles. Wouldn't it be nice to have a way to not only listen to your old collection of vinyl records, but also a way to convert them to modern, digital media formats? The Ion Audio USB Turntable/Vinyl Archiver can save the day, as well as your old collection of vinyl records. It is reported to be Linux-compatible: just plug in the USB cable to one of your computer's USB ports. Included in the box is even a copy of Audacity (albeit the Windows version) to perform the audio recording chores. That's good news for you, since Audacity is already in the PCLinuxOS repository and easily installed. The turntable will play your 45 singles and 33 1/3 albums and long play records, and comes ready to go, complete with a stylus, with minimal setup required. About the only thing you will have to do is balance the tone arm, which is a simple task for any true audiophile.
The Ion Profile Pro USB turntable is a black cased version of this turntable available at Kohl's.com or at Kohl's department stores. Linux compatibility is possible since this is a generic USB audio device.
Roadmaster DHM140 14oz Electronic Travel Cup Warmer (Silver/Black)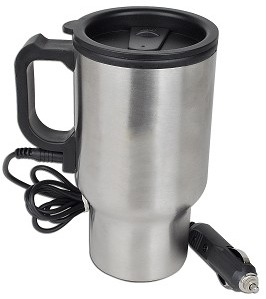 Alright, alright. This really isn't a computer accessory, but then given the love of coffee among PCLinuxOS users, you won't go wrong with this gift. Simply plug one end of the cord into the handle of the coffee mug, and the other end into the accessory plug in your vehicle, and you will be enjoying piping hot beverages wherever you go. There's nothing quite like enjoying a hot cup of coffee (or tea) while on your way to your local computer store to pick up another stack of CDs (you know, for making PCLinuxOS Live CDs to hand out), without fear that your beverage will become cold.
Similar mugs can be purchased locally at Kohl's, JCPenney, Target, Meijer, Bed Bath and Beyond, and Bonton Stores (Carson Pirie Scott, Elder Beerman, Younkers) for anywhere from $6.99 through $19.99. You might be able to get this mug for less than $5.59 as a Black Friday or Cyber Monday special.
ShredderShark SH2807 7-Sheet Cross Cut Shredder w/Basket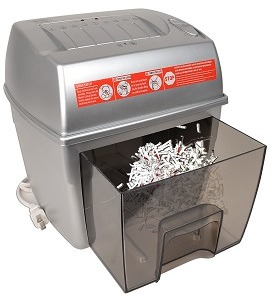 While not technically a computer accessory, no well-equipped home office or computer den should be without a decent shredder. After all, you have to have a secure way to dispose of your paper trail, which often contains bank account numbers, social security numbers, credit card account numbers, and a myriad of other sensitive, revealing (and potentially damaging) information. What's best is that this shredder will also handle CDs, DVDs and credit cards. And cross cut shredders offer better protection of your sensitive data than simple straight cut shredders.
Benwin ARC-EC-21 3-Piece 2.1 Channel PC/Game Speaker System (Black)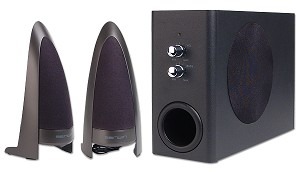 Replace your aging computer speakers with this set of stylish and affordable 2.1 channel surround sound speakers. It's hard to fathom the difference in sound quality that you get with the subwoofer until you give it a try. With these speakers, your games and music will gain extra clarity and a deeper, richer sound quality.
Augen GENTOUCH74 400MHz 256MB 2GB 7" Touchscreen Tablet Android 1.6 w/Leather Carrying Case (Black)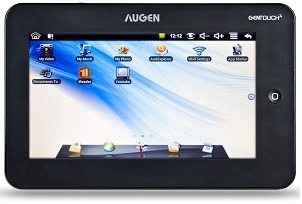 Loaded with Google Android 1.6, this tablet is a take-anywhere, go-anywhere computing device that is a custom fit for any die-hard computer road warrior. Complete with 802.11 b/g wireless, this tablet has 2 GB of built in memory, a 400 MHz ARM processor, and it accepts memory expansion up to 32 GB via microSD/SDHC memory cards. It comes with numerous apps from the Google Android apps store pre-installed, with thousands more available for download. It also comes with an AC adapter to charge the built in rechargeable lithium ion battery, and a leather carrying case. So why spend the money on a more expensive eBook reader, when you can have a more functional tablet that will not only allow you to read your eBooks, but also allow you to view pictures, play music, play videos and connect to the internet to check your email or the PCLinuxOS forum?
A newer model, featuring the Google Android 2.1 OS and an 800 MHz ARM processor, is also available for $30 more. This device is also available at K-Mart stores (offline).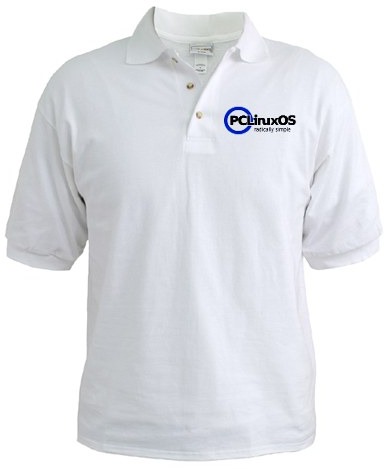 Dress up in style, and spread the word about your favorite Linux distribution at the same time with this fashionable golf shirt. It's made of 5.5 oz preshrunk 60/40 cotton/polyester pique material that resists wrinkles and shrinkage. The PCLinuxOS logo, emblazoned across the left upper chest is a nice touch that's hard to miss.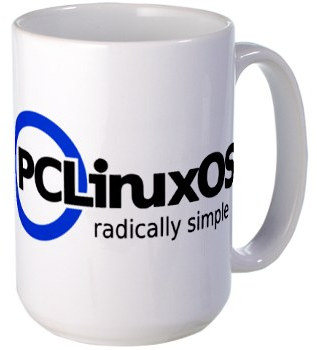 PCLinuxOS CafePress Store, $15.99
Approved by Neal, this large 15 oz coffee mug will adorn your desk with style. With a large handle, this cup measure 4.5" tall and 3.25" wide. It is also dishwasher and microwave safe. There will be no question what coffee mug is yours!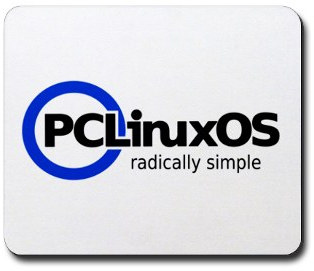 Keep your mouse tracking with this rubber-backed, cloth front mouse pad, emblazoned with the official PCLinuxOS logo. The mouse pad is machine washable.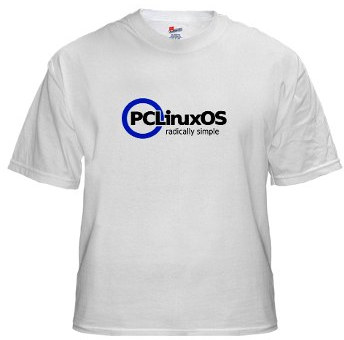 Made of 6.1 oz pre-shrunk cotton, you can wear the most fashionable t-shirt in the crowd. The PCLinuxOS logo is proudly displayed across the front of the shirt.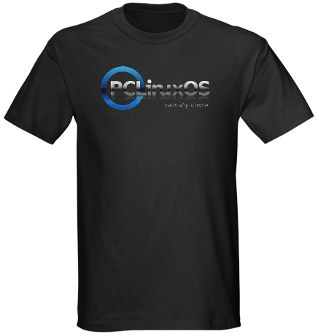 You will be strutting in style with the PCLinuxOS Dark T-Shirt, available in nine different colors. All shirts feature the official PCLinuxOS logo emblazoned across the chest, and are made of 5.6 oz 100% pre-shrunk cotton.
There you have it. Twenty gift ideas that are certain to tantalize and thrill the PCLinuxOS user on your gift list. If you purchase any of the PCLinuxOS items from the PCLinuxOS CafePress Store, a portion of the proceeds will help support PCLinuxOS. Also, if none of the gifts listed above are what your favorite PCLinuxOS user needs or wants, no self-respecting PCLinuxOS would turn down a $25 donation to PCLinuxOS made in their name to help support their favorite Linux distribution. Happy holidays!