Repo Spotlight: Radio Tray Is Music To Your Ears
by Paul Arnote (parnote)
We've all been there — working hard at the computer, or just browsing the web, and we notice the dead silence. Sure, we can play audio files in our favorite audio player, but that means stopping every now and again to load up another playlist. Sometimes, it's nice to just sit back and have a steady stream of music without any intervention from us, except starting it. Or maybe you like to listen to your favorite sports talk show, or your favorite talk-radio commentator. This is where a streaming radio application comes in. In fact, maybe something like Radio Tray.
Sure, there are other applications that play steaming internet radio. But most of them do so with a lot of overhead. Radio Tray does one thing, and does it as unobtrusively and economically as can be expected. That one thing is to bring streaming internet radio to your Linux desktop.
Currently at version 0.6.1, this is the description from the Radio Tray home page:
Radio Tray is an online radio streaming player that runs on a Linux system tray. Its goal is to have the minimum interface possible, making it very straightforward to use.

Radio Tray is not a full featured music player, there are plenty of excellent music players already. However, there was a need for a simple application with minimal interface just to listen to online radios. And that's the sole purpose of Radio Tray.
That Radio Tray has a minimal interface is an understatement. When it's running, the only indication is the icon that is placed in the system tray of your panel. In the screen shot above, it's the second icon from the left. A click of your left mouse button displays the pop-up menu that allows you to select from the radio stations you have programmed in.
While it's playing, the "radio waves" of the Radio Tray icon turns blue, and if you hover your mouse over the icon, information about the currently selected radio station and the selection playing is displayed in a pop up tooltip. Also notice that next to the radio station name is a volume setting. Scrolling your mouse wheel over the Radio Tray icon will turn up or turn down the volume of the audio stream, independent of your main sound volume.

As Radio Tray continues to stream your selected radio station, a pop up notification will appear with each new selection that is played.
Setting Up Radio Tray
Of course, you will need to install Radio Tray from the PCLinuxOS repository. Once installed, it will appear under the Sound category in your PC menu. Radio Tray is a small python program that uses a variety of gstreamer plug ins to stream the radio station to your desktop. There are also a variety of gstreamer plug ins available in the PCLinuxOS repository. For example, to play radio streams whose address begins with mms:, you will need to install the gstreamer mms plug in. Playback of AAC streams will require installation of the gstreamer-faac and gstreamer-faad plug ins. It may take a little trial and error to find the right gstreamer plug in, but you'll usually stumble upon it.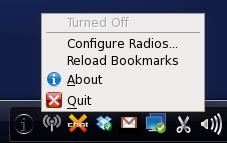 A right click of your mouse button on the Radio Tray icon will display the menu shown above. Selecting "Configure Radios..." from the menu will bring up the configuration dialog box.
One of the newest features of the most current version of Radio Tray is the ability to group your radio stations by genre. To start with, you will want to define your genres. Don't worry if you don't get them all in at first. You can add additional groups later. You will, however, want to create your group entries first. Once you have a station entered, you cannot change or edit the group that station belongs to.
Click on the "Add Group" button to display the dialog box shown above. You can assign your new group to the "root" parent group, which will make your new group entry appear as a top level menu entry. Or, you can also assign your new group as a subgroup of any other group entry you've previously made, allowing you to have nested "levels" of submenus.

Clicking on the "Add" button in the "Configure Radios" dialog box will bring up the dialog box shown above. Enter the name of the radio station on the first line, and the URL of the radio station stream on the second. Select the group you want the radio station to appear in on the third line, and click "Save." Repeat this for each radio station stream you wish to add.

Selecting the "Move Group" button brings up the dialog box shown above. This is handy if you want to further refine your genre groups. Say, for example, I wanted to move my "Beatles" group to become a subgroup of "Rock-N-Roll." I can move the "Beatles" group to where "Rock-N-Roll" is it's parent group, and thus appearing as a submenu under the "Rock-N-Roll" menu.
You can also sort your list by highlighting the item you want to move and selecting the blue up or down arrows until you have your groups in the order that you wish.
Finally, selecting "About" from the left click menu will bring up the About Radio Tray dialog box.
Finding Streaming Radio Stations
Actually, it's not very hard to find streaming radio stations. Probably the first place to check is the Shoutcast radio directory. There, you will find over 40,000 streaming radio stations from all over the world. Many are internet only radio streams. You can also check out nearly 6,000 additional radio streams from the Icecast streaming directory.
You can also stream your local radio stations. The best way to find them is to visit the web site of your favorite local radio station, provided they have a web site. If they do, chances are high that they a "Listen Now" or "Listen Live" link. Pay attention to the address that pops up in the playback window. There's a chance that URL will also work with Radio Tray. On other stations, they have links for other devices (such as Blackberry devices and iPhones), so if the "regular" stream won't work, there's a high likelihood that one of the other links will work with Radio Tray.
You can also search on various forums that deal with streaming audio enthusiasts, where you can obtain difficult to find radio streaming URLs, many that the originator of the broadcast might not want to be widely known.
Conclusion
Radio Tray offers up countless hours of listening enjoyment. It's small and unobtrusive. Most of all, its fun and easy to use, without the overhead of many of the other applications that also play streaming audio feeds. You will undoubtedly find an audio stream that suits your taste, and treat your ears to audio streams most pleasing to you.