WWW Collapse Prologue
by Paul Arnote (parnote)
Prologue
On April 17, 2010, Alain Baudez (a.k.a. Wamukota) sent me a short story he had written, and asked me if I would be interested in running it in The PCLinuxOS Magazine. Set in the not too distant future, it's a story depicting the collapse of the World Wide Web.
Liked it? I loved it! I read it through three times upon receiving the story, and each and every time, my mind envisioned this story being told via a comic strip. I definitely wanted to do this story justice, so I started "shopping around" for someone with some graphic skills who might be able to tackle such a project. This was no small task.
I looked everywhere. I checked with the usual PCLinuxOS artists, but all said that this was something that they felt was outside of their graphics abilities. However, one such contact did lead to another lead, which I pursued. Timeth, an Australian PCLinuxOS user and artist who teaches in Japan, had some students who were quite skilled at anime-type drawings, and he thought that they would be able to do a good job.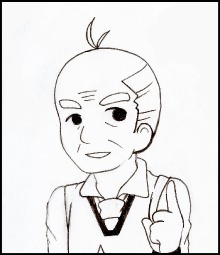 So, I sent Alain's manuscript to Timeth, and he shared it with them. They were interested. So off they headed, working in their spare time to create a multi-panel comic book style presentation for Alain's story. After several months, their outstanding work appears here.
"One of my other hobbies is writing short stories. I've done that since I was a teenager and now, at the age of 54, I still love to write. I normally write stories in Dutch, but once in a while, I like to try it in another language. When I write some SciFi or Fantasy stuff, it just makes sense to do it in English," said Alain about his story.
"I really can't recall what gave me the idea, but this story is simply one of the many plots I came up with, where I play with the infamous Dec 21, 2012 date. According to some, that date means the end of the world, and in my story it is simply the end of the WWW as we know it.
"I also hint at the freemasons at the end of the story. You know they exist, but you don't know who is a member. Between them, they have special secret signs, which I refer to with the i-letter."
I would like to share the names of the students in Japan with the rest of you, but privacy laws in Japan prevent me from publishing their names here. So, we've given their nicknames. They are two female junior high school students, Moto-san and Hina-san. So to Moto-san and Hina-san, if you are reading this, I'd like to personally congratulate you on the outstanding job you did with this project. You can certainly be very proud of what you have helped create here. Plus, I would like to thank you for your hard work on this project.
This has truly ended up being an international endeavor. Alain Baudez, a PCLinuxOS user from the Netherlands, wrote the story. He sent it here to me, in the United States, to publish it. I sent it to an Australian, teaching in Japan, to find a way to illustrate it. And his students, from Japan, came through with the illustrations.
I hope you enjoy the story, along with the comic-book presentation, exclusively here in The PCLinuxOS Magazine.