E17: Configure The Everything Module To Do Everything
by coffeetime & smurfslover
Everything Module (from the website):
http://trac.enlightenment.org/e/wiki/Gadgets/Everything
This is a plugin based module that offers a broad number of tasks to perform, from running applications, directory browsing, managing music playlist, indexed file searching to browsing stuff from youtube.
Basically, Everything is like a fancy kickoff, where one can do everything using keyboard/key bindings, plus adding interesting stuff like quick access to Wikipedia, Google, YouTube, etc.
Some plugins can be called up by setting a trigger in the options, for example, you can configure it so you can type a 'y' to activate the YouTube plugin, type what you want to search for and Everything gives you a list with titles and thumbnails. However, you will have to load some of the modules. Go to the Settings Panel > Extensions > Modules > Launcher and load the ones you want if they aren't already loaded:
Everything configuration
The default key to launch everything is ALT+ESC.
To configure Everything, run it and type 'ev co', first item should be 'everything configuration'.
Code:
ev co
When you get the following window, double click Everything Configuration.
Here's an example. Let's add YouTube: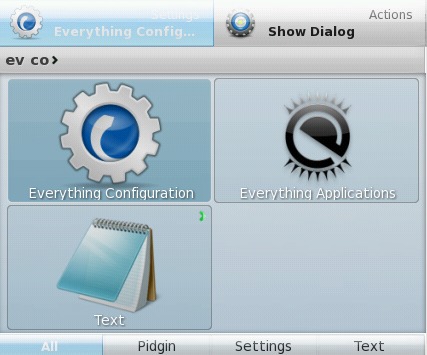 Press Enter. You should get the configuration window.
Click on Youtube to highlight it and check Enabled on the right side. Apply.
You should see it in the main window. When it is highlighted, press Enter.
Let's use it. For example type u2.
Press Enter.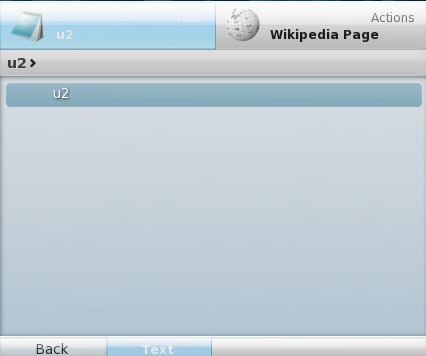 Use right arrow key and move to Wikipedia Page.
Scroll down to Youtube.
Press Enter. You should see something like the window below;
Right arrow key. Choose what you want. For example, Watch on Youtube will open Firefox.
Many times, just typing in what you are looking for will bring up the list and you can choose which one you want, click on actions and choose your action. Possible actions include watching your video on Youtube or even downloading and saving it. In the upper right corner of the window the launcher shows the default action, click the word Actions to get a list of possibilities. The chosen action will be defaulted.
If you want to configure Youtube, like setting or changing the browser you want to use, click on Configure.
When you do that, you will get the following window;
You can search for or browse through:
Files and directories
Recently used files
Places
Apps
e17 settings
windows
desktops
commands you've run through the launcher (exebuf plugin)
Other plugins:
Websearch: Google , Youtube (downloading and converting), Wikipedia, …
aspell spell checking
calculator (trigger is =)
mpris to controle a mpris compatible media player (banshee, exaile, …)
pidgin – open chats and send files
Wallpaper – change or import wallpapers
Tracker – support for tracker indexing service (gnome indexing service using nepomuk)
(I wouldn't recommend using tracker if you want to keep your e17 fast & light.)
You can configure Everything to run or open almost anything. Once you start configuring it, you may use it more than your normal menu. After you start using it a lot, you will find that all your most often-used items will be in the default window. All you will have to do is run Everything and choose what you want to use next.
If you arrow over to the Applications item (at the bottom) and press Enter, you will get a list of your most recently opened apps.
smurfslover said, "Since I discovered it and learned to use it, I use almost nothing else; the menu just becomes useless. It's very similar to KDE's krunner – it's fast and light and much easier to use."
Meemaw also contributed to this article.