Welcome From The Chief Editor (June 2011)
There's no mistaking it. Summer is almost here, and there is no shortage of volatile late Spring weather in the central parts of the United States. The recent large outbreak of tornadoes in the central parts of the U.S. have punctuated the news and lives of many people. In a one week period at the end of May, over 100 tornadoes have erupted from the thunderstorms that commonly roar across the plains. Tornado outbreaks have occurred from Texas to Minnesota, and from western Kansas to the Ohio River Valley.


I live in Independence, Missouri, near the geographical center of the country. Assistant Editor Meemaw lives in Southeastern Kansas, about three hours south of my location. Phornecker lives in Northwest Indiana. Georgetoon lives in the Ohio River Valley. Texstar, ms_meme and Dragynn live in Texas. Djohnston lives in Oklahoma. Many PCLinuxOS users live near – or in – areas affected by the recent tornado outbreaks.
In fact, if you live in this area of the United States, commonly referred to as "tornado alley," it's hard to find someone who either doesn't know someone affected by the destruction brought by the tornadoes, or who isn't affected directly, themselves. Personally, areas of my wife's home town, Sedalia, MO, have suffered the effects of an EF2 tornado (tornados are rated on the Enhanced Fujita Scale, from zero for cyclonic wind speeds up to 85 mph, to five for cyclonic wind speeds over 200 mph). Thankfully, all of her relatives and friends escaped any direct damage or injury. On that particular day (May 25), there were no fewer than 10 tornado warnings, some of them simultaneous, dotted all around my location.
A little further from me, but closer to Meemaw, Joplin, MO has had the national and international news spotlight thrust upon it, after an EF5 tornado tore a one mile wide swath, six miles long, through the middle of that Missouri town of 50,000 people (it's estimated that Joplin's "population" swells to 270,000 during the day, when people in outlying areas commute into Joplin for jobs and commerce). One of my co-workers at the hospital also works at the hospital in Joplin, MO that sustained a direct hit by the large tornado. This particular tornado took the lives of over 120 people, and left a path of destruction that will cost millions of dollars to overcome, while leaving a large number of people homeless and their lives torn apart.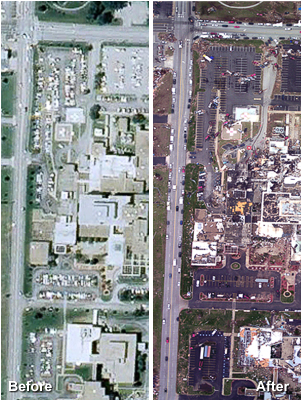 St. John's Hospital, Joplin, MO, before and after
the EF5 tornado on May 21, 2011. The hospital
sustained a direct hit by the tornado.
Photo credit: NOAA.
Already, 2011 is the seventh most deadly year, in regards to deaths (501 as of May 25) from tornadoes, and the second most deadly year since NOAA-NWS has started keeping records in the early 1950s. The bad thing is that it's not over, yet. There will be more severe weather as the year continues, and the death toll will undoubtedly – and unfortunately – climb.
I know a lot of people may be asking "why do you live in that area of the country, with these destructive and unpredictable storms?" It's not an easy question to answer. First of all, it's home. For many of us, it's where we were born. The rest moved here for jobs, or because our spouses are originally from the area. Secondly, where are you going to go? Every area, it seems, has its share of natural disasters. California has earthquakes and wildfires. Residents of the Gulf of Mexico endure hurricanes. Northeastern U.S. residents have to suffer through horrific winters and blizzards. No matter where you go, it seems that there is some sort of natural disaster just waiting to spring forth when the conditions are right.
Normally, I make a plea for donations to PCLinuxOS, to help support the continued development of our favorite Linux distro. Certainly, you should continue to do that. But if you have any extra, donations to either the American Red Cross or the Salvation Army, both of whom are omnipresent and offering assistance in times of crisis, would go a long way to helping provide relief to those who's lives have been disrupted.
Until next month, I wish each and every one of you peace, tranquility, serenity and prosperity
Paul Arnote
Editor