GameZone - FarmVille, FrontierVille, PioneerTrail, Other Zynga games

by
Patrick G Horneker (phorneker)


While this article does not have to do specifically with PCLinuxOS, it does tell about online gaming using PCLinuxOS. The games I am talking about require a Facebook account, and work with any laptop, desktop, tablet, or smartphone, not just systems that run on PCLinuxOS.
However, the Zynga games look pretty good under PCLinuxOS, whether you use Firefox, Chromium, or Opera. (These are the browsers supported by Facebook.) Zynga's support pages assume everyone is running Windows, and the games require Adobe Flash Player be installed. Fortunately, Adobe Flash Player can be installed from Synaptic, if you do not already have it installed. (You only need the flash-player-plugin package to play the games.)
Note: I have not tested Facebook with any of the libswfdec packages.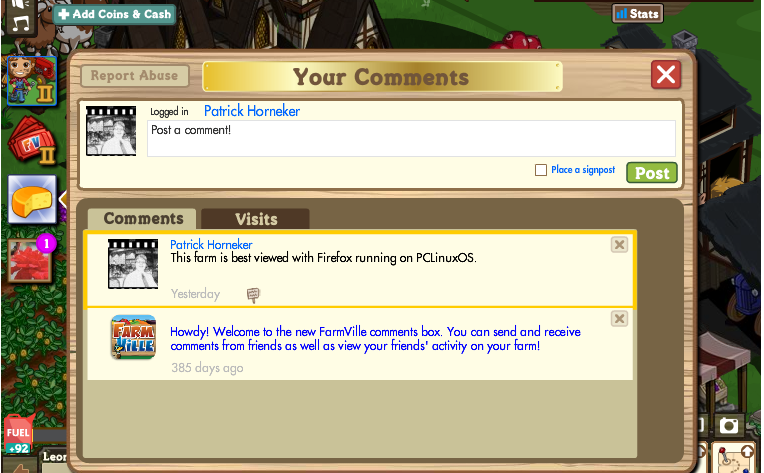 Here is a partial screenshot from Farmville. For privacy reasons, I clipped the portion of the screenshot that had Farmville "friends" of whom I play the game with. Also, note the comment I made in this graphic.
As one could guess, Farmville is a game that somewhat simulates farming, in the sense that you raise farm animals and grow crops, which you can then sell, trade for fuel, or make all kinds of items for use on your farm, as well as your "neighbors" farms.
Among buildings that can be placed on a farm are bakeries, horse barns, dairy farms, silos, nursery barns (to raise calves and foals), chicken coops, pig pens, sheep pens, and more. As of this writing, you can now raise wildlife in sanctuaries.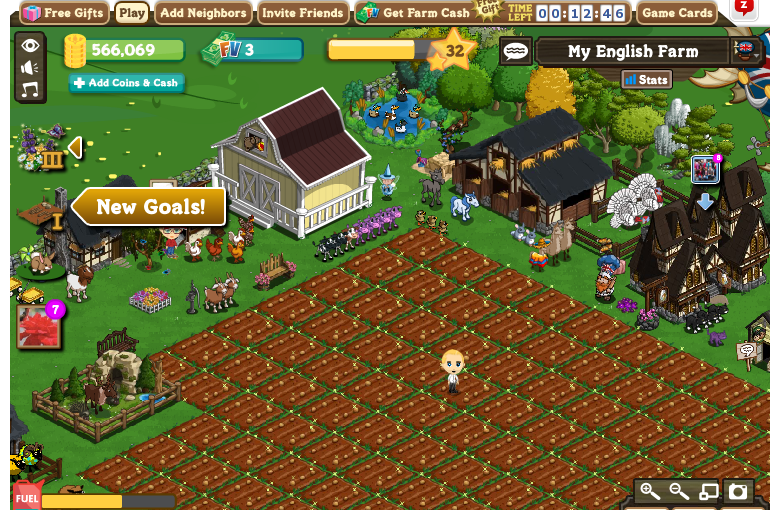 As if that were not enough, there are missions to fulfill, co-op jobs, and some other rather silly tasks to complete. In this screenshot, I have planted a field of potatoes. As we can see here, this is what a typical farm in Farmville looks like. Do you care to guess where my avatar is on this screenshot?
Enough on Farmville. Frontierville and Pioneer Trail (recently combined to function as one game) are based on how people settled in the Old West between the end of the American Civil War to the Roaring Twenties.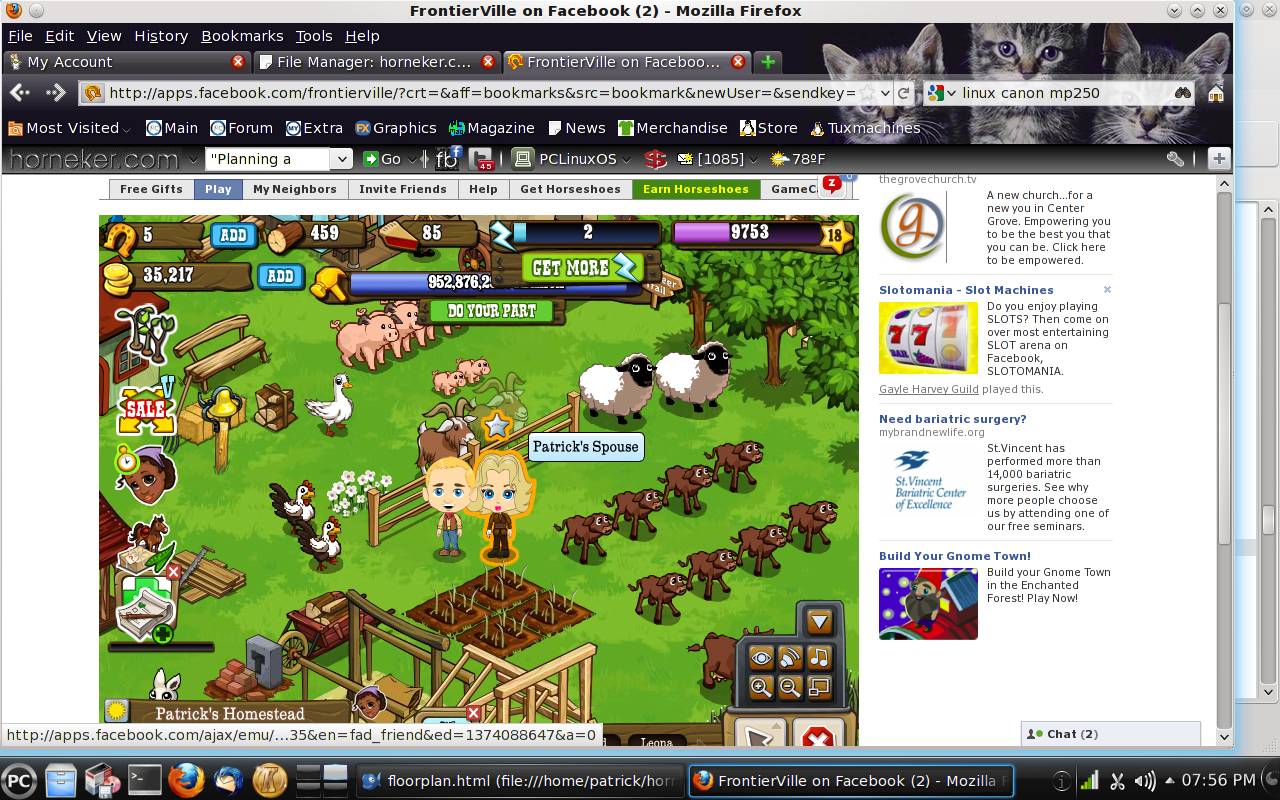 This is Frontierville as it looks under PCLinuxOS. Here, you actually build a settlement by clearing grass, wildflowers, rocks, cacti, and skulls. You can chop down oak and pine trees, plant new trees of various kinds, build cabins, general stores, saloons, cabins, and other useful structures.
While building your settlement, you will come across many surprises, including the number of missions that need to be completed (some of them have time limits), bears that appear after chopping down large trees, foxes after feeding chickens and geese, groundhogs after harvesting some crops (they don't just tell us the weather on February 2nd).
For most activities, one unit of energy is consumed as we can see in this screenshot.
Also, when you start playing Frontierville, you are single. You get to configure the look of your avatar. You will receive messages from your fiancee, after selected missions are completed. After you have completed four missions where messages are received, you will have built up your settlement to the point where you craft fancy clothing, have a cabin and a general store, grown a few crops, and have raised some farm animals, your spouse will arrive. You can configure your spouse the same way you configure your avatar, with the example shown in this screenshot.
There are many more games Zynga has available for PCLinuxOS users (and everyone else on Facebook) to play. To get the most out of these games, you will need to purchase game cards from select retailers such as Best Buy, Target, GameSpot, and CVS Pharmacy. These cards are redeemed at Zynga's website.
There are two types of currency in each of the games: coins and cash. You redeem cards to add cash to your game. Depending on the game, you may earn cash by completing certain levels of the game. Coins are generally earned by playing the game, but when it comes to the Markets in the game, most items in the games are paid for with cash. (You can see where Zynga makes its money.)
That withstanding, if you have not had a chance to try out some of these games, and are on Facebook, it is well worth the entertainment value, even for PCLinuxOS users