Double Take
Spot the Seven Differences between the Images
Click Here for the Answers


Marks Quick GIMP Tip:

Gimp offers a number of different ways to execute the copy and paste routine. One of the more creative options offered is Gimp's ability to paste clipboard contents as a new brush. It's easy to accomplish. For instance, when I've created a cartoon with a winter scene and need to add more snowflakes (those little round circles in that stand-in for snowflakes in the cartoon world), I simply select one small snowflake and copy it to the clipboard. Then, from the menu, I select Edit>Paste as>New Brush.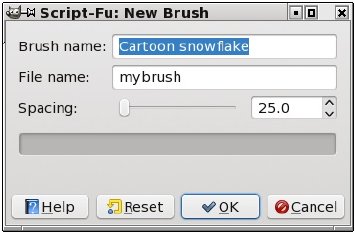 The Brush dialog pops up asking me to give my new brush a name. I name the brush and click Okay. The new brush's thumbnail now appears in my brush panel and is ready for use!