Clouds In The Sky, Google Drive Arrives
by Paul Arnote (parnote)
On April 24, 2012, the skies got a bit more cloudy when Google officially announced their cloud storage solution, called Google Drive. Talked about since 2006, that talk reached a feverish pitch over the past few months, as rumors and speculation accelerated about Google finally releasing Google Drive.
Google Drive replaces Google Documents, once you elect to sign up for the service. From then on, all of your documents are presented in Google Drive. However, Google Drive elevates Google Docs from just mere document creation, storage and collaboration, to being able to store and share any type of file, up to your storage limit.
That storage limit starts off with a free 5 GiB of storage. You can purchase additional space, costing $2.49 for an additional 25 GB, or $4.99 for an additional 100 GiB. If necessary, you can purchase up to 16 TB of additional storage space, with a Google account upgrade. Any additional storage space you purchase is shared between your Google Drive and Google Picasa accounts.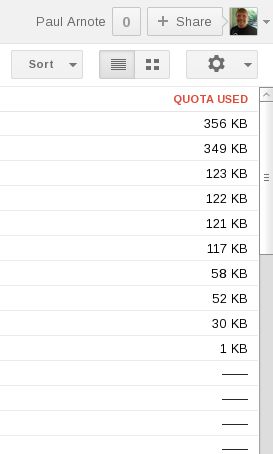 Fortunately, the space used to store your Google Docs content does not appear to affect your Google Drive storage space. Rather, it appears that your Google Docs content has been made unlimited. To view how much of your allotted storage space each file is consuming, click on the "Sort" button on the screen, and select "Quota used" from the list that appears. In the screenshot above, you can see several files that are consuming space from my free 5 GiB of free storage space.
Yet you can also see files that simply have a "-------" displayed under the Quota Used column. Those are the documents that I either created directly in Google Docs (as is my usual custom when writing articles for The PCLinuxOS Magazine), or that I converted to Google Docs. Most of my content in Google Drive consists (at this time) mostly of articles for the magazine that have been created within Google Docs – including those created and submitted by other magazine writers over the past three years.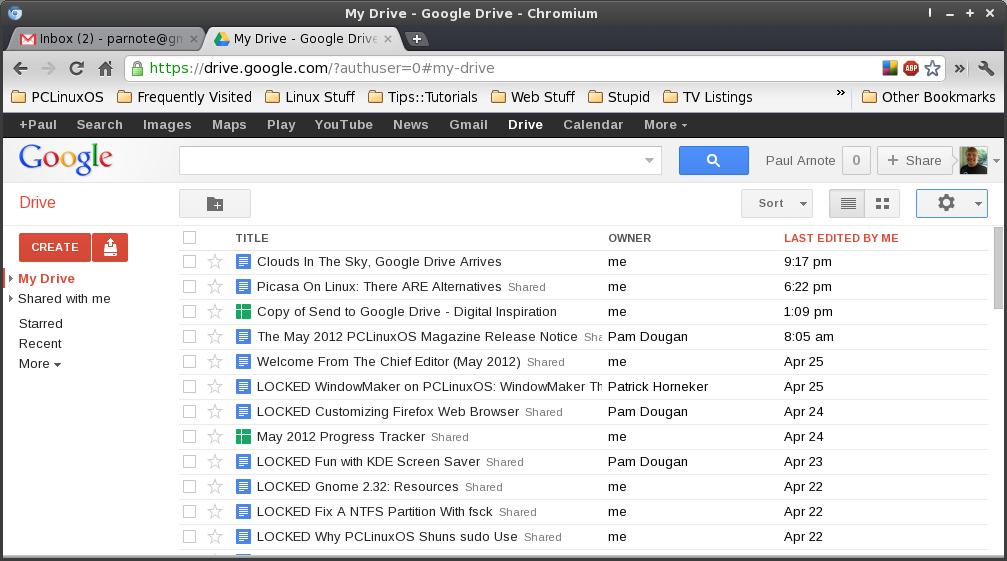 Anyone, using any OS, can access their Google Drive account from any modern web browser. Client-side applications already exist for Windows, OS-X, iOS and Android, and a Linux client is currently under development. With the client-side apps, any file you upload to your Google Drive account will be synchronized with, and accessible from, any of your devices that are also connected to Google Drive.
If you use Google's Chrome or Chromium browsers, there are special Google Drive "apps" that you can install from the Chrome Web Store to help you enhance your experience with Google Drive. At the time of the writing of this article, I didn't see anything all that earth-shattering that I couldn't do without. Your needs may be different, so check out the apps to see if some of them are useful or helpful to you.
Google Drive is intended to be integrated with other Google services. In the first week that Google Drive was out, Amit Agarwal, the founder and author of the Digital Inspirations technical blog out of India, told his readers how to integrate Google Drive with Gmail, allowing you to selectively save Gmail attachments to your Google Drive account.
The Uproar
Almost immediately after its release, Google Drive's Terms of Service (ToS) language came under heavy fire and debate. Since Google's aim is to create and offer a series of interoperable services, their ToS is, perhaps, written to be a bit wider than services that only offer cloud based data storage. Google uses one ToS to cover all of the services that they offer. The portion that raised the rankles of Internet users reads as follows:
Your Content in our Services
Some of our Services allow you to submit content. You retain ownership of any intellectual property rights that you hold in that content. In short, what belongs to you stays yours.
When you upload or otherwise submit content to our Services, you give Google (and those we work with) a worldwide licence to use, host, store, reproduce, modify, create derivative works (such as those resulting from translations, adaptations or other changes that we make so that your content works better with our Services), communicate, publish, publicly perform, publicly display and distribute such content. The rights that you grant in this licence are for the limited purpose of operating, promoting and improving our Services, and to develop new ones. This licence continues even if you stop using our Services (for example, for a business listing that you have added to Google Maps). Some Services may offer you ways to access and remove content that has been provided to that Service. Also, in some of our Services, there are terms or settings that narrow the scope of our use of the content submitted in those Services. Make sure that you have the necessary rights to grant us this licence for any content you submit to our Services.
You can find more information about how Google uses and stores content in the Privacy Policy or additional terms for particular Services. If you submit feedback or suggestions about our Services, we may use your feedback or suggestions without obligation to you.
Specifically, it has been the second paragraph of the ToS that has most users getting their undies in a bunch. Google, as with any large corporation, wants to avoid defending itself in legal issues scattered around the world's courts. It's speculated by many who have attempted to analyze the language used that overzealous lawyers put these terms into the common ToS that covers all of Google's services.
Remarkably, Google's language doesn't differ all that much from the ToS of other cloud-based storage providers. You can look at the ToS for Apple's iCloud (particularly, the "License from You" section), Microsoft's SkyDrive (particularly, Section 5), and Dropbox (particularly, the "Your Stuff & Your Privacy" section). Of the three comparable services, Dropbox probably has the most liberal language in their ToS. However, the ToS of iCloud and SkyDrive contain exceptionally similar language to that in the Google ToS. Granted, most Linux users won't be utilizing the services offered by Apple or Microsoft. But the fact remains that Google is not without company on the ground they are standing.
Summary
It's no secret that there is a growing anti-Google sentiment growing, especially among Linux users. Users around the world are quickly tiring of Google's data mining and collection. It's quite likely that Google knows more about you than your spouse, and all of it is a direct result of their data collection from the vast number of users who use their services.
Also, Google doesn't have a very good track record with keeping their new services around for very long. Google Wave lasted 14 months before the plug was pulled, and many argue that it wasn't really given a fair chance. Google, only four days prior to the launch of Google Drive, announced that they were dropping Linux support for Picasa. Google Buzz came and went in very short order. The list of discontinued services is long. We can hope that Google Drive will fare much better than those that populate the long list of discontinued Google services.
All in all, if you can live with or accept Google's incessant data mining and collection, Google Drive looks to be a solid service that will benefit users of all operating systems. Providing a generous 5 GiB of free storage space is more than double the space offered by Dropbox, but less than half of my free storage space on Minus.com.
Clearly, there will be as many different uses for Google Drive as there are Google Drive users. Google's long awaited entry into the cloud-based storage arena has thrust cloud-based storage services to the forefront of the discussions about technology.