IBM Lotus Symphony 3.0.1
by Crow
Editor's Notes: PCLinuxOS has, as its primary office suite, LibreOffice. It can be installed on your PCLinuxOS system by running LOManager, also known as LibreOffice Manager. As such, LibreOffice is supported in PCLinuxOS, and LOManager installs LibreOffice from a special section of the PCLinuxOS repository. Users are advised to not install applications from outside the official PCLinuxOS repository. The applications in the repository are tested to insure that the installation of one application doesn't break any other application – or a dozen other applications – in the process. Installing applications from outside the official PCLinuxOS repository will create an unofficial installation, and will render your installation unsupportable. Users installing outside applications (e.g., applications from outside the official PCLinuxOS repository) will be on their own if they run into troubles and will not be eligible to receive support in the PCLinuxOS support channels (i.e., the PCLinuxOS forum). If you choose to follow the instructions in this article, you do so at your own risk, and with full knowledge of the aforementioned.
In another development, IBM recently announced that it was refocusing its efforts on Lotus Symphony. IBM, instead of continuing development of an independent fork of OpenOffice (which is what Lotus Symphony is), is now rolling the entire code base for Lotus Symphony over into the Apache OpenOffice project. IBM announced that under their refocused efforts, they will now be helping the Apache OpenOffice community with further development of the application. IBM has prepared a fairly comprehensive FAQ to help answer any questions Lotus Symphony users may have regarding this recent development. – Paul Arnote, Chief Editor
I tested IBM Lotus Symphony when they released the first alpha in Windows. I liked the looks of it, but it felt heavy and unpolished.
Lately, I've been looking for an alternative to LibreOffice, and although Koffice looked fast, it is still somewhat buggy. I remembered Symphony and went to the IBM site http://www-03.ibm.com/software/lotus/symphony/home.nsf/home. I found that you can get an RPM meant for other distros. What I did next is not recommended in the PCLinuxOS forums. If you do the same, your installation may become unstable and won't be supported if you need help. It is better to have a spare partition or use Virtual Box.
I downloaded the following packages:
symphony-3.0.1.i586.rpm (271 MiB)
symphony-nl1-3.0.1.i586.rpm
symphony-fp1-3.0.1.i586.rpm
The first two are Lotus Symphony 3 (as in Beta 3) installation and language packages, and the third is a fix pack. IBM recently released, and I downloaded, sym.dic.es.zip, a Spanish dictionary.
Installing an RPM in PCLinuxOS is very simple, as long as the package is compatible. First, you have to install "RPM Installer" from Synaptic, then just right click the file, go to "Open with..." and choose RPM Installer. I installed in the order listed above without problems.
The suite puts an icon in your system task bar. Launch the program from there, and you are presented with a clean and pleasant layout. You can choose from Document, Presentation, Spreadsheet or your more recent files.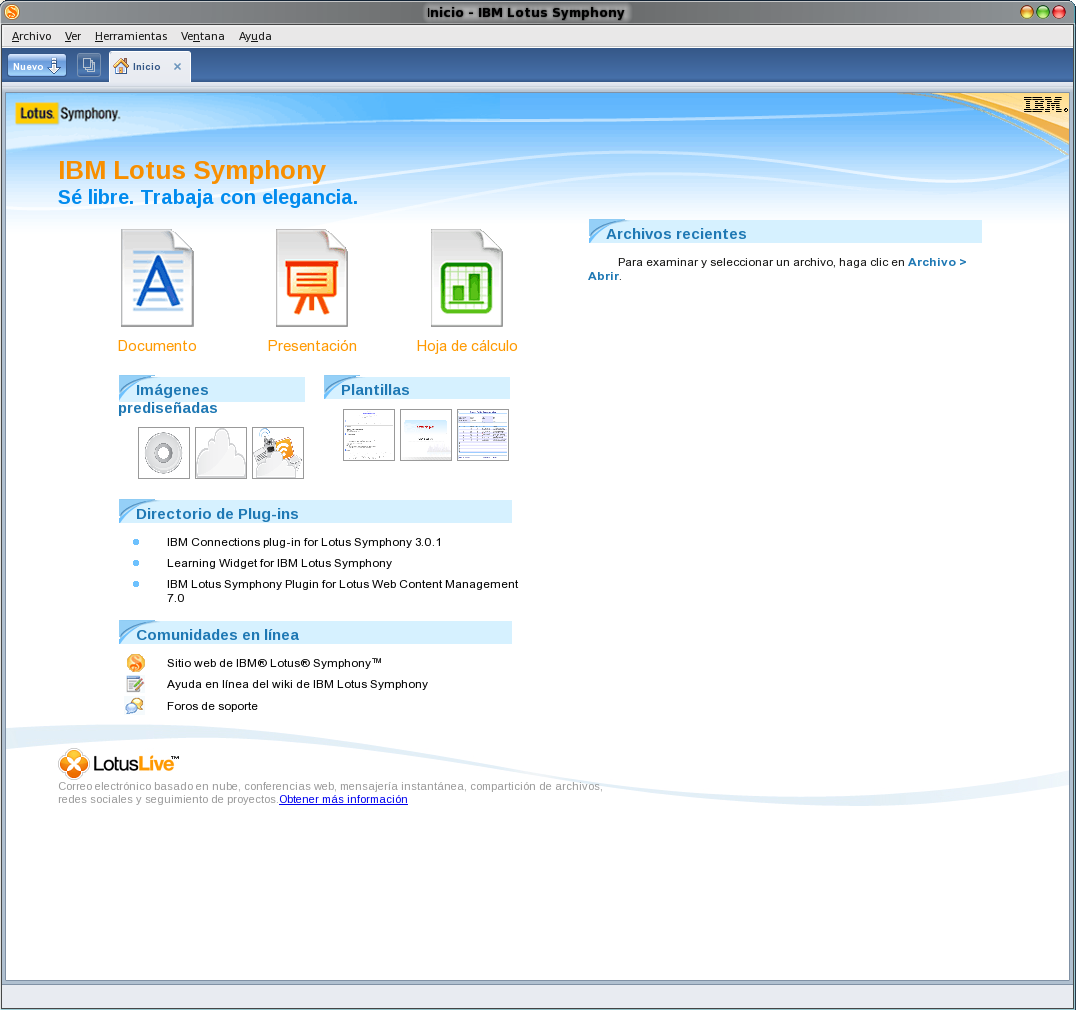 Click the Document option and you get a tab with a well designed right side bar, which duplicates several of the options of the top bar. Fortunately, the top bar can be changed as you like. The bar at the right gives you four tabs: Properties, Styles, Predesigned Images and a Document Browser.
Return to the Home Tab and choose Presentation. It will open a new tab with the options outlined before, plus a series of templates.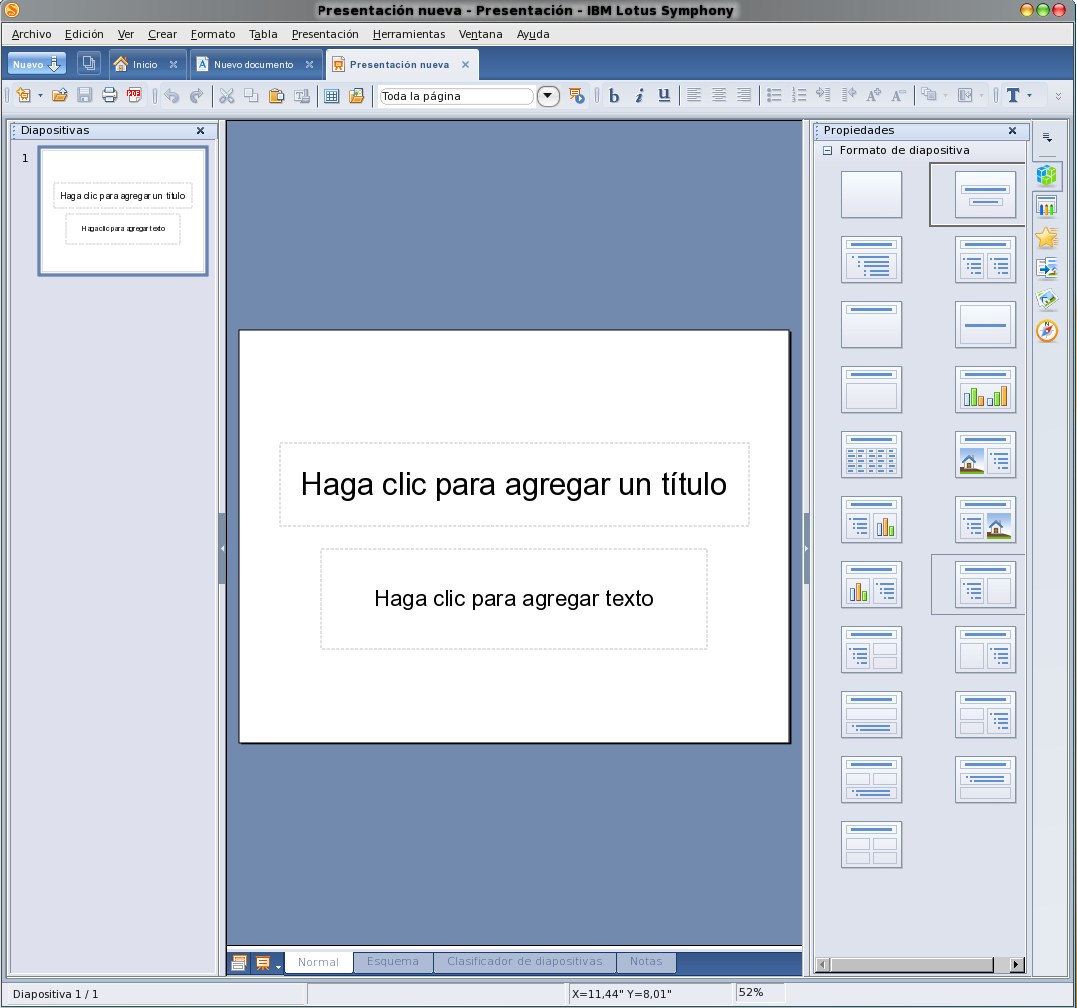 Last is the Spreadsheet. It also opens in a tab and the included option is Functions.
Symphony includes a Web Browser that opens (you guessed right) in a tab and lets you download plug ins or search for info while you are working, which is pretty handy.
If you have several tabs opened and you don't know which one you need, click the "Show Miniatures" icon. You will then have an arrangement of your opened tabs to choose from.
IBM has a gallery with clipart and templates ready to download. They are simple, but can be useful.
In short, Symphony is based on OpenOffice, but is much better in terms of usability. The tabs let you work with several programs like a text processor, presentations and web browser for the occasional search without cluttering your desktop. Also, the right bar is a better solution than the MS Office ribbon. It feels faster than OO.o and LibreOffice (although that is subjective), and it has that "professional" look that makes it look beautiful.
The only thing I would add is a split view, which is very useful when you are comparing documents. Maybe they will do that in the future.