exwintech Passes On ... R.I.P.
by Paul Arnote (parnote)
It's always a sad occasion when a PCLinuxOS forum family member passes on. Exwintech, a.k.a. David Doak of Croydon Park, Sydney, Australia, passed away on November 10, 2012 at 64 years of age, after a short illness. The sad news was broken to the PCLinuxOS forum by Just17 on November 15, 2012. David was 64 years old.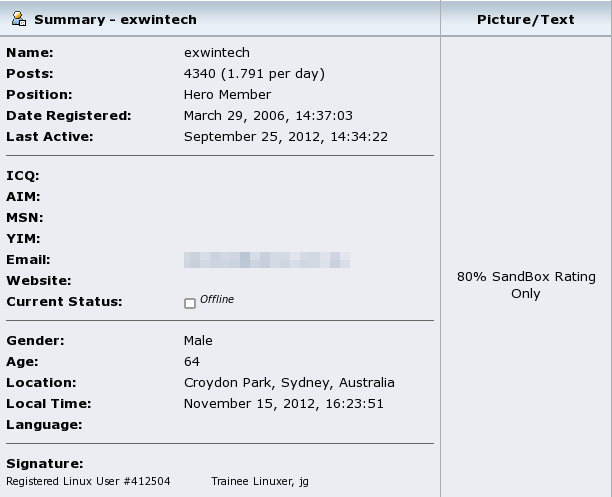 Joining the PCLinuxOS forum on March 29, 2006, exwintech was very well known for his amusing and entertaining raves. If Dave was interested in something, you usually knew because of the passion he exhibited for that topic. Many of Dave's raves were related to video processing and the various optical media that videos could be burned to. He was especially a fan of trying to get DVD-RAM discs to work properly.
Even in his last post to the PCLinuxOS forum on September 22, 2012, he was making his usual impassioned case against GMO (genetically modified organism) foods.
ms_meme's caricature of exwintech
Besides being a long time PCLinuxOS user, Dave was an avid photography enthusiast. He frequented several photography forums, as well as the Linux Graphics Users forum. In Dave's words (from his profile on the Pentax camera forums), he took up photography on his doctor's advice to "get out and about more." One of his last activities was on the Canon Digital Photography forum at photography-on-the.net on November 9, 2012.
Born September 29, 1948, Dave spent 25 years as a semi-truck driver between the Australian states. His truck driving career came to an end when he was knocked off of a loading platform by a forklift trainee, injuring his shoulder. The shoulder injury prevented him from doing any heavy lifting, a requirement for his trucking job.
After that, he turned his computer hobby into a profession by getting certification in computer assembly, followed by certification as an assistant technician. In 1996, he sought and received certification on Win95 and Windows NT 4.0. He followed that up obtaining certifications on Windows 2000 and Windows XP in 2002.
Shortly thereafter, Dave was diagnosed with Type 2 Diabetes and early COPD (Chronic Obstructive Pulmonary Disease). Combined with the previous shoulder injury, the other two chronic conditions were enough to qualify him for a full disability pension.
Dave tried to "get into Linux" with Mandrake 8.x, but didn't find the success he was looking for until he stumbled across the PCLinuxOS forum. There, he made quick friends with Just17 and Jaydot, among others, all of whom helped guide him along his Linux path. With the help he received in the PCLinuxOS forum, he was using PCLinuxOS "nearly full time in a few weeks," according to one of Dave's early posts in the Linux Graphics Users forum.
Mostly due to his interest in photography, Dave was a big fan of the GIMP. From the time Dave discovered PCLinuxOS and took off on his Linux journey, Dave remained a faithful Linux user. He used PCLinuxOS KDE 4.x as his sole operating system, despite not quite having come to terms with the changes that KDE 4.x brought to his favorite Linux desktop. Dave remained forever fond of KDE 3.5, and was hopeful that KDE 5.x would finally see changes that would make KDE feel more comfortable to him.
Dave was an early contributor during the early days of The PCLinuxOS Magazine. Dave even wrote a poem, called "Lament," which appeared in the May 2007 issue of The PCLinuxOS Magazine. His prose dealt with the then-recent release of Windows Vista, its lackluster sales and folks fleeing Windows for Linux.
Rest in peace, Dave. Your insights, your raves and most of all, the help you gave to others, will be forever missed.