PCLinuxOS International Community Update
Since most PCLinuxOS users hail from the English-speaking world, I've invited members of the international community to update the rest of us on what kind of activities are going on in their corners of the PCLinuxOS world. With the addition of pinoc's addlocale utility, it's likely that the international community will continue to grow, as more and more users now have the option of running PCLinuxOS in their native language.
If you'd like to see your international community highlighted in the magazine, send your article or report to the PCLinuxOS Magazine Chief Editor via PM in the PCLinuxOS Forum. Submissions should be made in English. Do not worry about the quality of your English text; the magazine staff will help insure that it meets all publication guidelines and specifications. - Paul Arnote, PCLinuxOS Magazine Chief Editor.
---
PCLinuxOS Serbian Community ::
PCLinux.in.rs
by Slaviša Milojković (a.k.a., Slax)
We are probably one of the smallest and youngest PCLinuxOS international communities. I was a long time Gentoo user, before i found out about PCLinuxOS. I immediately fell in love with it. PCLinuxOS had almost everything i wanted a distro to have, right out of the box.
So i started a local community about a year ago, since there was none for Serbian language speaking users.
Through the last year we came a long way, and now there are about 100 registered users. Of course, there are users from all of the Balkan region including Croatia, Montenegro, Macedonia and Bosnia. Every new member can expect a helping hand from other members, and we also encourage all linux users from this region to join us, and if he's willing, to participate in community projects.
Users that most contributed and that I would like to mention are: jogurtmen, trayan, simke, laki71, acinic, and highlander, among others.
Currently, there is a Serbian translation for the GetOpenOffice, update-notifier and addlocale community projects. One of our users, Bocke, packaged the Hedgewars game, and soon it will be added to the repos.
Also we are working on a custom Serbian localized gnome distro called "Vilenjak". The artwork was done by Miloš Miladinović. You can view some of his art here: http://mmilos.deviantart.com/.
There are several open source projects worth mentioning from the local authors.
First, I would like to point out the "Lancelot" was a finalist for the sourceforge best open source project for 2009 and one of the winning QtCentre Programming Contest 2008. Lancelot is an application launcher menu (or ALI) for KDE 4, designed to provide a place from which all your jobs begin. It provides quick access to applications, places, documents, contacts, and system information.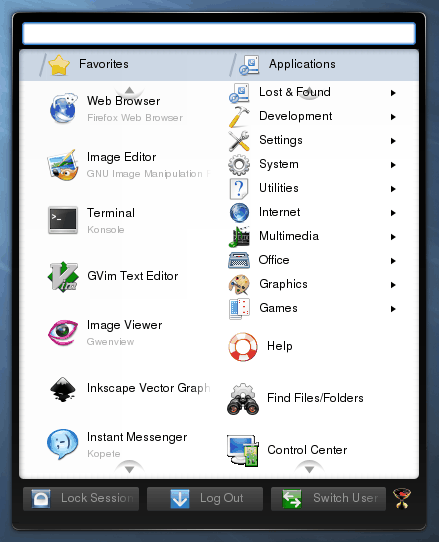 Project page is located at http://lancelot.fomentgroup.org/main and the author is Ivan Čukić.
Next I would like to mention Pro3x Community Edition, financing software for small companies. It alows you to manage clients, invoices and many other financial tasks. The author is Aleksandar Zgonjan, from Croatia.
Last, but not the least, is the Java game called Lavirinto3D. Authors are Zoran Cirković, Nenad Novković and Dejan Ilijić. You can figure out what the game is about, by downloading it from http://lavirinto3d.sourceforge.net/. It is very addictive and fun to play. Gameplay video can be found here.
Well, that is all for now from the PCLinuxOS fans from this part of the world :)
---
PCLinuxOS Dutch Community ::
PCLinuxOS.nl
by DutchWolfie
Most of you will know the Netherlands as the country where Dutch is the native tongue, but Dutch is also spoken in the northern part of Belgium (Flanders). A total of 20 million people speak Dutch, so our community is an international community of 550 members with Dutch and Belgian admins, mods and users.
How It All Started
In November 2006, Mike (NewMikey) and Jos (DutchWolfie) set up a forum to support Dutch speaking PCLinuxOS users, and NewMikey rolled out a localized PCLinuxOS remaster. It may seems strange to some Linux users, but quite a lot of people have problems with English-based software and the localized remaster was a big success. Success means more users, more users means more support and since the release of PCLinuxOS 2007, the Dutch community has grown significantly.
What Do We Do Nowadays
The core business is of course maintaining an active forum and proving the much needed info for new users. Alain J. Baudrez (Wamukota) created a Dutch 'Get started with PCLinuxOS' tutorial, along with some basic Linux tips on the Dutch website. DutchWolfie added a Google Map so that new users can look-up a nearby PCLinuxOS user if help is needed. Wim (JohnW_57) is known as mod on the regular IRC channels, and both he and Jan (Smurfslover) are also know for their outstanding support on these channels and in testing for development. Both are team members who joined us very early on, since last year we added two new members to the PCLinuxOS.NL team. Ed (DeBaas) and Oliver (Oli4) have expanded the Mods, and are regular visitors of the international PCLinuxOS forum, acting as a go between for those users who don't speak English. NewMikey created a special remaster aimed at the photography fan (http://www.dfpe.pclinuxos.nl/).
There is no need to create a localized Dutch version of the 2009, thanks to pinoc's AddLocale tool. He created a great piece of software, and it helps us a lot. Thank you, pinoc.
As PCLinuxOS is broadening its horizons with Gnome, XFCE, LXDE and other community remasters, we recently opened new forums for them.
Our long term plans
We can state that our community has finally mustered a crew of enthusiastic PCLinuxOS users, so that we now have a solid base to expand our activities. The first new item is the translation of the PCLinuxOS Magazine to Dutch and to get a "video" handbook out on our site as well.
---
PCLinuxOS German Community ::
PCLOS.de
by maik3531
Personally, I have been with PCLinuxOS since 0.92/0.93 because I had less success with other distributions. After a series of tries to get SuSE Linux running in a decent manner, I finally purchased a Xandros Desktop OS 3, which was not even capable to play several songs one after the other. Printers were another problem area, newer packages were available, but Xandros did not include them. When starting a support request (I had bought 3 of them with the package), I was told that these newer packages were not included because Debian considered them not stable. On a further inquiry with respect to other programs, stable according to Debian, I was advised to purchase a newer version of Xandros.
Having expressed my disappointment of my past experiences in several forums, I also asked for a recommended Linux distro. Almost everybody wrote that Linux is Linux, and I should teach myself compiling and installing any programs myself. Only one user referred me to PCLinuxOS, described it as having a good hardware detection and that there was also a German remaster available. After a successful download and installation of the CD, I was thrilled from the start. The only device which did not work, and despite of using manufacturer drivers, was my HL-1230 printer. For this reason I registered myself on www.pclinuxos.de.
Hence, my first post was the question how to get my printer running. A user named asaf provided me a dummy RPM, which made my printer work. All my hardware worked perfectly fine now, the people in the forum were more than friendly, there was no RTFM, and there were many altruistic users ready to help. Lars always paid attention to maintain a friendly tone in the forum. For many years linuxdoc made remaster of outstanding quality. Asaf - and later I myself - provided RPMs, if this was necessary or requested. Hamsta provided support in the German IRC, while LinuxFanatic and some others continuously wrote manuals or provided guidance and assistance in the forum. There were also a few user which were very skilled in scripting, e.g. dosenfleisch or flux.
At the time I joined, the forum had approximately 120 registered users, and there were more than 3000 when pclinuxos.de was closed. This obviously included some guys predominantly reading the forum and some others possibly never registered because they did not have any issues to be resolved. In this sense, I have seen and participated in the constant growth of PCLinuxOS. I got so used to this distro that I can not live without it any more.
The closure of the German forum was a very bitter pill for all of us. I would like to express my sincere acknowledgment to both, all former PCLinuxOS.de users as well as our American colleagues for the friendly admission to their forums. I also do not want to speak about the reasons for the closure of the German forum. Lars had his reasons. The new PCLOS forum www.pclos.de attempts to continue the work of the old forum, and tries to provide new German-speaking users a portal where they can get help in their native language. Whether all of this will work out as planned is difficult to say at this moment, but surely the administrators and moderators will try their best to get everything running again as in the old days.
---
by edukator
Hello. I'm edukator from the Portuguese PClinuxOS Forum. The Portuguese language is the official by several country's like Portugal (Europe), Brazil (South America), Angola, Moçambique, Guiné, Cabo-verde, e São-Tomé (Africa) and with a big influence in Timor Macau and Goa (Asia). According with Wikipedia, the Portuguese Language "is one of the world's major languages, ranked 6th according to number of native speakers...".
Nevertheless, the Portuguese forum has a rather low activity. So what is the problem and what is the solution?! First, many of us prefer to search and post in the main PclinuxOS forum, where all the PclinuxOS Gurus
are, and its easier and faster to get the right help to our question/problem. Second, there is now a PClinuxOS Portuguese Forum (From Brazil), www.pclinuxos.com.br/site/, with good activity and visited by many and many PclinuxOS lovers. Third, PClinuxOS as a great activity in other Portuguese hardware forums like http://forum.zwame.pt/.
With the new application addlocale and the future KDE4 PClinuxOS release, there is a great opportunity to see more and more Portuguese users in the forum. If you speak Portuguese and need help to change PClinuxOS to Portuguese, please see this Post.
There are some old users like me (edukator) and luikki and some new users like Ra7or, kuruka and many, many others over the world. I also think its very important to have a moderator in each PclinuxOS International forum like the French German, Hebrew and Polish did. With a moderator, its easier to organize the forum and is a reference for the new users.
If you dont speak/write Portuguese Language and want to help in the Portuguese Forum, you can also write in English, and I (or another Portuguese user) will reply your post with a Portuguese translation, but please don't use the online translation software (like Google Translator) to translate a big article or a complex text.
Best regards and good holidays to all.