OpenOffice: An Overview
by Meemaw
I love OpenOffice! I needed something I could use at work in Windows and at home in Linux and that could open nearly any document I received.
Just in case you aren't familiar with OpenOffice, it is a suite of office programs that closely resemble MS Office ("Wow, there is an office suite that is compatible with MS Office? All my friends use that and send me stuff all the time, but I can't afford to buy the new version. I can't pay $150.00 or more for an office suite." I'm sure we've heard this many times.)
The following list shows the comparison:

This will be a series on using OpenOffice. If you have not installed it yet, it is a simple as going to "System > Configuration > Get OpenOffice". This will start the program which will install it to your computer.
One of our forum experts, Pinoc, tells us "as with many other distros, PCLinuxOS uses GO­OO instead of the standard OO. The reasons for this choice are basically listed on the mentioned GO­OO homepage. Basically, GO­OO is OpenOffice plus some useful enhancements, one of them being a faster start­up time. In PCLinuxOS, GetOpenOffice is a little script to facilitate the installation of, adding localizations to, and proper removal of GO­ OpenOffice."
After you install it, you will want to configure it for use. Open up OpenOffice Writer. Go to "Tools > Options" and you'll see the following;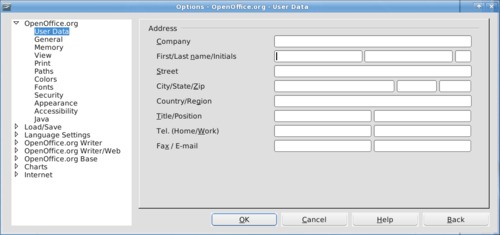 This is the settings window, where you can configure the way you want OO to work. In the first section, OpenOffice.org, you can enter your User Data (name, address, company, phone number and so on.)
This is handy in many of your documents, and even if you want to print a sheet of return labels with your address on them. The Memory section lets you choose how much memory you want your computer to use to run OO. You can keep the default if you wish. You can also choose to enable a quickstarter icon for your system tray. You can designate the colors you want to use, security settings and appearance, plus much more.
In Load/Save, you can designate the default file format for your documents. You can even have some MS Office documents automatically converted to OO format. Many of us need to work with MS Office documents daily, so OO.o can be configured to save documents in the MS Office format automatically.
In Language Settings, you can designate OO.o to appear in your native language (if available) and set the aids you can use for your work (dictionaries.)
In OpenOffice Writer, you can configure they way you want the window to look when you open it (whether you see the rulers and scroll bars, etc), a grid if you need one, the default font, how you want tables to appear, how you want the editor to mark changes made to the document (if you have to share your changes with others) and even mail merge settings. OpenOffice Writer/Web has many of the same settings, but in HTML format for the web. (Note that a writer document has to be open for these options to show.)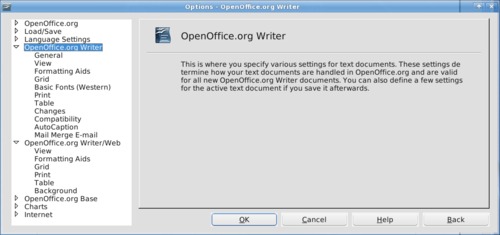 OpenOffice.org Base has settings for database files. There is a separate Charts section, where you define the colors to use in your charts.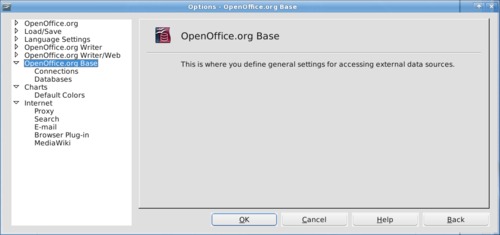 In OpenOffice Calc, you can configure your spreadsheet preferences (a spreadsheet has to be open to see this menu.) You can configure what you view (scroll bars, rulers, etc), what color you want your gridlines, and much more. The General section is where you designate your unit of measure. The last section is Internet, which lets you designate your proxy server (or let the system do it), designate your favorite search engine, and display documents in your browser if you wish.
If you put the Quickstarter in your system tray, you can open just about anything with a right­click on the icon. You will get a pop­up menu like the one below. Notice you can start any kind of new document, open a template or open an existing document from there.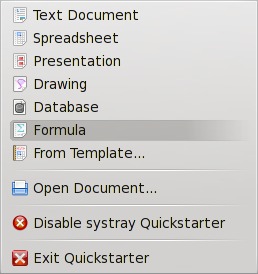 If you go in your main menu and click on OpenOffice.org, this screen pops up (it does also when you close all your documents but not the program.) Sometimes I have this open all the time. When you get your office suite configured the way you want it, it's time to go to work. Settings can be changed at any time just by re­opening the Options window. Next month we'll look at OO Writer.