How I Finally Made My Slideshow
by Smileeb
My niece got married on December 02, 2009. I promised her a slide show of the pictures people took and sent to me so they could be added. The slide show ended up with 350 pictures and music all the way through. I tried different things members of the forum explained to me but, being inexperienced in doing this type of project, nothing seemed to work as I thought it should.
I used two different slide-show programs, because I made the promise, and because the Linux one failed me at the time. I first used my daughter's Windows computer that had Photodex Proshow on it. The program allowed the installation of the pictures and music, but didn't have the extras that Imagination has.
After many attempts at different conversions and burnings, I ended up with this one by taking the .vob file made by Imagination and loading it into WinFF.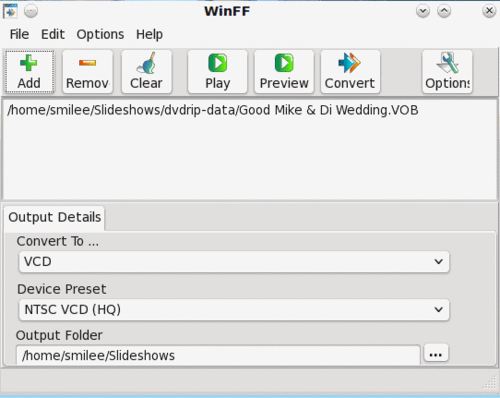 When using WinFF, if the size of your vob exceeds 700MB, then select DVD instead of VCD. Be sure you pick the right device preset for your area, either NTSC or PAL.
This converts the file to a "Good Mike & Di Wedding.mpg". You can then take this file and open K3b, and you will get this and the info box.
I ignored the info box and clicked on the burn button. It gave me a fantastic slide-show that played on my home viewer. I hope this will help others in their attempts in making slide-shows to give to friends to play on their home TV. The nice thing about this is the Windows application I had uses DVDs, and with this I can use CDs.