Annual Holiday Gift Guide: parnote's Holiday Gift Suggestions

by Paul Arnote (parnote)
During this holiday season, the magazine staff has decided to make this year's holiday gift guide a multi-person affair. For previous holiday gift guides, I was the sole author. With input from multiple people, you get some different viewpoints on what makes a suitable gift during this gift-giving time of year.
Our requirements were fairly simple. First of all, the items had to be what each of us thought might have broad appeal to PCLinuxOS users. Secondly, the selected gifts had to be affordable and able to fit in with even modest budgets. Third, we had to insure that the techie items we feature work with Linux. We're not going to have you waste your money on items that only work with that "other" poor excuse of an operating system.
So, without wasting any more time, let's get on with going through some holiday gift ideas. Keep in mind that all prices are given in U.S. dollars, and shipping costs can add up quickly.
IOGEAR USB 2.1 Bluetooth Micro Adapter GBU421
Price: $11.93 from Amazon.com
Despite it's widespread availability on portable devices from mobile phones of all types and tablets, not every laptop or netbook today comes with Bluetooth connectivity. The IOGear USB 2.1 Bluetooth Micro Adapter adds that Bluetooth connectivity at a reasonable price.
Sure, you can find Bluetooth adapters for a cheaper price. However, the old adage "you get what you pay for" applies here. I was able to find less expensive Bluetooth adapters, sometimes even 80% cheaper, but the reviews were awful and there were many reports of devices that didn't work with Linux. So I opted for this adapter, which had several reports of working well with Linux.
So why would you want to add a Bluetooth adapter to your PC? Well, for one thing, if you have a cell phone, many wireless carriers allow for wireless Bluetooth transfer of files from your cell phone to your PC, making Bluetooth an easy way to transfer your photos and videos recorded with your cell phone to your PC. Secondly, you can add a Bluetooth keyboard and/or mouse, allowing you a cord-free computing experience. Third, once you have a Bluetooth adapter, you can use a Bluetooth headset to make phone calls via your PC's VoIP software. You can even listen to your music collection, if you have a Bluetooth stereo headset or headphones.
The small size of the device means that you can plug it into your PC and leave it plugged in all of the time, since it won't typically intrude into your work space and is small enough to leave inserted when putting a laptop or netbook away in a case.
Requires an empty USB 2.0 port.
Motorola H720 Bluetooth Headset (89382N )
Price: $21.99 from N1Wireless.com
To be perfectly honest, I have ulterior motives for including this item in my holiday gift list. One of my pet peeves are people who drive down the highway with one hand on the wheel and the other hand with their cell phone glued to their head. In today's cell phone market, it's difficult to find a new cell phone that doesn't have Bluetooth connectivity. The Motorola H720 Bluetooth Headset allows you to drive and continue your phone conversation with both hands on the wheel! Some studies have likened the driving skill exhibited by talking on your cell phone handset while driving to be equivalent to driving while intoxicated.
Trust me on this one. I use a very similar model Motorola Bluetooth headset when I need to take a call while I am driving. It feel that it definitely increases my awareness of what's going on around me on the road. Both of my hands are on the wheel, instead of trying to balance a cell phone up to my head. Your attention tends to follow your hands. As such, you have a large potential to increase your safety on the road by using a hands free device, such as a Bluetooth headset.
Certainly, there are less expensive Bluetooth headsets available. However, I can attest to the quality of this Bluetooth headset. The sound quality is exceptionally good. It also has a nice feature that allows you to end or make calls right from the headset. By pressing the center button on the headset, you can either end your current call, or you can redial your last called number. If you have voice dialing on your cell phone, you can also use the Bluetooth headset to voice dial your phone.
Additionally, when coupled with a Bluetooth adapter on your PC (like the previous item we featured), you can use it to make phone calls over your PC with your VoIP software.
Pixxo KA-9E9E Black 6 Function Keys RF Wireless Slim Keyboard
Price: $18.99 from Newegg.com
Cut the cords with this wireless keyboard and mouse combo. Featuring a 2.4 GHz small profile wireless USB transmitter, you can move up to 25 feet (8 meters) away form your computer and have your keyboard and mouse within effective range.
This would be ideal for a high performance multimedia computer connected to your HDTV, allowing you to sit across the room from the HDTV while surfing the web or chatting with your friends.
IOGEAR GKB601B Black Multi-Link Bluetooth Mini Keyboard
Price: $44.99 from Newegg.com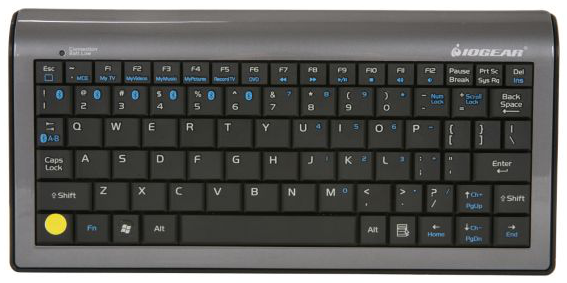 I know what you're thinking. What? Wait a minute. Another keyboard?
The short answer is, "Yes!"
Well, just think about it for a minute. This Bluetooth keyboard will pair with the Bluetooth adapter we featured as the first item here. The advantage of this Bluetooth keyboard, over the USB RF Wireless Keyboard and Mouse above, is this: you can also pair it with your smart phone or tablet, giving you a real keyboard to use with those devices!
Anyone who is accustomed to using a laptop keyboard will find this keyboard just as easy to use and navigate. The keyboard layout mimics the layout of at least two of my laptop keyboards.
Rosewill RNX-EasyN1 Wireless-N 4.0 Dongle
Price: $19.99 from Newegg.com
Are you wanting an easy and inexpensive upgrade path to the faster 802.11n wireless technology? Look no further. This inexpensive USB adapter is reported to work out of the box with various Linux distros, using WEP, WPA and WPA2 encryption.
While this wireless N adapter will connect to a wireless N router at 154 Mbps, the connection speeds will also fall back to connect to a G router at 54 Mbps and a B router at 11 Mbps.
If you're not in any hurry to purchase this item (not wanting it for the holidays – maybe you're just filling out your wish list for the year?), keep an eye on Newegg's ads. Sometimes, you can find this for $10 off, for only $9.99, making this that much more of a sweeter deal.
Ion TapeExpress USB Cassette Player
Price: $59.99 from ThinkGeek.com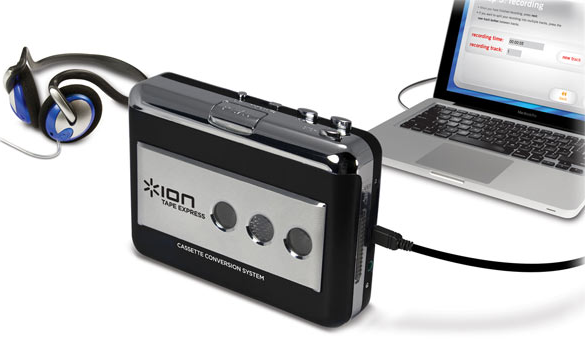 If your age is more than 25 years old, chances are high that you have a collection of some really great music stored on stereo cassette tapes. You could go out and re-purchase all of that music in more current formats and spend a whole lot of money. But probably much cheaper than that, you can convert all of those cassette tapes into MP3 files with the Ion Tape Express USB Cassette Player.
Using a quality audio recording package, such as Audacity in the PCLinuxOS repository, you can record from your audio tapes and enhance those recordings into the peerless gems you remember cruising to while travelling down the highway with the windows open.
Ion already has a good reputation for creating other USB recording devices, having a strong reputation for their USB turntables for the playback and archiving of old vinyl records.
Price: $14.99 from ThinkGeek.com
This has got to be the handiest, most versatile USB charger that I have ever seen. Not only is it capable of charging two USB devices at one time, it can also switch between use with an AC plug or your automobile's accessory plug as the power source. The latter feature makes this exceptionally handy if you travel much. The ability to charge two cell phones at one time (yours and your wife's?), or to charge your cell phone and power your GPS unit simultaneously helps make the most out of a limited number of power sources to plug your USB chargers into.
Price: $19.99 from ThinkGeek.com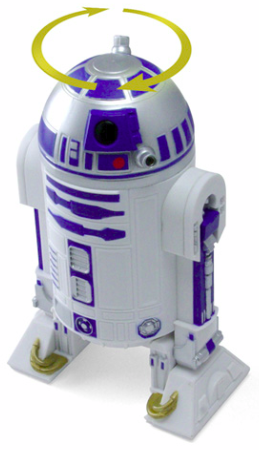 Suitable for any Star Wars fan on your holiday gift list, this pepper mill will dress up any dinner service. This item is a licensed Star Wars collectible imported from Japan. Simply fill R2D2 with peppercorns and twist his head around on the top to get fresh ground pepper out of the bottom.
After all, droids do make the best pepper.
Star Trek: U.S.S. Enterprise Haynes Manual
Price: $26.99 at ThinkGeek.com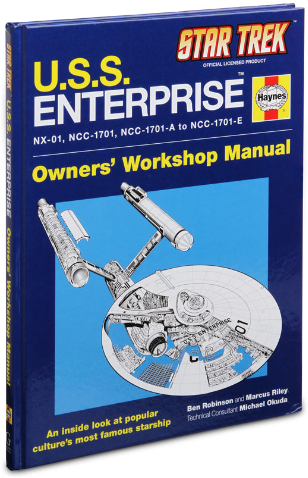 Modelled after the popular line of do-it-yourself car repair manuals by Haynes, the U.S.S. Enterprise Owner's Workshop Manual is what every serious Trekker needs in his or her library. Authorized by Star Trek scenic art supervisor Michael Okuda, this book gives detailed information about every starship in Starfleet that bears the name Enterprise, from the NX-01, commanded by Capt. Archer, to 1701-E, commanded by Capt. Picard.
The book includes histories of each vessel, technical information about their systems, and discussions of key technologies, such as transporters and warp-speed travel.
Price: variable, from $3.99 to $25.99 at the Official PCLinuxOS Store on CafePress.com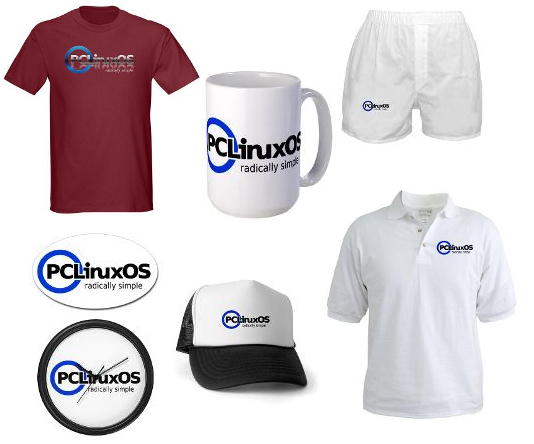 Certain to be a hit with any PCLinuxOS user, a visit to the official PCLinuxOS store on CafePress.com will find a choice from 20 different PCLinuxOS items. These include t-shirts, a golf shirt, hats, boxer shorts, a thong, stickers, mouse pads, child and infant clothing, and even a thong.
The bonus to purchasing these PCLinuxOS items is that all the profits go to help fund Texstar's further development of PCLinuxOS. So, you can thrill your favorite PCLinuxOS user and help support further development, all at the same time.
From the members of The PCLinuxOS Magazine staff, we'd like to wish each and every one of you a very happy and safe holiday season!