Using PCLinuxOS In a High School Classroom

by Jim Wilkinson (jimwilk)
After a career teaching mathematics to high school students around New Zealand, I retired at the end of 2004. For most of the next 7 years, I continued to work as a "relieving teacher" at my last school. Other countries refer to relieving teachers as "supply teachers" or "substitute teachers." Responding to a telephone call at around 6.50 am, I would then head off for a day in the classroom, standing in for someone who might be ill, or on a training course.
On arriving at school at around 8.15 am, I might find that I am to teach classes in mathematics, English, French, Maori, social sciences, science, technology, computing etc. The lessons would have been prepared by the absent teacher, and it is my task to get the students started, give them the work, and supervise.
Feilding High School has some 1400 students and is situated in the small rural town of Feilding – just west of the City of Palmerston North in the southern North Island.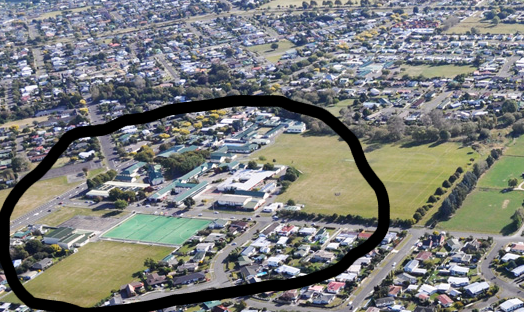 This photo shows part of Feilding, with the high school campus outlined. The pale green field in the left foreground is the field hockey artificial turf. Until recently, my wife and I lived at the right hand end of the turf, in the little curved street. Three hockey balls broke windows in our house and at night time, the floodlights meant that after dark gardening was perfectly possible. The High School also has two training farms nearby so that students – mainly from rural communities – can study agriculture. A boarding hostel accommodates around 150 students from outlying areas.
In my last two years as a relieving teacher, I started taking my laptop along to school and demonstrating PCLinuxOS through the roof mounted projectors in each classroom. One real attention grabber was Extreme Tux Racer. I made sure to demonstrate the use of LibreOffice, Firefox, and Thunderbird, plus Digikam and Gimp.
Recently I began taking along copies of the 2011.06 KDE live CD and giving them out to keen students. One 13 year old boy took home his copy of the distro, and installed it in his own machine. He was able to sort out dual booting with XP. He later told me that his parents were most impressed with the fact that he could browse the web safely with PCLinuxOS and Firefox.
At the end of the 2011 academic year, I announced that I would not be available for relief teaching in the following year. Early in 2012, (I believe on a birthday that I share with Texstar), I will reach 72. Time to hang up the white board pens and spend more time helping my wife in our garden. Therefore, I will not get the opportunity to demonstrate PCLinuxOS to eager and receptive minds. However, if any other members of our forum are able to show off our favourite distro, I can thoroughly recommend it.
In closing, here is a photo of one of my mathematics classes from 2004. Followers of Rugby Union might recognize the tall student, seated in the front row. He now plays for the NZ "All Blacks" as one of the lineout jumpers. This group of 15 year old students were in Year 11. I called them "11 Wonderful" and they were a fantastic class to teach.
About Jim Wilkinson
Two PCLinuxOS users from New Zealand … Jim and Rita Wilkinson
Jim (a.k.a. JimWilk) has been a keen user of PCLinuxOS since the days of version 0.93 when a fellow Kiwi from Nelson drew his attention to its existence. Progression was made through 2007, 2010 and, finally, in June,  to 2011.06 KDE. We have three computers between the two of us – all three of which are running the latest version. Along the way, other distros have been tried, but now, it seems that we are both here to stay.
As was reported in the forums recently, we celebrated our 46th wedding anniversary on December 4 this year. Well, here we are, at a family wedding three years ago.