Music Players: The Good, The Bad and The Ugly
by John "Papawoob" Paxton
Disclaimer: The experiences and opinions in this article are entirely the author's and should in no way be taken for what may be found in your own personal experiences.
I have for a long time been curious about which music player was the best. I've browsed through threads on various forums over the years and read many different opinions. I'm more confused now than I was when I first posed this question to myself. As with most things Linux and open Source, I am sure it boils down to a matter of personal preference.
In this article I will try and point out the good, the bad, and the ugly of three media players. I will start with Juk. The following is an edited description from kde-apps.org:
JuK 2.2
Jukebox and music manager for KDE
An easy to use, playlist and metadata focused interface with several playlist types:
Collection List where the entire database of music is shown and automatically updated based on folders the user has indicated contain their music collection
Search Playlists that allow for powerful combinations of search criteria to produce dynamically updated playlists
Dynamic Lists which are produced by using multiple selections in the playlist selector and are a union of two or more playlists
Folder Playlists which represent a single folder in the file system and are updated automatically based on its contents
History Playlist which stores a history of what the user has played
Play Queue is an enhancement of the popular Play Next functionality of previous versions that enables a manageable upcoming queue of items to be played
Player and tag editor for several audio formats:

MP3 (MPEG Layer 3 Audio)
Ogg Vorbis
FLAC (Free Lossless Audio Codec)
MPC (MusePack)

Multiple audio output backends:

aRts (Default)
GStreamer 0.8
aKode

Inline search for quick filtering of the currently visible items
MusicBrainz integration for file identification over the internet
File renamer that renames files based on the tag content
A powerful tag editor that works seamlessly with all supported music formats
CD burning support via the popular K3b tool
Visually attractive, but unobtrusive track announcements
A Now Playing heads-up style title bar featuring the album cover, links to show more from the playing artist or album
and a brief history of previously played items
Cover art management via Google Image Search
Random Play including Album Random Play for randomly playing complete albums
JuK 2.2 is part of the recently released KDE 3.5 kdemultimedia package. JuK packages are distributed with most current Linux and many Unix distributions.
Below is a screenshot of Juk:
Amarok
First, lets look at the following features taken from http://amarok.kde.org/.
Quick and simple drag and drop playlist creation
Super eye-candy interface
Multiple backends supported ( xine, helix and NMM)
10 band equalizer
Automatic cover art download using Amazon services
The unique and powerful Context Browser
Automatic play-statistics generation (iRate style)
Full lyrics download
Read about your bands with embedded wikipedia browsing!
Funky visualisations from libvisual and XMMS
KDE integration
Streaming MP3 streams, including Last.fm streams.
Crossfading
Podcasting Support
Fully configurable translucent OSD for track changes
K3B (CD-burning) integration
Style your Context Browser with custom CSS styles
Save space in your Context Browser with collapsible boxes
Show the Context Browser without Amarok open through the Konqueror sidebar!
Full support for Last.FM! Share your music taste with friends on the net
Generate dynamic playlists based on last.fm suggestions
Support for SQLite, MySQL and PostgreSQL databases ensuring fast collection access
Support for your iPod, iRiver, PlaysForSure, NJB, and generic USB device with the all new media-browser
Powerful scripting interface, allowing for easy extension of Amarok
Complete DCOP access
Translated into more than 50 languages, thanks to the localization team at Kde.
As you can see from the feature list, Amarok has just about everything, including the kitchen sink! Amarok was written for kde and in my opinion is one of the most visually appealing applications on any OS. Like most music managers, when you first open Amarok it asks which folders contain your music and organizes it. Unlike Juk, Amarok gathers its information about your music and the artists from Softpedia. Apparently, this works well however bad your metadata is. Every time a new song starts, artist info, song info, and even lyrics are available to the user.
On the left side of the playlist window is a vertical browser toolbar containing five buttons. These are: Media, Files, Playlist, Collection, and Context. The first 4 are self explanatory, but the Context menu is where a lot happens. By clicking on Context you get a window that shows what song is currently playing, the last time it was played, and the first time it was played. It also shows the album cover for the song that is playing, if it's available.
At the top of this window are several buttons that change the info that is displayed in the context window. Most of Amarok's extra features come in the form of scripts that can be downloaded and managed by clicking on Tools > Script Manager. There are literally dozens of available scripts to do just about anything you can imagine. I could write page after page about these functions, but rather than that, lets say that you can spend a couple of hours playing with them to see what you like.
The Good: What's not?
The Bad: Some of my metadata may still be bad, as I had 6 out of 192 songs for which I could not get an album cover.
The Ugly: There is nothing at all ugly about Amarok.
Here is a screenshot of Amarok in action: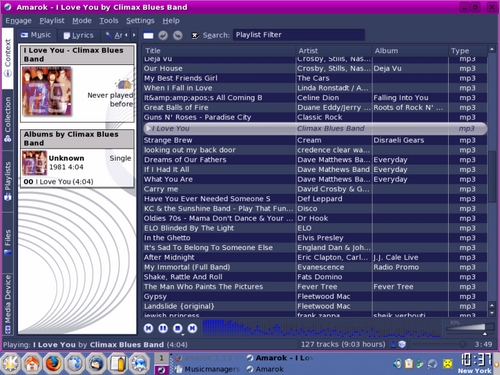 Kaffeine
Here is Kaffeine's feature list:
Live playback of digital TV. OSD program description.
Simple dialog to setup deinterlacer quality.
Preview of media files inside of KDE's Konqueror file manager.
Stretch Plugin with pitch preservation and 2 -> 5.1 upmix.
DVD playback with navigation
Electronic Program Guide support.
Multiple playlists. Cover fetcher. Drag'n'drop.
10-Band Equalizer.
Fast access to the most common media.
CDDA playback and ripping. Encoders for mp3 and OggVorbis.
Digital Video Broadcasting.
Plays embedded video streams.
Kaffeine is visually less appealing than Amarok, but I think the developers have focused on functionality. It is similar to Windows Media Player in that it is designed to play just about any form of media. The versatile Xine engine is used by default. When you first start Kaffeine, you are shown a quick start page that allows you to choose what form of media you would like to play.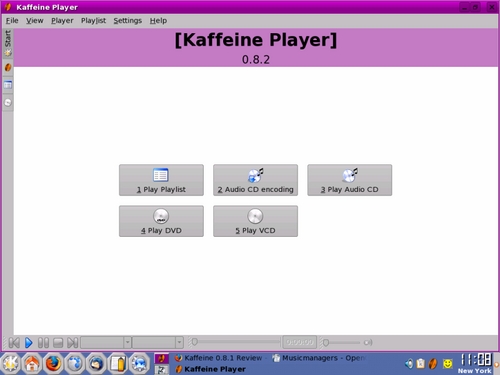 Since we are reviewing music managers, we should remark on the playlist button. After clicking it, you should see the player window. To play your music, you need to enter an URL where your music is stored- ex: /home/yourname. After this configuration, everything played fine for me. By default, a small window used for visuals is embedded in the play window. This is run by the versatile Goom visual generator.
Like Juk and Amarok, Kaffeine tries to display a cover for each song played. I think that Kaffeine must also use MusicBrainz for its info gathering and album covers as I was not able to get one album cover to show up. Despite that little nuance, Kaffeine has many useful features. You can listen to your CDs and rip them to the hard drive at the same time. It has tight integration with Konqueror which allows viewing of embedded streams in web pages. Probably one of its most interesting features is the ability to broadcast what you are playing over your network. This is very easy to set up and requires very little knowledge of networking. You can save streams you are listening to, also. Kaffeine is a very versatile music manager but takes a bit of configuring to realize its full potential. Again, this is probably because its main strengths are in displaying video. This is Kaffeine in action:
The Good: It has tight integration with Konqueror, an ability to broadcast and record streams, and the all-in-one capability to play almost any form of media.
The Bad: Its inability to display album covers or lyrics and the need (however slight) to configure URLs to gain access to your media are its bad points.
The Ugly: It is not visually appealing (to me).
Conclusion
Let's look back on what we have experienced in this short comparison of three of kde's offerings for music manager. Juk works out of the box as it was designed to be, a simple yet functional application with which to manage your music files. Kaffeine requires a little configuration to access the simple functionality of Juk but has far more functionality once it is up and running. Neither one of these has the visually stunning appeal of Amarok. Although you can do other things with Amarok, its developers have put eye candy a close second to functionality and have overachieved on both counts. All three offer built in iPod support for your music-on-the-go needs and come with K3b integration for your CD burning. These are just 3 of many Linux media applications.
All of them have their good, bad, and ugly points. Other easy to use managers are Rhythmbox, Banshee, Totem, and Real Player. Wikipedia (http://en.wikipedia.org/wiki/Category:Linux_media_players) lists 42 Linux media players. So like all things Linux and Open Source, true freedom comes with the ability to make your own choices. Happy Holidays!