Top 10 Firefox Extensions
by Iain Jackson (iainrj on PCLOS and MyPCLOS forums)
Mozilla Firefox (version 2.0.0.3) is the default web browser in PCLinuxOS 2007. Firefox has come on in leaps and bounds since it was first introduced to the public. It now takes up about 15% of the web browser market (second only to Microsoft's Internet Explorer) and is widely regarded in the computing industry as more secure than IE.
One of the unique attributes of Firefox is that it is open source. Anybody can look at the source code and develop small programs that extend the functionality of the browser. These are called Add-ons.
You can access Firefox's Add-ons by clicking on Tools -> Add-ons from within Firefox. Add-ons fall into two categories: themes and extensions. Themes just change the look and feel of Firefox and are a largely subjective thing, so I won't bother discussing them here. Extensions are the real driving force behind Firefox, turning a good browser into a great Internet experience! Click on Get extensions from the Add-ons dialogue box and you'll be taken to the Firefox extension page:
https://addons.mozilla.org/en-US/firefox/browse/type:1
Installing an extension is easy. Once found, check if it is compatible with your version of Firefox and click on the "Install Now" icon. You will usually have to restart Firefox before the extension can be used.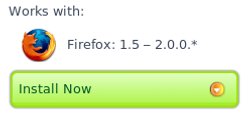 Luckily, Firefox will remember which tabs you had open when it restarts. Extensions can easily be uninstalled if you don't like them! There are 227 pages of extensions. This list represents the most useful 10 to get you started (in no particular order).
Extensions can slow down performance in Firefox if you have too many installed, but they are ever so useful. Make it your task to install at least one extension today!