Welcome From The Editor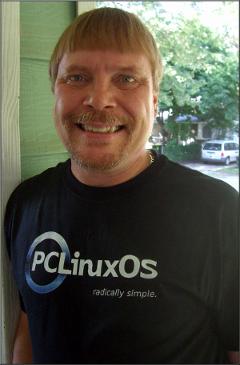 Welcome to the August 2009 issue of The NEW PCLinuxOS Magazine. This is an exciting time for PCLinuxOS. Not only do we have the new and revitalized magazine to look forward to every month, but there is a lot of other activity going on. Within the last month, we've seen the release of MiniMe KDE 3 2009.1, ZenMini 2009.1, and the first quarterly update in PCLinuxOS 2009.2. And there's even more just around the corner. The final release of the PCLinuxOS XFCE - Phoenix remaster from Sproggy is looming large on the horizon, complete with the latest XFCE 4.6 desktop. Additionally, Neal is wrapping up work on the LXDE remaster, while maddogf16 is hard at work on the e17 remaster. Updates to programs in the repository, as well as new additions to the repository, are coming out at an amazing rate. One of those new additions to the repository that is just around the corner is KDE 4.2 RC2. Texstar has been working feverishly to put the final touches on it, and many from the community have been assisting by testing the next generation of the KDE desktop. The addition of Pinoc's addlocale program to allow international users to use PCLinuxOS in their native language, has spurred growth in the PCLinuxOS international community, allowing PCLinuxOS to appear in any one of 73 different languages.
In this issue of the magazine, we have a wide variety of articles. This month's cover story is from Texstar himself, on how to Master the Remaster. Sproggy shows us how to install PCLinuxOS to a computer, from Windows®, without a CD or DVD. Stricktoo shows us a tip on how to use bookmarks in Konqueror, and how to add a Favorites menu to our desktop. We have interviews of two artists who have made contributions to PCLinuxOS over the years, in Ruel24 and Weric. BigBearOmaha gives us some background on the Linux kernel. Old-Polack reveals a bit more about himself in the Behind The Scenes interview. Ms_meme graces the magazine with another installment of Forum Foibles and her new song, PCLOS Arisin'. Pinoc introduces his new programs, addlocale and Get OpenOffice in the Repo Spotlight. Texstar has contributed the 10 Commandments For Linux Users, which should be required reading for every PCLinuxOS user, both new and not-so-new. AndrzejL shows us how to set up checkgmail on our computer, in the Wiki Wicket column. Patrick Horneker continues his Through The Lens column, with a look at using and setting up flatbed scanners on PCLinuxOS. There is an update from the International PCLinuxOS community, spotlighting the more recent events in the Slavick, Dutch, German, and Portugese communities. And, I continue my article series from last month, with Audio Format Comparisons. Plus, we have a variety of short articles and a testimonial.
I am pleased to be the new Chief Editor of the PCLinuxOS Magazine, and to be able to give back to the PCLinuxOS community in this capacity. I've been using PCLinuxOS for about 20 months, after distro hopping through the *buntu offerings, openSUSE, Puppy Linux, and gOS. Prior to that, I was a long-time Microsoft Windows® user, using every version of Windows® from 3.1 through XP. The release of Vista was a great thing for me, as it drove me away from the Microsoft camp, in search of something better. That's how I found Linux. PCLinuxOS definitely was the "Distro Hopper Stopper" for me. Professionally, I am a former award-winning newspaper photographer. I currently work at a local hospital in the Kansas City area as a Registered Respiratory Therapist, taking care of all kinds of patients with breathing problems, from newborn premature babies to the elderly. I've worked as a respiratory therapist for the last 21 years, including six years employed by a local college where I taught respiratory therapy. I have the most wonderful and understanding wife in the world, Laura, who is also a Registered Respiratory Therapist. We have two cats (Buddie is a lover, Kitty is psycho), and an old dog with cataracts, named Lucky, that we affectionately refer to as "Hoover" because of the way she inhales food. Lucky has three jobs that she does very well: sleeping, eating, and ... well, you guess the third job (it's related to eating, in a way).
I hope you enjoy the labor of love in putting this magazine together for the community, not only from myself, but the dedicated volunteers from the PCLinuxOS community. It is also with great pleasure that I introduce to you the PCLinuxOS Magazine's new Assistant Editor, Andrew Strick (a.k.a Stricktoo). Andrew will be assisting me with the monthly task of putting out the magazine. While Andrew isn't busy with the magazine tasks, he's preparing to enter law school in Omaha, Nebraska in late August.
Paul Arnote [parnote]
PCLinuxOS Magazine Chief Editor