Game Zone: PCLinuxOS and Second Life
by Cindy Solis (Linuxera)
Just to start out this article, I want to say, "I Hate Games!" I never win, they make me a nervous wreck trying, and it's so discouraging. But Second Life has changed all that! I didn't even know it existed, let alone did it cross my mind to look for something like it, but a friend from the #pclinuxos-naughty IRC Channel and PCLinuxOS forums invited me to try. I did, and now I'm hooked!
Second Life is a simulator based game run by the folks at Linden Labs. They have done a really nice job with the software, and from what I gather, it has improved dramatically over the last few years. Once you establish an account and download the free SL Viewer, you log in and are immediately transported to the Noob area. (Installation is as easy as downloading the Linux tar.gz file and unpacking it in your home folder. Once you've done that, go into the folder, start a console session, and type "./secondlife" without the quotes. This will bring up the viewer and you enter your chosen name and password and log on).
One of the first steps is creating your own avatar. This will depend on learning a small amount of information that can easily be found in the SL Wiki and Video tutorials. The next stop will be finding your way around. There is a search function on the SL browser that you can type anything into and it will give you results. I'm sure as soon as Moelwyn gets the new PCLinuxOS site set up in the 4freedom camp, it will be readily found by searching for PCLinuxOS. Another nice thing about SL are the freebie areas. You can go and buy clothes for just about any event you want for $0 L (Linden Dollars) or you can establish an account and buy Lindens to purchase more extravagant items. (I bought a piano that really plays Beethoven and Mozart, go figure).
I have also run into kind souls who have given me so many items I've had to clean out my inventory from time to time. Just like a woman, I've got more clothes than I know what to do with (but you never know when a particular outfit will come in handy. <grin>), and I've got everything from Mercedes Benz cars to hovercraft that I can really fly (just don't get in my way when I'm behind the controls.) Here I am riding my horse :)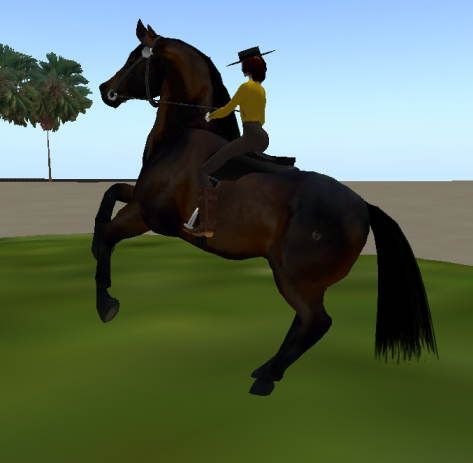 I have been for a balloon ride over Africa, and been to Spain, England, Scotland, Mexico, and so many other places. There are contests, and competitions based on themes in SL. One of the themes that most interests me are the Medieval themes. I have run into dragons, and various creatures during my travels. You can join groups while you are traveling and even get Landmarks to those locations so you can easily return where you want at any time via TP (teleporting). Here is a snapshot of ElvenMyst, one of my favorite places to go. The members there are incredibly smart at building and scripting items used in SL. (Note, I'm using my Wolf avatar at the time. I do change from a human to a wolf from time to time but I don't bite, just growl for no reason.)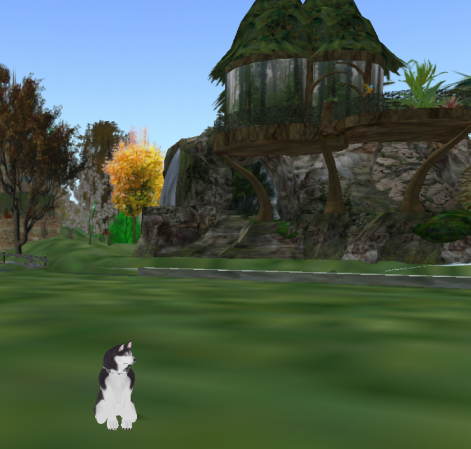 And just for the record, I do have a PCLinuxOS tee shirt I wear when the occasion calls.
So, why don't you come join us on Second Life and help us increase the presence of the PCLinuxOS group. We will help you out as much as we can. Just remember, I've only been doing this for just over a month and have learned an incredibly large amount of information. Next I will be learning about scripting to control items I build. Join in and Have a lot of fun!!
Just a parting shot. I had been watching the moon set over the ocean from the Indian camp that's on a parcel of mine. Yes, I am sometimes a Native American as well. At the campsite are drums that can be played with native American drum sounds, as well as a dance circle for the men. Later in the morning I went for a ride. Here's a shot as I was returning to the campsite. On the left you can see a sweat lodge with real steam, and over head an eagle circles, crying out now and then... May the winds be favorable to you.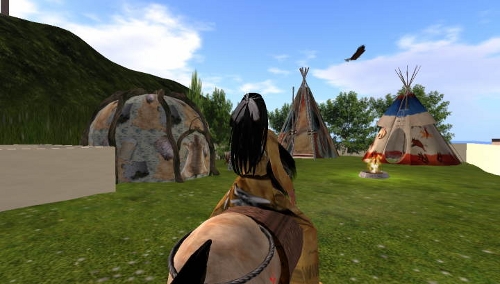 Linux
Minimum Requirements
Recommended
Internet Connection*:
Cable or DSL
Cable or DSL
Operating System:
A reasonably modern 32-bit Linux environment is required. If you are running a 64-bit Linux distribution then you will need its 32-bit compatibility environment installed.
A reasonably modern 32-bit Linux environment is required. If you are running a 64-bit Linux distribution then you will need its 32-bit compatibility environment installed.
Computer Processor:
800 MHz Pentium III or Athlon, or better
1.5 GHz or better
Computer Memory:
512MB or more
1 GB or more
Screen Resolution:
1024x768 pixels
1024x768 pixels or higher
Graphics Card:
NVIDIA GeForce 6600, or better

OR

ATI Radeon 8500, 9250, or better
NVIDIA Graphics cards

6000 Series:

6600, 6700, 6800

7000 Series:

7600, 7800, 7900

8000 Series:

8500, 8600, 8800

GeForce Go Series:

7600, 7800, 7900
Important Notes
* Second Life is not compatible with dial-up internet, satellite internet, and some wireless internet services.
** Second Life may not run on graphics cards other than the ones listed above. The following cards are NOT compatible with Second Life:
NVIDIA cards that report as a RIVA TNT or TNT2
ATI cards that report as RAGE, RAGE PRO, or RADEON 320M, 340M, 345M, or similar model numbers
Intel chipsets less than a 945 including Intel Extreme
Cards with the following branding: 3DFX, RIVA, TNT, SiS, S3, S3TC, Savage, Twister, Rage, Kyro, MILENNIA, MATROX
The following cards have not been tested with Second Life, and compatibility is not certain:
NVIDIA cards that report as Quadro
ATI cards that report as RADEON IGP or RADEON XPRESS
ATI cards that report as FireGL
ATI cards that report as FireMV