Linuxera Interview
In the continuing effort to learn more about those who help keep PCLinuxOS running, and who help make PCLinuxOS what it is, this month's Behind The Scenes article gives us an opportunity to learn more about Linuxera, one of the PCLinuxOS Forum administrators and one of the people working in the background to make sure that the PCLinuxOS servers are up and running as they are supposed to. -- Paul Arnote, PCLinuxOS Magazine Chief Editor.
Can you introduce yourself (forum name, real name, occupation, where you live, marital status, pets)?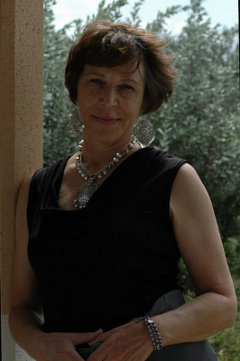 I guess I could introduce myself, but then that would be kinda funny. Seriously, I'm linuxera or Cindy from what my birth certificate says. I work for the county Supervisor of Elections office in the IT department, mostly making sure our data base is accurate (isn't that what data entry is?). I live in sunny southern Florida, USA with my two dogs, cat, and a few parakeets. I'm too geeky to be married, so count that out. LOL.
How and when did you get started with computers?
I was in the Air Force the first time I got involved with computers. I was working in logistics management and was responsible for maintaining an equipment and personnel data base for everything and everyone on base that went marching off in times of war. That was back in the 'Computer takes up a whole room and then some days'. All the data was entered by using keypunch cards. Then we started using desktops. They plopped a Zenith 100 on my desk and said, "Here, figure this out!". It came with disks for CPM-85 and DOS, take your pick. Eventually we moved forward from the keypunch cards, to floppy disks, and onward to live contact with the Sperry mainframe, and from there it was just a matter of system upgrades and more speed. When I left the military we were working on blazingly fast Z-385 systems… zooommmm!!
When did you get interested in Linux and why?
I had kept up my interest in computers and computing by having one or two computers at home, but I wasn't into hacking or writing programs. I was still on Windows XP when I finally got tired of lagging desktops and running programs. My dad had been harping at me for years to try Red Hat, or even Mandrake Linux but I hadn't truely gotten the concept of Linux. Finally I started doing a search for Linux and wound up at Distrowatch. I started downloading and burning different distros based on name, or popularity, skipping over PCLOS for a few months. I finally thought I would give PCLOS a shot and I was just totally amazed. I was running Big Daddy at the time as the full blown 2007 wasn't out yet, but I was truely impressed at not only the usability but ease of use. I called my dad, and got him to try it too. He's still using PCLOS as well as another one of his friends.
What Linux distro did you start with?
Zenwalk and Dream Linux, then Ubuntu… Of course Knoppix got in there as well as Puppy for a time. I even tried Suse and Mandy, Siddux, Mint, and Mepis. :-)
When did you join PCLinuxOS?
I found the PCLinuxOS camp just before 2007 was released.
What led you to PCLinuxOS?
Like I mentioned above, I was trying out different 'distros' to see how they stacked up. When I got to PCLinuxOS I stopped.
How many hours a week do you estimate that you spend working as a PCLinuxOS administrator?
Hoooooooeeeeey, that's hard to answer. There's so many different tasks I'm involved with. but at the moment between 10 -15. I'm trying to stay out of people's hair and just maintain servers, websites, forward donations to Texstar, and answer emails, pms, and an occasional post.
What one thing is the most challenging thing you have to deal with as an administrator?
People. It's always a challenge for me. I hope to keep the public areas as welcoming as possible. Sometimes it's not very easy. You can go for weeks with everyone being pleasant as punch on the forums, then along comes a full moon and stuff starts happening. I have to keep in mind that everyone has an opinion, and wants to be heard, but when it makes it uncomfortable for our other members I have to take some kind of action. I see our forums as a home. I'd like everyone of every age to feel comfortable there. If someone came to my home, and started trouble and made my other visitors uncomfortable I wouldn't hesitate to either ask him/her to leave or show him the door personally. As a forum administrator we have basically the same job. Just because one person is used to dishing out or receiving abusive or 'less than desirable' language, doesn't mean we all are, so keeping the majority in mind helps on those occasions.
What is the most rewarding thing about being a PCLinuxOS Forum administrator?
The most rewarding is watching forum members helping each other out. I've also had the privilege to see some of our community members rise to the occasion and shine. Pinoc, Maik3531, Neal, and many others have really kicked in and helped out as well as adding new functionality to the distro. All of this transpired through the forums, once the right boards were put in place. In spite of everything that has happened over the last 4-5 months, I see PCLinuxOS stronger than before because of community involvement made possible via the forums.
What one song best describes your style in the forum?
Ha ha ha, I haven't a clue… LOL What kind of a question is this really? Ha ha ha.
What one song best describes your personality?
That I can't say either. There are so many songs I've loved over the years but one comes to mind, "Aranjuez", sung by Paloma San Basilio with Paco de Lucia on the guitar. Most beautiful song I've ever heard. Guess I would just love to return to Spain one day.
In the animal kingdom, which animal best represents you?
I'm closest to a horse, but I definitely won't say why. Maybe I'll put a video up on my site for people to take a look at and maybe they will understand.
Maybe.
What parting advice or words of wisdom would you like to leave the PCLinuxOS magazine readers?
My parting advice or words of wisdom would be this. Keep bringing PCLinuxOS forward. Keep it up to date, yet stable. That's what caused you to fall in love with it to begin with so why change it. If we start changing it, it won't be PCLinuxOS any more, it'll be some other distro. ;-)