April Showers Bring … 9 New ISOs!
by Paul Arnote (parnote)
April has been a very, very busy month. For those involved in the PCLinuxOS community, it's not news that PCLinuxOS 2010 has been released. But for those who may not be quite so involved in the PCLinuxOS community, PCLinuxOS 2010 has not only been released, but multiple versions supporting all the major desktop environments have also been simultaneously released.
There are currently nine ISO's covering six different desktop environments. All are built using a stable core, developed by Texstar and the Packaging Crew. Currently, the 2010 release of PCLinuxOS covers the following six desktop environments: KDE 4.4.2, Gnome 2.30, XFCE, LXDE, Enlightenment e17, and OpenBox. Added into this mix are bare bones versions of KDE 4 (MiniMe 2010), Gnome (Zen Mini), and LXDE (PCLXDE Mini).
While Texstar is largely responsible for working his magic on KDE 4 (both the main release and MiniMe), slick50 has assembled the Gnome release, siamer has created the Zen Mini release, Linuxera created the Enlightenment e17 release, Sproggy made the Phoenix XFCE release, Neal created the PCLXDE releases, and melodie has created the OpenBox version.
Built upon a common core, each of the 2010 releases of PCLinuxOS run on the 2.6.32.10-bfs kernel. The 2.6.33.5 kernel is also available for installation via Synaptic. There are also multiple versions of each kernel, including the "plain vanilla" kernel, the a64 kernel for AMD 64 bit processors, and a legacy kernel for older hardware.
Gnome and Zen Mini have a similar appearance, while all the other desktop environments share a common theme and appearance.
The KDE and Gnome releases are most suited for more recent hardware, while Phoenix, PCLXDE, Enlightenment e17, and OpenBox are capable of running on older, legacy hardware. The minimum recommended RAM for running KDE and Gnome are 512 MB, the other, lighter weight desktops are capable of running on hardware with 256 MB RAM, or in some cases, even less.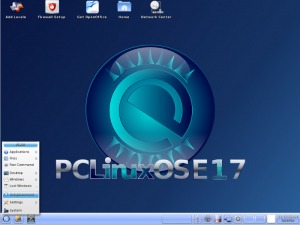 The simultaneous release of nine ISOs, featuring six of the most popular desktop environments, based upon a common core is virtually unheard of among Linux distros. Now, PCLinuxOS users, and users giving PCLinuxOS a try for the first time, have a real choice to match, first, the way they interact with the computer, and second, the wide assortment of hardware they may have on hand.