Testimonial: My Sidekick
by longtom
Some of you might have been aware that a new, young member has joined us. It's my sidekick – no, not Robin – longtom jr.
Junior is 12 years old, my youngest son and has been interested in technical matters from a very early age. If you imagined you would walk through our house with a screwdriver in your hand without being noticed by Junior you are – wrong. He will attach himself to you and he will stay there, your shadow. The difference to a shadow, though, is the soundtrack:
"Where are you going? What are you doing? Why are you doing this? How does that work? Why does it work that way and not different? Can I do this as well? Why can a four year old not install lights to the ceiling or work an electric planer or do this wonderful stuff with a table saw or …?"
You get the drift. He is just there, relentless. So you either get worked up or you know all the answers. I tell you what, I don't know all the answers but he keeps me on my toes – which is wonderful.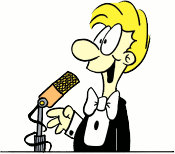 Since February last year I am dabbling with Linux. Needless to say, from my very first borked Ubuntu install he was at my side, through thick and thin, for better and for worse – chattering away, asking questions I haven't even thought of, never mind that I could answer. So we learnt, so we went on, trying distros, reinstalling, hacking code we barely understood, copying and pasting bash we hoped would improve – well – something. And all the time he was there, stealing with his eyes and asking and chattering away.
He also followed what was happening in the forums I was attending at the time. However, I soon found that some forums were not quite suitable for 11 or 12 year old boys, even though they were, in effect, technical forums. The tone and way people would treat each other was not something I would have liked being associated with Linux. I also didn't want him to think these are the kind of people his dad likes to hang around with. Well, I don't, but in most of these places you have to take the good with the bad, and anything really bad gets excused by some or other "human rights" or a gross misinterpretation of the freedom of speech. So I didn't do much forum stuff with him present at all.
Since February this year I am with PCLinuxOS (oh – just stop the groaning, will ya) and checking out the forums and loving it. Junior could sit next to me while I interacted with it, could sit next to me while being on the IRC channels and enjoy (and giggle away at) all that was going on there.
So some days ago, I opened his very first forum account at the PCLinuxOS Forum. It was an event of some magnitude, I might tell you, which stirred quite a bit of excitement. He won't be here too often since the life of a 12 year boy in our quarters means a lot of non-PC activity and his computer time available for after our surfing is regulated, but he'll be around.
The reason I am waffling on about all this is to thank all members of the community who gave him such a great welcome. He loves the attention and has even made his first steps in asking for help, even though his English is not as fluent. He doesn't have admin rights yet, but he is learning python and bash script when he feels like it, and it'll take probably only a little time until he tells me how this all works. I can't wait for it; he'll be a great teacher! (I hope …)
So, thank you all for the welcome of our possibly youngest member, and thank you for this environment where I can let him roam around with impunity.
Oh – and should you need some help with scripting – don't ask me.