Game Zone: Hotei's Jewels – Relax
by Meemaw
Before discovering that some of our favorite games worked under wine, I looked for a game like Bejeweled because I thought it was so fun. I loved the Linux version Gweled, but I'm always looking for something new. Hotei's Jewels – Relax is another in the category of "Match 3" games, similar to Bejeweled or our own Gweled.
From Big Fish Games:
"Hotei is one of the 7 gods of happiness; the happy god of abundance and good health. Hotei is seen carrying a large bag over his shoulder that is said to contain gifts and fortunes for those who believe in his virtues. Your goal is to connect all 4 parts of the Magic Island Coin, then go on to find 12 magic coins (one coin on each island), and bring them to Hotei. If you can make it back, Hotei's Jewels will be yours!"
I can't get it to run on my Windows computer, but the Linux version can be downloaded here:
http://linux.softpedia.com/get/GAMES-ENTERTAINMENT/Puzzle/Hotei-s-Jewels--Relax-51461.shtml.
All that is necessary is to extract the files into a folder in your /home. You can just go to that folder, double click the executable file and it will run from there. You could also make a menu entry for the program, but it's not necessary.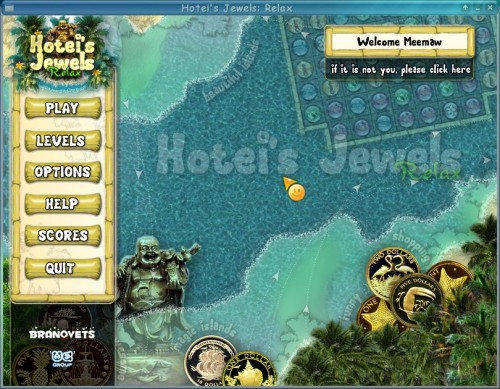 This game has a few differences from Bejeweled or Gweled. The main difference is that you are looking for the coins in your game board. There will be four pieces, which will go together to make a full coin. You will have to match your jewels so that the coin pieces fall to the bottom of the board. Only when all four pieces have fallen out the bottom do you go on to the next board/level. If by chance there are no more moves on a particular board, the game board is rearranged so you can proceed.
Getting in your way are a couple of blocks you'll have to work around. One is a jewel with a lock on it, which can not be moved, but can only be matched with two flower jewels. If you can move a flower and line up two flowers and the lock, it will turn into a flower, and you can go on and match it normally. After it turns into a flower it will fall through the board like any other jewel. The other is a wooden 'box', which doesn't move, and as far as I know, can't be matched with anything to get rid of it. You just have to work around it.

There are ways to proceed through the game in spite of these hurdles. One jewel is a multi-colored circle. Matching it with two of any other identical jewels will get rid of them. In addition, if you match four rather than three, you get one of the bombs, which, when you click on it, destroys all the jewels in a 3 x 3 area around the bomb you clicked on. Also, if you match 5 rather than 3 or 4, you get the other bomb, which destroys all the jewels in both diagonal directions from itself. Both bombs will destroy the lock and the box, so you can proceed from there, too. Also, you can go on and match jewels rather than exploding the bombs, which in many cases will help you out. If you want to match three instead of using a bomb, you can interchange the bomb with a jewel. Just be sure to click on the jewel FIRST. If you click on a bomb without another jewel being selected, the bomb will, of course, explode. If you click on a bomb and a coin is in the 'blast pattern', the coin is not destroyed.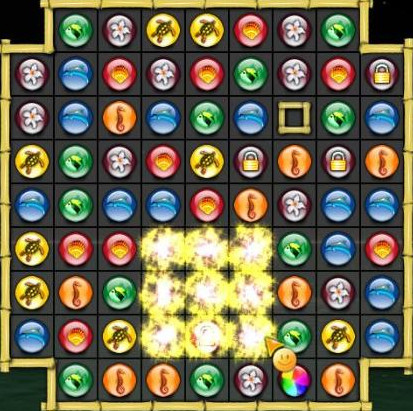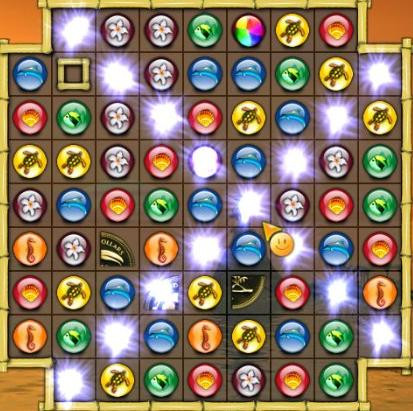 The trick in this game is to destroy the correct jewels to make sure each coin piece falls out the bottom of the board. Most of the time it's easy, but I have gotten to the point in each game I've played where I can't find a move that will line up the jewels as desired. Usually I just wait until the game gives me a hint. There is a help screen, but it's not complete, and I had to figure out how to get rid of the lock myself. As you progress through the levels, it gets more difficult. I haven't gotten through the entire game yet, so I don't know how it ends. It's great fun and occasionally frustrating! Enjoy!!!