Repo Spotlight: PCLinuxOS FLV Player & Converter
by Daniel Meiß-Wilhelm (Leiche)
Do you like YouTube? Do you like to downloaded videos from there? If you use Firefox with the Flash and Video Download add-ons, they will store the video as .flv files on your computer. You can play it with many players, but I like it even simpler.
You can convert the audio in whatever application you like, such as with soundkonverter or ffmpeg on the command line, but I like it simpler. I use PCLinuxOS FLV Player and Converter. I wrote the application to make the whole process as simple as possible.
To start, click on PC-MENU > Audio > PCLInuxOS FLV Player and Converter. To read what it does, click on the About button, and you will see this:
When you select the Play button, you will be able to select and play a video. Note that only .flv files will be listed.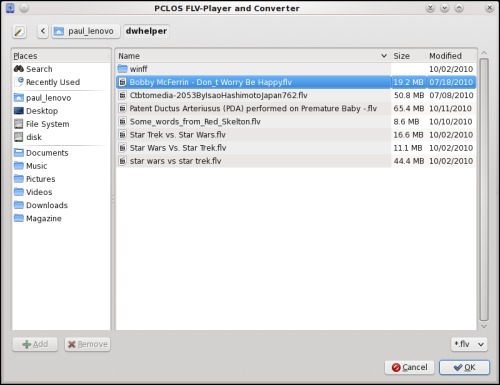 When you select a video, mplayer will play it.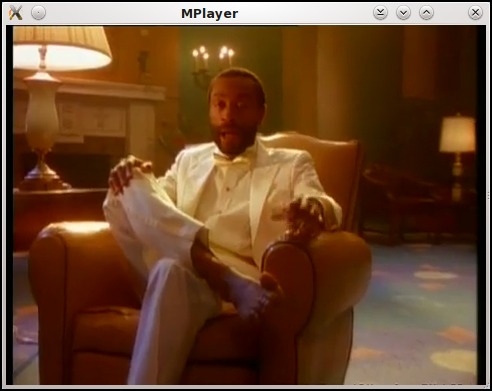 The video will play through to the end. After it has finished, choose another video to view, and maybe you can be a Video DJ Mixer. To convert the .flv file into MP3, WMA, WAV, or OGG formats, click on the Convert button. Again, an open file dialog will open, displaying only the .flv files. Select the file format you want to convert the .flv file into.
Select an option and the file browser will ask you where you want to save the audio.
Click on the OK button, and the conversion of your .flv file will begin.
It needs a little time, but when it's finished, it will display an info window.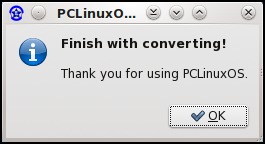 Isn't that simple? It's as simple to use as PCLinuxOS is. That's the reason you should use the PCLinuxOS FLV Player And Converter. Of course, it is available in the PCLinuxOS Repository. Have fun!