PCLinuxOS Artists Win Wallpaper Contest
by Paul Arnote (parnote)
Ms_meme and Meemaw, two PCLinuxOS artists, won first and second place, respectively, in the Christmas Wallpaper Contest at the LinuxGraphicsUsers.com forum.
The contest was announced December 4, 2010, and ran through December 27, 2010. Forum visitors were then given a week to vote for their favorite contest entry, and the winners were announced on January 4, 2011.
From Dadster, one of the forum administrators there, made this announcement:
Voting is now closed and we have our two winners. Ms_meme with her swirltree_desktop and MeeMaw with her ChristmasCard.

I want to thank everyone who participated. Well done! All the artwork submitted was fantastic. Perfect examples of skill, time and imagination. They're a demonstration of what can be accomplished using Linux graphics software.

Please join in congratulating our winners, ms_meme and MeeMaw.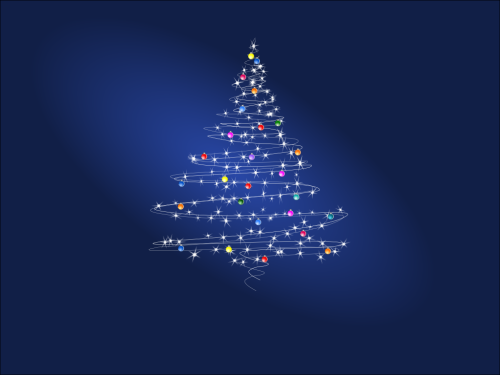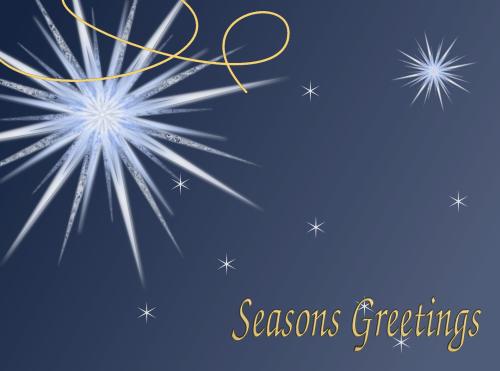 Ms_meme offered this about her wallpaper and about her win:
I enjoy using Inkscape very much. The members of the Linux Graphics Users forum have given me much encouragement. I struggled with the program for several years and finally got that "aha" moment. Now, a majority of my computer time is spent playing with it. I am very honored to have won the contest.

When I submitted my entry, I confessed that it was not an entirely original idea. I justify using others' ideas in the following way. When we cook, we use a recipe. When we sew, we use a pattern. But the outcome is our own, and we can learn by trying to duplicate something and adding our own touches.

I had seen something similar to the Christmas tree, liked the idea and thought, "I can do that!" Whoa! Not so fast! Even the simplest looking things can be difficult.

My favorite part of Inkscape is pulling and tugging on those rascally little nodes. Of course Undo is also one of my favorite Inkscape activities. The outline of the tree gave me plenty of opportunity to commune with smooth and symmetric nodes. After getting the tree in shape, I searched for a Christmas ball tutorial and did a lot of copy/paste. I not only used the tree as my holiday wallpaper, but also made a smaller version to send as greetings to friends.

Last year I won 3rd place in the contest. I have informed the Linux Graphics Users forum to "Beware" as I have already started my entry for next year.
Meemaw offered this about her wallpaper and about her win:
I'm one of those people who changes their wallpaper all the time. Occasionally, I even set up my desktop to run through a slideshow of my favorite wallpapers. For years I have surfed the web to find wallpapers to use, but since I started creating wallpapers in Inkscape and Gimp, I don't search too much any more.

I really love making things in Inkscape! I feel so lucky to have won because there are so many talented artists on the Linux Graphics Users site. I love that forum as well and appreciate the support that all the members give each other.

The card was not entirely my original idea. At work, we get catalogs of Christmas cards, and I saw one I thought was very pretty, so I tried to create something like it. I'm still learning, and I appreciate all the help and encouragement that I've received.

The rules of the contest were fairly simple. First, the wallpaper had to be done using open-source graphics software. Second, credit any part done by another when you submit the wallpaper. Third, all wallpapers had to be submitted by midnight, December 27th, with winners announced January 3, 2011, after one week of voting by forum members. Fourth, there could be no controversial or pornographic artwork. Fifth, LGU administrators reserved the right to remove any artwork deemed to be inappropriate.
Both ms_meme and Meemaw won a Samsung Black DVD +/- RW burner, with LightScribe support.
Congratulations go out to these two very capable and excellent PCLinuxOS artists on their win! You can download ms_meme's wallpaper and Meemaw's wallpaper by following the respective links here in the magazine.