e17 – Running Ecomorph, Part 2: Settings
by Darrel Johnston (djohnston)
An entire magazine could be written on the possibilities for the Ecomorph settings. I'm only going to cover some of them here. I'll only delve into some which smurfslover and Agust have not already covered in the forum.
In the Ecomorph Window Move/Resize section, the only option is the window opacity level. Use the slider to set the level. NOTE: To anyone who may notice that my two CPUs are running at close to 100%, as indicated in the gkrellm panel, it is not due to running Ecomorph. Ecomorph uses very little system memory or CPU cycles. The reason for the high CPU usage is that I am running folding@home in the background. That task basically utilizes all unused CPU cycles.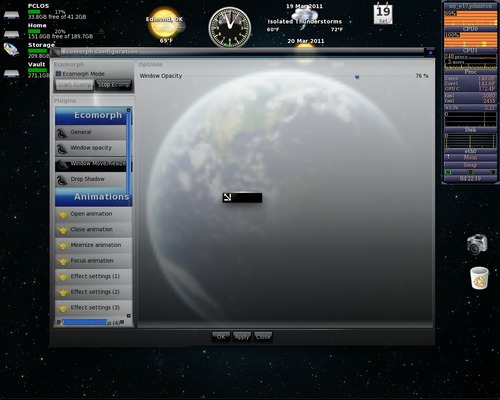 As mentioned in the previous article, the e17 Dropshadow module is not activated if you want to run Ecomorph. Ecomorph's Drop Shadow settings are in the section shown below.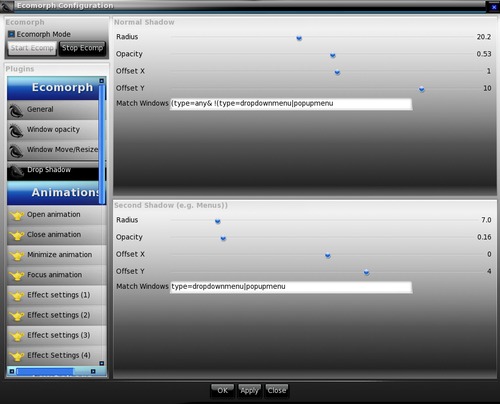 The Open, Close and Minimize window animations have a lot of options. Shown below are the settings for the animation done when opening the main menu window. The burn effect is enabled by default. You can change the duration, or length, of the animation by using the slider.
Shown below are the animation settings chosen for closing the main menu, a popup or dropdown menu. Explode is enabled by default. To enable a random effect, set the "Animation for selected match" area to Random. In the "Animation random pool" area, select which effects you want included, then change the option from "None" to "Random".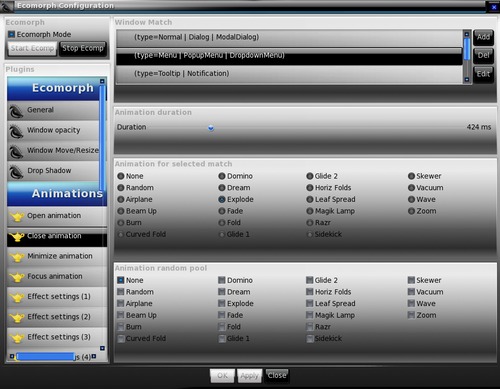 Effect settings (1) (2) (3) and (4) each have a different set of options. In the Effect settings (3) section, I have "Enable smoke" checked. It adds a smoke after-effect to the "Burn" Open (main menu) animation settings shown previously.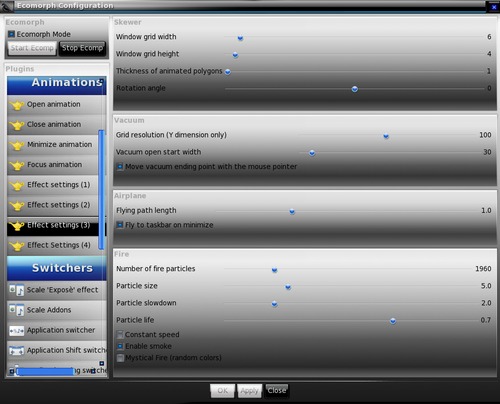 The Switchers section shows the different window switchers' options. Shown are default options for the Ring switcher.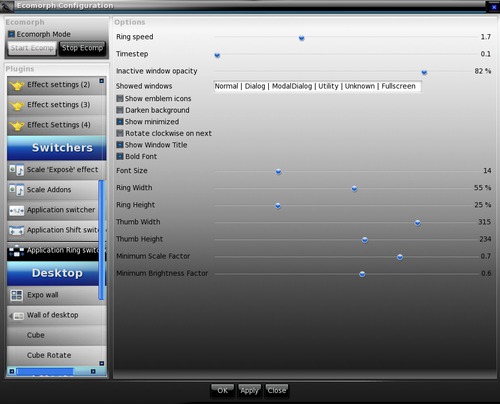 In the Desktop section, there are two Cube categories. In the first, there is an option to show the rotated cube as an "Inside Cube".
Looking at the rotated cube as if from the inside.
Almost everyone is familiar with the Compiz wobbly windows effect. Shown below are the Ecomorph wobbly window options.
Shown below is the wobbly window effect during closing a window.
One could spend hours or days experimenting with all the Ecomorph special effects. As mentioned at the beginning of the article, Ecomorph consumes very little memory or CPU cycles. I don't see much difference, if any, between running it or the standard e17 desktop. Ecomorph has been very stable and has not crashed once, despite using the purportedly unstable cube effect. However, for me, Ecomorph is a lot of bling, and simply offers a chance to show off the possibilities of a Linux desktop to onlookers. I have not yet found a reason that Ecomorph makes using the desktop any easier. As always, your mileage may vary.