Game Zone: PipeWalker
by Meemaw
When I switched to Linux six years ago, I got interested in the game KNetwalk. I really liked it because it was the same type of game as Pipes, which I discovered in Yahoo Widgets. I still play Pipes occasionally when I'm at work, but I have converted both my computers over to using only XFCE, and have gotten rid of all the KDE libraries. It's my personal preference only. There is nothing wrong with KDE. I love it as a desktop environment, but as my machines get older, I want something a little lighter.
KNetwalk is a KDE game, and since I use XFCE, I didn't want to reinstall all the KDE libraries for just one game. Luckily, I don't have to. PipeWalker is the very same game!. It can be installed from Synaptic.
The object is to attach all the pipes to the water supply (without any empty pipes left over). You click your mouse on a pipe and it will rotate 90* counterclockwise. If you need to rotate it more, you simply click on it again. When you have all the pipes attached correctly, the faucets will bubble to show you that you have won.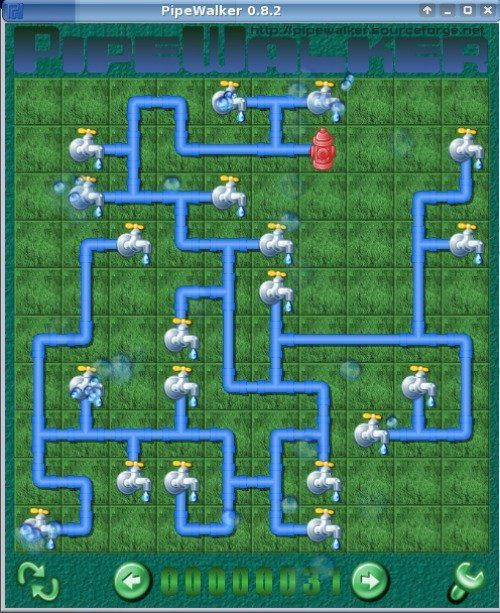 If you REALLY liked KNetwalk, you can choose that board instead. When a terminal is connected, a picture of our favorite penguin appears on the screen and the connecting cables are light blue.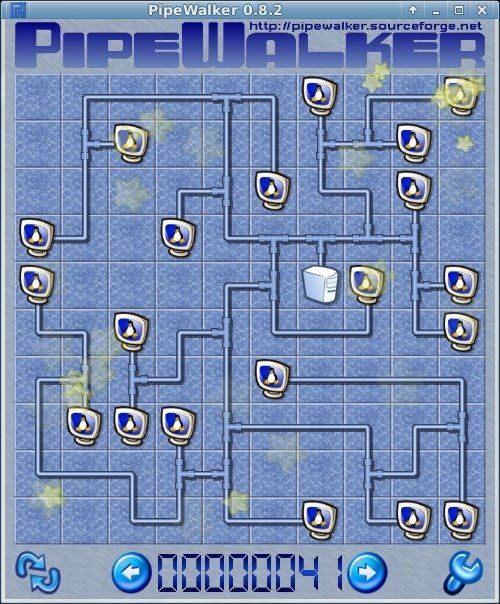 The right and left arrows allow you to go to the next game or back to a previous one. The 'circling' arrows in the bottom left corner re-start the present game.
If that board is too easy, your options (the wrench) can make it harder with a larger board (more squares in the grid) or even a 'wrap-around' to make things tricky! I have started using the 14 x 14 grid, but you can choose three other sizes. Click the check mark when you are finished choosing your options. (The easiest configuration is shown…)
While it is a fairly simple game, it can be frustrating when you are trying to connect each faucet/terminal and can't seem to find the right combination. I tried the Wrap Mode, and that increases the challenge a lot! Wrap mode extends the pipe arrangement off one side of the board and back onto the other side (or top to bottom). In the board below, the top left tile wraps around to the top right tile and also to the bottom left tile to attach faucets in those locations.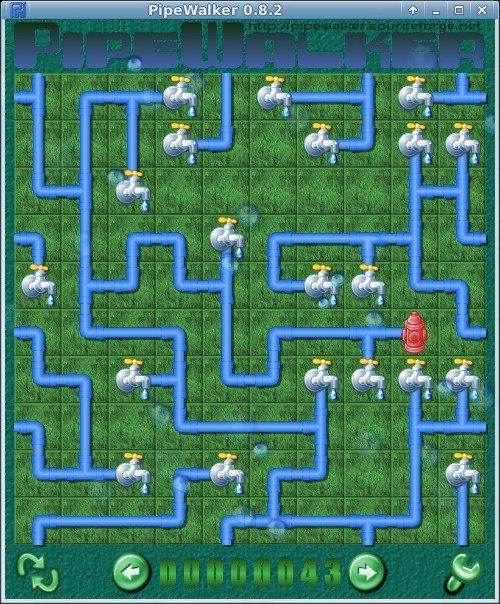 If you like KNetwalk, you'll like PipeWalker as well. Have fun!!!!