Genealogy With GRAMPS, Part One
by Jan Bullock (cstrike77)
I've been working on my genealogy for almost 36 years. I will be 59 years old later this year, so I got an early start. It all started with a question to my dad about how long our family had been in America. He told me he didn't know, and suggested I should write a letter to his brother, which I did. About a month or so later, I got a 9 page letter, front and back, documenting our family tree back to Jesse Bullock, my third great-grandfather. Listed were all the children every couple had, including the ones who died young, and the wives maiden names, but no dates! So I was fairly lucky in that he was the "keeper" of the family history, and shared it with me. I've been sharing it ever since.
Genealogy is one of the fastest growing hobbies almost world wide. Queen Elizabeth encouraged all citizens in the U.K. to do their genealogy. And the internet has turned into a genealogists gold mine of information, with some of it free, while other information is available for a fee. Who Do You Think You Are has spiked Ancestry.com's website use during the program when it's on, and the original show was done in the U.K. These articles are going to be centered on how to get started, and how to enter your data in GRAMPS.
Getting Started On Your Ancestral Search
Getting started might be easy or hard, depending on how much you know about your family, if you have parents or grandparents living, or other extended family. One thing that was stressed long ago when we were doing everything on paper was to ask questions of all your living relatives. That's fine for the younger people just getting started, but for some of us, that time has long passed. I might suggest, for the younger budding genealogist's, that one thing that was taught to us long after my grandparents passed is to use some sort of recorder to record stories/history of your grandparents and parents, while they can remember stories told to them, or what they may have lived through.
When I started way back when, we started with two pieces of paper, a pedigree chart to document our direct lineage and a family chart to list father, mother, and in some cases their parents and your siblings. We always did these in pencil, so if we made a mistake we could easily erase and fix it. Today, I think besides your genealogy program to enter your data in, which is basically your paper, I think I'd start out with paper records also, because you can always take a file folder and a spiral notebook to a library. Some places you go to search for records will only let you take these items, and some others will not let you bring computers in.
Starting at your local Library is a good thing, as there are many books on genealogy. I recommend Handbook on American Genealogy, a very good starter book that breaks down what records are available for every state and county in the U.S. Another good book would be Genealogy Online. The last book I recommend would be Who Do You Think You Are?
Starting at your local library is partially a drag, because of all those internet records to search through. If your family has been in one area for quite some time, there are resources like "a history of Peoria County" or "reminiscences of Peoria County 1850-1900." Using "Peoria County" as a place name, you can insert whatever county you live in.
The other "plus" is either using the Library's computers or your own laptop (if they have wireless) to access www.ancestry.com, or Ancestry Library, which is like an Ancestry World account. Most librarys have Ancestry available, and I think the LDS (Latter Day Saint's or Mormon's) Family History Centers have both Ancestry and www.familysearch.org available. Think of familysearch.org's website as Ancestry, but free. Most everything available at Ancestry is on familysearch.
Also available at your local Library are census indexes, where you can look for your ancestor on the census, and then use ancestry or familysearch to find the document. Also, normally there's a Genealogical or Historical Society in the town or county where you live. A lot of them have canvassed the local cemeteries and published books on them, which usually will be available at your local library also.
The one thing I did researching my Bullock family was pull everything on the surname in the two counties they lived in. So I had a lot of data which was my family, and found out later that the data I could not fit into the family happened to be another non-related Bullock family that my uncle had told me about.
I've picked Elisha Ping (1819-1890) and his wife, Lucretia Kuykendall as the family to focus on for this article. There was an obituary in my local paper for a Kuykendall and he was born in Decatur, Illinois, not too far from Vigo County, Indiana where Elisha and Lucretia married. I didn't have much on Elisha's family, and I have another genealogical search done on my family and that didn't have much either. I wanted to find out if the Kuykendall that passed here was related to the ones in Indiana. I had looked into this family a while back, while tracing the genealogy of Roy Martin Ping, whose name is listed on the Vietnam Wall. I've traced his family back to Robert Ping, who joined the Indiana 16th Infantry in Vigo County, Indiana. So I know that Roy Ping is a cousin, but not where he fits in the family. Elisha's son, Robert, went to the North West with him.
So let's get started. I searched www.mocavo.com, a free genealogy search engine. You can sign up for a free account, upload a gedcom (more about that later), and receive an email alert when they match information from your gedcom. So the entries I found for Elisha+Ping are shown below. The first entry shown is www.findagrave.com which even has a picture of Elisha. The second visited link has a very good sourced article of his life:
Notes: Commissioned a Lieutenant in the 30th Regiment, Indiana State Militia, Elisha Ping resigned in 1850 as a Lt. Colonel when he sold his Sugar Creek, Vigo County, farm and joined the Kuykendall brothers at Monroe, WI. The Kuykendall Company covered wagons left Monroe, WI, on 3 April 1852 for the Oregon Territory, arriving at St. Helens on 19 Oct 1852.[a] Elisha settled on the Umpqua River in Douglas County, near present day Roseburg, then moved to Linn County. In 1860, he and son-in-law George Miller moved to the Walla Walla, WA, area and became the third and fourth white families to settle in that area. They named the town Dayton. Elisha served two terms as County Commissioner (beginning 1864), three terms on the Territorial Legislature (1867, 1871, 1873) and three terms on the Dayton City Council (1875, 1877, 1883).
For forty days during the winter of 1861 the mercury was 28 degrees below zero, it snowed every day for thirty days. The snow was 32 inches deep on the level even though they did have a slight chinook. Here is an interview with George W. Miller telling of his farming operations near Dayton, Washington:
"During the season of 1861, we (We being Miller and his father-in-law, Elisha Ping) plowed up that portion of Dayton from the Chase Cabin west to Patit Creek and from that creek west to the foothills where Brooklyn now stands being something over 50 acres and farmed it two years. When harvest came the grain was cut with a turkey-wing cradle and bound and shocked. Then it was hauled from the fields and the grain tramped out by yoke of oxen which were used on the farm. Then a scoop shovel was used to throw the grain up in the air that the wind might blow the chaff out. The first crop was sold to George Ives to feed his pack train of mules during the winter of 1861-1862 for which not a cent of payment was ever made. When Ives was hung in Montana we felt avenged. My father-in-law, Elisha Ping and I both built cabins on the Patit in 1861. In the fall of 1862, I built a barn of lumber, being the first lumber structure erected in the county. The lumber was whip-sawed on the Eckler Mountain at the big spring near the Fewster Place."
Source: "Dayton's Main Street and more Newsletter" Nadine Dieringer Publisher, in 1998 received permission to print it as compiled by Mrs. Charlotte Smith and printed by the Dayton Chronicle in 1965. [http://www.rootsweb.com/~wacolumb/events.htm]
Columbia County was created on November 11, 1875, and named for the great river. The governor had vetoed a bill to create a county bearing the name of "Ping," after Elisha Ping, a member of the Territorial Council. A new bill avoiding the Governor's objections was hastily passed and approved. Among other changes was that of the name from "Ping" to Columbia. (History of Southeastern Washington, page 292.)
http://www.rootsweb.com/~wacolumb/index.html
HON. ELISHA PING. - In this kindly face we see another of the honored pioneers of the Pacific Northwest. Born in Pulaski county, Kentucky, March 13, 1819, Mr. Ping's early years were spent in the chase after the fascinating phantom of "Out West" which lured so many of our best people to these pleasant shores.
His early years were spent in Illinois and Indiana. In the latter state he was married in 1840 to Miss Lucretia Kuykendall. She died in December,1863. In 1851, Mr. Ping, with his young family, went to Wisconsin; but they still yearned for the "Westmost West," and the next year set out across the plains for Oregon.
Reaching his destination in safety, he made St. Helens his first stopping-place. After short residences in St. Helens, and in Douglas and Linn counties successively, Mr. Ping removed in 1860, to Dayton, Washington Territory. His original homestead is now part of the townsite of Dayton. That beautiful and fertile region was then part of Walla Walla county, Columbia not having yet been created. Mr. Ping served his county two terms as county commissioner, with conspicuous ability. His first term began in 1864. He was first elected to the legislature in 1867, again in 1871 and again in 1873. He was elected to the council in 1875 and also in 1877, and again to the assembly in 1883. He was a member of the first Republican convention of Washington Territory.
As a legislator, Mr. Ping was always prominent in his advocacy of measures which would conduce to the good of the people, and to the maintenance of honest government. Not less active has he been in the government of the town where his lot has been cast. He was a councilman three years, during which time the expenses of the city were reduced about half, and retired only because of his wish to cease active work.
He was married to his present wife, Sarah E. Alley, in March, 1882. Her native state is Maine.
Mr. Ping is now enjoying in his elegant home the well-won rest from his life of toil. His five children, three daughters and two sons, are all married and happily settled in life. In his foresight, enterprise and patience, Mr. Ping is one of the finest examples of the pioneers of this great northwest. He merits his success.
Source: Source: History of the Pacific Northwest, Oregon and Washington, 1889
http://www.accessgenealogy.com/scripts/data/database.cgi?file=Data&report=SingleArticle&ArticleID=0020845
15 Nov 1850 census of Sugar Creek, Vigo County, IN, found the Ping family living in dwelling #128:
Elashu Ping 31 KY Farmer
Lucretia 27 IN
Sarah 7 IN
Jemima 6 IN
John 4 IN
Robert 3 IN
3 Aug 1870 census of Walla Walla County, WA, found the Ping family living in dwelling #109. Next door in dwelling #108 was son Robert and family:
Elisha Ping 51 KY Farmer
Malinda 48 IL
Frank 14 OR
Julia 12 OR
30 June 1880 census of Dayton, Columbia County, WA, found Elisha boarding with the Sarah Tarboy family in dwelling #462:
Elisha Ping 61 KY KY TN Farmer.
This is what a source should look like. There's also a book done on the Kuykendalls published in 1919 which has one of the best first person accounts of their trip from Wisconsin to the North West Territory, which I found on Google Books. However, there is way too much to include here.
Finding Sources
So, next we go to Ancestry.com and see what's there. On the Ancestry.com site, we search Elisha Ping, born in Pulaski County, Kentucky in public family trees and we come up with the entries shown below, and probably a bunch more. I didn't look further. You'll notice that all have his birth pegged at 1819. Birth records were not recorded in Kentucky until 1916 (by state mandate). This goes for most every state in the U.S.. But there are other birth records for Pulaski County Kentucky in the late 1800's. All births after 1916 were supposed to be registered by law at the County of birth, but the registration of births was often delayed. My dad was five when his birth was recorded. Dad, his father and his uncle made a buckboard trip into town and his birth was recorded. Now remember, even though we can't see anything more than what's shown on the screen without being a paid subscriber, we know Elisha Ping's wife was Lucretia Kuykendall. So we go back and do another search for Lucretia Kuykendall with no birth date. And we have information on a few Lucretia Kuykendall's with birth years ranging from 1815 – 1822. We know she was born in Vigo County, Indiana.
So from this information, we know that Lucretia's father was Harry Kuykendall and her mother was Sarah "Sally" Smith, which is also shown in the Kuykendall book. Now here's where it gets interesting and why I say to verify sources. These records show a range of birth dates, and findagrave shows Feb. 10, 1823. So who's right and who's wrong? Looking at census data from 1850 shows Elisha as 31 (1819) and Lucretia as 27 (1823).
Since we know that this census was taken after her birthday (April) I'd say the 1823 date is correct. The book on the Kuykendalls of America shows 1822 as date, so we know where the errant data may have come from. However, I would make a note of the two dates shown, note where they came from, and the evidence I have picked that should be the correct date. I'd also email some of these researchers and ask their opinion on what I have found, and explain my opinion on why I picked a date different from what they have.
Findagrave.com is one of my favorite sites. I can search by last name, United States, pick my state and, if needed, the county I want to look at. Normally I look at all in the state by that surname, but you have the option of just searching a particular county. In the last month, they've added another 2 million names, but be aware most of the information on findagrave is canvassed and pictures taken of the graves themselves. So normally, if there is no marker, there is no entry in findagrave.
Rootsweb was taken over by Ancestry a few years ago, but it is still a free site. There was an exodus of web sites and data taken down and moved elsewhere at the time, but so far nothing contained on the site has been moved to the pay site. There is so much available on rootsweb we could do half an article on what's there. The one thing missing for the time being is the SSDI (Social Security Death Index). It's been taken off-line and is only available for the time being on Ancestry's site. There has been a petition circulating on the internet to bring back that information source.
One of my most used sections is the family trees. Whenever I'm searching for information, it's the first place I go to see if anyone's posted their genealogy.
My next most used section would be the email lists. I'm subscribed to so many lists, I don't have a count. To make matters worse in searching for family information, I'll subscribe to a list after searching the surname I'm working on, post a question to the list and, even if I don't find anyone researching that branch or get my question answered, I'll still stay subscribed to the list. If later someone can answer the question I have, they can post to the list and I'll get that as an email, instead of having to remember I posted there and to go back and check to see if anyone has answered. There are lists for surnames, which I'm only subscribed to a few. There are lists for states, which are broken down to the county level. This is what I'm subbed to.
There are lists for Wales, though to post to a few of them you have to speak/write in Welsh. I also do genealogy in the U.K., in Shropshire and some of the surrounding counties, and I'm subbed to quite a few lists for those areas. For me, since I'm internet challenged, and I only get an hour or two every day, I don't use the online message boards too often. They generally are not being used as much as they have been in the past.
Under Getting Started, you can take a tour of rootsweb, and take a look at all they offer. This is a screenshot (below) of the family trees section. As you can see, there are a bunch of people researching Elisha Ping. You can also see some have the spouses reversed. Some have Sarah E. Alley and some have Sarah E. Tarbox. Sarah E. Alley's married name was Tarbox. The reversing of spouses could be because they found them in the wrong order, and their genealogy program can't re-order them like GRAMPS and most other programs can.
Some are still clinging to programs they've used for years, I've used PAF since about 1985 or so. But with GRAMPS, I've found a new program I like. That's saying a bunch, as every couple of years I have looked. I'd download a few of the free programs and enter some data in one database and import my genealogy into another database, just to see how they worked. Normally gedcom importing was exceedingly SLOW!
Speaking of gedcoms, I said I'd explain them later, so I might as well do it now. A gedcom is a text file saved in a specific format to be able to transfer genealogical data from one person to another or one program to another. There have been standards for the gedcom format forever, and there was an article in Dick Eastman's newsletter from a couple of months back, which I've not gotten around to reading yet.
Since I've mentioned Dick Eastmans's newsletter, I will say it is one of the longest running genealogy newsletters, and the only one I subscribe to. It is cutting edge, informative and even covers Linux every once in awhile. Want to know how to build your own high speed book scanner? They covered it. Want a hand-held page scanner? Again, covered. Both paid and free subscriptions are available. I'll be the first to admit that not all subjects covered in the newsletter appeal to me, but there's always tomorrow. Also, I need to mention that it comes out almost every day. There was an article in the newsletter a while back on deceased country singer Johnny Cash's family. According to the article, all Cash in America are related, and originally came from Fife, Scotland. I have Cash in my line, but so far, I have not done much about it, as this is probably going to turn into a year long plus project.
Facebook has just made finding all things genealogical easier, since you can search genealogy and find all kinds of entries. One that I used to use that is only on Facebook now is Random Acts of Genealogical Kindness (RAOGK). There is data I've found there that I would not have found anywhere else. When you're living in Illinois, have no way of traveling and no money to order records from another state, this website has been very helpful. They have volunteers almost everywhere.
You could email a person in a specific place who would look up a record you'd like to see and email it to you. I needed a marriage license in Clark County, Nevada, about a cousin who got divorced and re-married the same day. It took a week before the person had enough lookup's to go to the courthouse, but I have a digital copy of his marriage. I had originally found the divorce and marriage on Ancestry. There are numerous family members with that name and I wanted to know which one it was.
Sadly, RAOGK lost their server on October 18 of last year, and Bridgett Schneider was in bad health. She has since passed, and her husband has said that the server will be back. For the present time they can be found on Facebook.
Online message boards or forums are helpful, too. The three best are on Ancestry.com, Rootsweb and www.genforum.com. Searching for 'genealogy forum' on the internet, you will find numerous forums, but these are the big three. The nice part about Ancestry.com is even if you don't have a paid account, you can post to the forum, and they do offer some things free. The 1930 census was free for about a week. Most forums do not have the amount of posts they used to have. It's like the lists - they are under-utilized or scanned for information and not posted to.
I myself might be a little guilty of scanning. I find little snips of information I don't have on families and go from there. But in my own defense I do have a website and I do publish my genealogy on the site. So I'm sharing my information no matter where it came from.
Speaking of the genealogy, when I posted mine online I think there were around 2300 records, there are now over 20,000 records! I hate to admit, there was one person who added a lot of it and at the time I took his word on the entries, as I didn't have access to Ancestry. I'm now going through a lot of it, and sometimes I find a mistake, which is one of the reasons I really stress sourcing your data.
Let's Visit GRAMPS
Now let's get on to entering your data. Two files that need to be loaded in synaptic are pygoo and graphviz. I'm not too sure about the first but sure about the second one. Start Gramps and you will see this screen (below).
Click "New" and enter whatever you'd like your database name to be. I've picked Working for this database name. Then click on the line of the database to save it then load the database. Next, click on people, and then click on Edit, then add (or CTL+INSERT). After entering yourself (always enter yourself first, as you will be the home person), you'll see in the line below events, names, sources, etc. Click on the + sign and add events. Since it's yourself, add your birthdate. Before or after entering your birth date click on Edit, and Preferences and click on Display. Go down to the date format and change to day/month/year or however you want it. It will not go into effect till you close the program and restart.
After editing your information, go to Source tab (at left) and click on the + sign. Then click on the Notes tab, click on the + again, and enter your source(s) of your birth (birth certificate). You could also change the confidence level to high, since you're using a reliable source. The one thing I'd like to see would be a citation for internet sources along with a book source, but as far as I know there are no programs that have those type of sources yet.
After entering yourself, you can enter your spouse. I've kept both my mother's and my wife's genealogy separate. It is your choice here. At one time I had my wife's and my genealogy together, but I thought it would be better separated. I've mulled this option of adding them both back in, but I still like them separated. After entering your spouse's information, you can add your marriage information and children.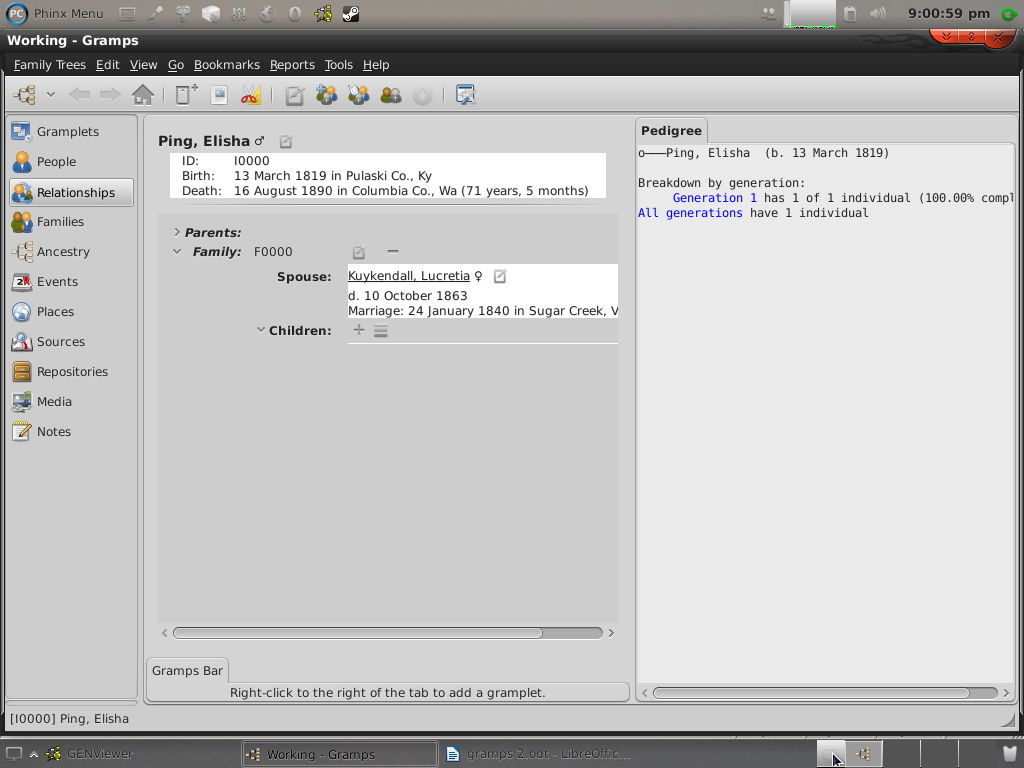 Here we have Elisha Ping and wife Lucretia Kuykendall entered in the database. Now would be the time to enter all of their children. If you make a mistake in entering the children in order, that's not a problem. You can go back and re-order both children and spouses if you happen to get them out of order. Most genealogy programs will let you do this, but there are some that won't let you re-order any records. You see I have a pedigree section on the right. This is a Gramps bar, and you can add this pedigree chart by right clicking on the tab and choosing to add a Gramplet. There are a bunch of them to choose from, and I like having a pedigree chart on the right, as it makes navigating your genealogy much easier.
Here is a screenshot of my database at Elisha Ping. I'd always used at least two genealogy programs, one to enter data into, one showing the data that needed to be entered and gedviewer to search my own data and make sure that I was not entering more data than needed to be entered. There is so much overlapping information in my data that sometimes I already have most of the information, but not all of the family information entered.
Next month we'll go into a little more data entry and looking at census records, marriage information and a few more websites.