by daiashi
About The Game
WANTED: Able-bodied recruits to fill a number of sudden... vacancies in the 153rd tiny tank battalion. Only the finest, bravest and buffest need apply. In return, we offer all the honour and glory you can eat, and a tiny, little tank of your very own. Join the fray in Tank Riders, a 3D tank battle game, which combines vibrant, colourful graphics, fast-paced action and exploration to create a package that will charm everyone -- from hard core gamers to wet-eared newbies. Attack hordes of oncoming baddies with an arsenal of cannons, missiles and mortars! Bounce shots off walls to hit lurking enemies before they have a chance to attack! Blast through walls and charge ahead, or find hidden paths to sneak up on enemies unawares!
I wasn't to sure whether to do a game review on something that runs in a browser. However, since it is available in the Chrome web store, and it can be played offline as well as online, I thought what the heck. If you were like me and grew up during the Atari 2600 years and remember Tank, Tank Riders will be a fresh take on the original. It is best played from a keyboard and mouse, since aiming seems to be a bit quirky. There is single player mode, as well as multiplayer. The games graphics look surprisingly good, and performance seems just as good as any install-to-play game out there in its genre. If you want a decent game and have some spare time, give this one a try.
System requirements:
Fully updated PCLinuxOS.
Hardware:
No real system specs that I could find - however, I am running it on a dual core Celeron 1.4 and 2 gigs of DDR3 and it's very smooth.
About The Company
Polarbit is an independent developer and publisher of video games and game development technology.
Founded in 2005, Polarbit have developed or published more than 30 titles for smartphones, Mac/PC and consoles. Notable titles include Raging Thunder 2, the Reckless Racing series, Crash Bandicoot Nitro Kart 2 and MLB World Series 2010.
A total of more than 80 million downloads of Polarbit developed and published titles stand as testament to their experience, dedication and uncompromising attitude towards quality.
Some Gameplay Screenshots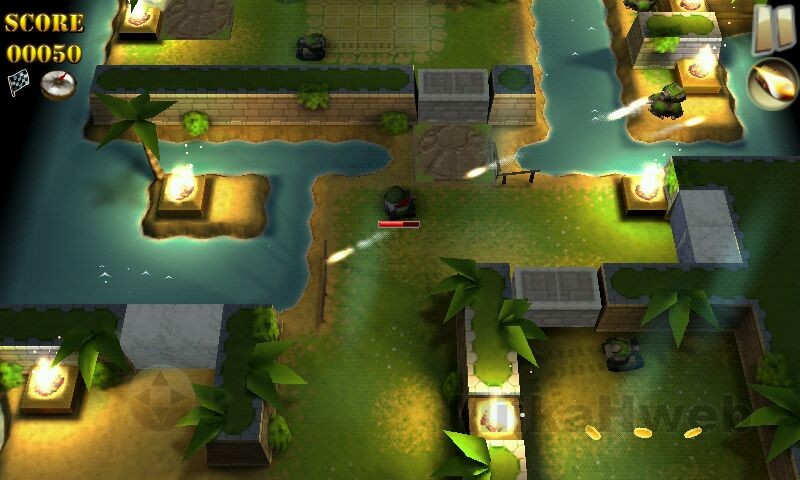 Getting It To Run
Fire up your browser and head to the Chrome web store and search for Tank Riders. Add it, and you should be good to go.