by Paul Arnote (parnote)
One of the things "we" (my wife and I) wanted for Christmas was the Google Chromecast. If you're not familiar with it, it's a device that plugs into an HDMI port on your TV. With it plugged into your TV, you can "cast" any tab from the Google Chrome browser to your TV, in high definition. Instead of getting it for Christmas, we ordered it from Amazon after Christmas, using an Amazon gift card a friend of ours gave us for a Christmas present.
The Chromecast appliance (for sake of a better word) costs $35 (U.S.). It comes with an HDMI extension cord and an AC adapter. It connects to your 802.11 b/g/n network. Currently, it "officially" supports playback from YouTube, Netflix, HuluPlus, Pandora, Google Play, Plex, VUDU and a whole host of other content providers.
Once you have the Chromecast attached to your TV, you are instructed to travel over to http://chromecast/setup. When you get there, you are going to see something that might discourage or deter a less tech savvy user.
Thankfully, you can set up Chromecast with your smartphone or tablet. On your portable device, install the Chromecast app. Don't worry. The app will be useful, allowing you to stream content from your portable device to your TV, via the Chromecast. You can also use the app on your tablet or smartphone to personalize the background images that Chromecast displays on your TV when it's not streaming content.
As a side note, I'd like to mention something, and it's directed squarely at Google. Thanks a million Google, for leaving Linux users out in the cold. You use Linux to run virtually your entire business, and even base your Android OS on the Linux kernel. It really wouldn't hurt you to give a little bit back to the Linux community by at least supporting the same OS that you use to profit so much from. But that's OK. Us Linux users are used to adapting and overcoming these kind of obstacles, even if it means doing the initial setup from an alternate platform.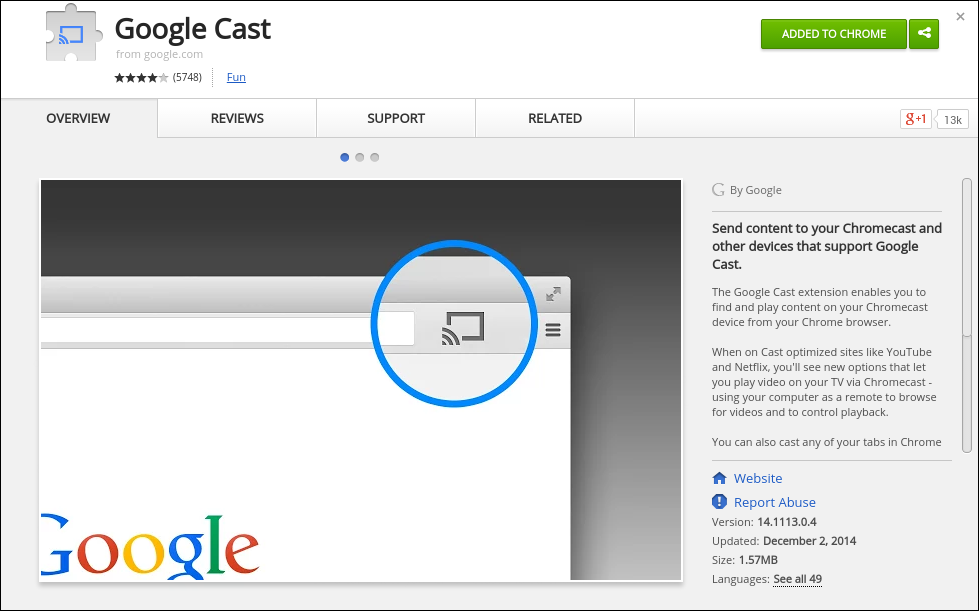 Next, you need to download the Google Cast plugin for the Google Chrome browser, which does work under PCLinuxOS. Firefox will not work with the Chromecast device, and I could find no plugins available to make it work. There are reports of Chromecast working with the beta version of Opera, via a special Opera plugin. Chromecast also works well with the Chromium browser. Most other browsers are "out in the cold" at this time, or so it would appear.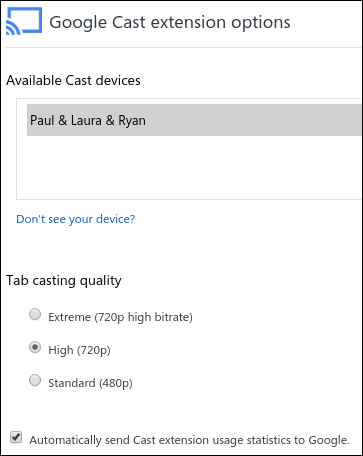 The above screenshot shows the settings for the Google Cast plugin. During the setup procedure, you can give your Chromecast device a unique name. Connect your Chromecast to your home wifi network by selecting your network, then providing your wifi password. The entire process takes less than five minutes to complete. We named our Chromecast "Paul & Laura & Ryan."
There are two ways to broadcast from your computer to your Chromecast, using the Google Cast plugin. First, you can "cast" the contents of any tab in Google Chrome to your Chromecast. Select "Cast this tab" button from the window for Google Cast. Playing the video "full screen" within the tab will maximize the size of the video on your TV.
The other way is to click on the "Cast" button under the video on content providers who support Chromecast. In the image above, from YouTube, the "Cast" button has been added to the far right side of the playback controls.

If you find that Google Cast is hesitant to send a video to your TV via Chromecast, there is the PlayTo for Chromecast plugin. This Google Chrome browser plugin will automatically detect videos on an open tab in Google Chrome and offer to send the video to your TV.

Increasingly, Chromecast is becoming the industry standard. A lot of that is due to its very attractive price. Although it is limited to streaming a 720p picture, that level of resolution looks excellent on my HDTV. VLC is working on adding Chromecast support, although no timeframe has been offered for when it might appear. All the developers say is that they are working on it. Popcorn Time, the program that streams torrents to your desktop, has added Chromecast support to the latest releases of their program.

Expect Chromecast to receive some significant competition. There is a Kickstarter campaign to build a new device called Matchstick. You can also learn even more here. It will be powered by the Firefox OS, and is expected to sell for $18 (U.S.). Matchstick is an open source platform, and they have opened up a full developer site for those working on building apps for the new platform. Amazon has already come to market with their $39 (U.S.) Fire TV Stick, which was advertised heavily (in the U.S.) in the days leading up to the Christmas holiday. There are also a whole host of cheap Chinese import devices, from which you will receive widely varying results, according to the reviews I've read. The old adages "buyer beware" and "you get what you pay for" should be heeded when buying one of these latter devices.

Recently, there was a thread in the PCLinuxOS forum about how to save money in the new year. It centered around "cutting the cord" for cable TV, and replacing cable TV with over the air HD broadcasts and streaming media. With the increasing adoption of high speed internet connections, more and more people are doing exactly that. Chromecast definitely makes "cutting the cord" much easier.