by Paul Arnote (parnote)
There could be many reasons services like Hulu and Netflix aren't for you. Some of you might not be able to afford to subscribe to a monthly service. Others of you might not want to support a service (or services) that has (have) a long history of ignoring Linux users. Still others of you might not want to support commercial endeavors, propping up the financial coffers of already wealthy corporations. I'm sure there are just as many other reasons as there are users who choose to forgo these subscription services.

Then, along comes TubiTV. Headquartered in San Francisco, CA, USA, they offer thousands and thousands of movies, documentaries and TV shows to stream over your connected devices and computers. The selection is always being updated, with some items being taken away after a while and new items added all the time. Here's the BEST thing about TubiTV: IT'S TOTALLY FREE!
Yes, you will still have to register at TubiTV, but registration is free. Once registered, you can stream content to your heart's content -- as much or as little as you want.
Here's a little more about TubiTV, from the TubiTV "About Us" page:
Who we are
Tubi TV is all about delivering the best streaming entertainment experience, with the largest curated library of movies and TV shows, all for free. We believe that sometimes, the best things in life ARE free, especially when it's awesome entertainment. Tubi TV has the best mix of popular and iconic entertainment that can be enjoyed wherever you want. We have a ton of Not On Netflix content and a whole bunch of other categories, you really have to check them out, and we update them weekly. We may be free, but we're feeling good that you'll be impressed.
Our Team
The Tubi TV cast is full of passionate people who love entertainment, and entertaining each other. In between bouts of movie trivia and debates on "what qualifies as a classic movie", Team Tubi TV is working hard to bring the best entertainment to you, all for free. As long as movies and TV shows are still being made, our job is never done. And we LOVE it!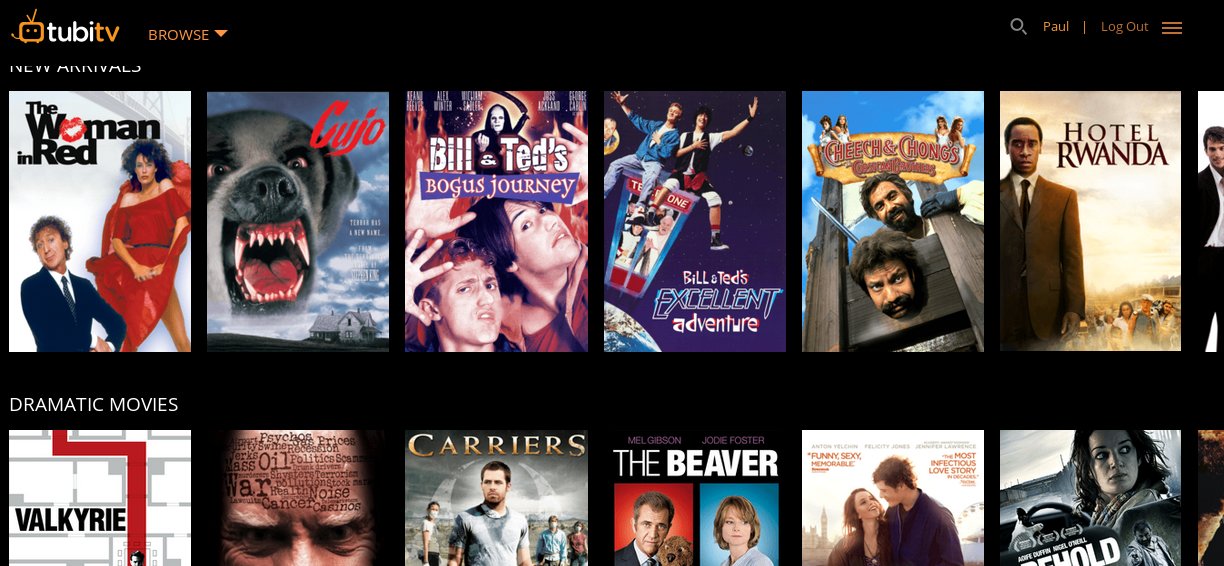 The "browse" screen looks an awful lot like the similarly named page in Netflix. While they may not necessarily be the most current offerings, I'm sure that everyone will find something that they've been meaning to watch, but -- for one reason or another -- have been putting off and never gotten around to watching. I'm also certain that many users will find items they've watched before, and wouldn't mind watching again.
The category screen (above) should give you a good idea of the wide variety of categories that TubiTV offers up for your viewing pleasure.
"Death Wish 2," starring Charles Bronson (right), playing in Firefox.
You can select a video streaming bitrate that works best with your available bandwidth. I can attest that even the slower bitrates display well, with little noticeable loss of quality. Clicking on the "HD" icon on the video playback bar will allow you to select the video bitrate to use. The above image was taken while TubiTV was streaming content to my laptop at a slightly less than "medium" bitrate, and the image was still quite good and sharp.
When you're streaming from TubiTV, you will have to turn off any ad blocking software. TubiTV simply refuses to play any movies until and unless such add-ons are disabled. I use AdBlock Plus. You can just turn off AdBlock Plus on the TubiTV website, leaving AdBlock Plus on for the other sites you may have open in other tabs. Being a free service, TubiTV is supported by the occasional advertisement. However, the ads are infrequent and brief. They are certainly far less frequent and lengthy as the typical commercial breaks in American TV.
If you're using Google Chrome as your web browser, and you happen to posses a ChromeCast, you could also stream the content from your computer to your ChromeCast. Then, you can watch your selections on your TV, rather than your computer monitor. You can probably also get similar results from other competing "cast" devices.
Summary
With a fairly decent selection, TubiTV is worth taking a look at. Without a doubt, the price can't be beat. TubiTV may not offer up the most current movies and TV shows, you really don't expect such a quality lineup for free. What do you have to lose (except some time when you find something to watch)? Who knows ... sometimes the best things in life ARE free.