Skillet Chicken with Orzo and Olives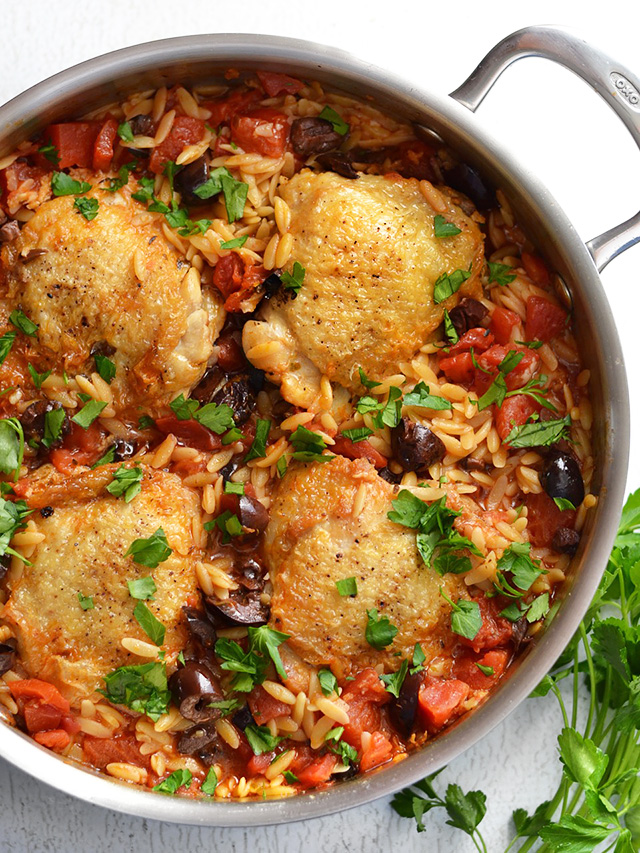 Ingredients:
4 chicken thighs (bone-in, skin on)
Pinch of salt and pepper
1 Tbsp olive oil
4 cloves garlic, minced
15 oz. can diced tomatoes
1/3 cup pitted kalamata olives
1/2 tsp dried oregano
2 cups chicken broth
1.5 cups uncooked orzo
1/4 bunch parsley (optional)
Instructions:
Pat the chicken thighs dry with a paper towel, then sprinkle both sides with a pinch of salt and pepper. Heat the olive oil in a large, deep skillet over medium heat. Once the oil is hot and shimmering, add the chicken thighs with the skin side down. Cook the chicken thighs on each side until golden brown (about 5-7 minutes each side), then remove to a clean plate.
Pour off the excess fat from the skillet, leaving just enough to sauté the garlic. Turn the heat down to medium-low, add the minced garlic, and sauté for about one minute, or just until the garlic is soft and very fragrant.
Add the diced tomatoes (with juices), oregano, and some freshly cracked pepper. Stir the tomatoes, herbs, and olives to combine and allow the juices from the tomatoes to dissolve any browned bits from the bottom of the pan. Roughly chop the kalamata olives, and add them to the skillet.
Add the chicken broth and orzo to the skillet, and stir to combine. Nestle the browned chicken thighs down into the skillet, place a lid on the skillet and turn the heat up to medium-high. Allow the skillet to come to a boil, then turn the heat down to low, or the lowest temperature needed to maintain a gentle simmer. Let the skillet simmer for 15 minutes with the lid in place.
Turn the heat off and let the skillet rest for 5 minutes. The tomatoes and olives will have risen to the top, so use a fork to gently stir or fluff the orzo, tomatoes, and olives back together. The orzo should be tender and slightly saucy. Pull the parsley leaves from the stems, roughly chop them, and sprinkle over top.
Notes:
*I used garlic and onion flavored diced tomatoes, but regular diced tomatoes will work as well.
**I use Better Than Bouillon concentrate to make my broth. One tsp Better Than Bouillon + 1 cup water = 1 cup broth.