by Paul Arnote [parnote]
In last month's magazine issue, I told you about YouTube's "new" Free With Ads movies. Well, they aren't the only ones around. Vudu has also added a LOT of "Free With Ads" movies to their website.
Vudu, based in Santa Clara, CA (USA), was started in 2007. They sold set-top boxes dedicated to their service, offering on-demand streaming of over 5,000 movies. In 2008, they started selling their set-top boxes in Best Buy stores. The second day of the 2010 Consumer Electronics Show, Vudu announced that it was no longer shipping its set-top boxes, and instead would partner with select HDTV and Blu-ray player manufacturers to access its service. Their main market is the U.S. and Canada. One month later, in February 2010, Vudu was purchased by Walmart for a reported $100 million (U.S.).
Users in the EU will be unable to access Vudu, thanks to the GDPR. That is, unless you are in the EU and you use a VPN server that is based in the U.S. or Canada to connect to the service.
Just like with YouTube, you can watch movies on a pay-per-view basis, and there is a very large selection to choose from. You will need to setup an account with Vudu, which is free. You will also be asked to provide credit card information (for your future purchases), but there is an option to "do it later" if you don't want to provide credit card information. I successfully "skipped" this step by opting to "do it later," since I was only interested in the free content.
Firefox users will be disheartened to learn that I was unable to playback movies on Firefox (and in all honesty, my preferred browser). The Vudu site works just fine, up until you go to playback a movie. I didn't dig too deep into it, but changing my user-agent didn't change anything regarding Firefox's ability to playback movie selections. So, it could have been a plugin/add-on I have in Firefox (or don't have) that impaired its ability to playback movie selections. But, I didn't dig deep enough into the issue to be able to say with any degree of certainty that was happening.
So, I tried the Vudu service in the Google Chrome browser, where everything worked perfectly and as it should. Playback was effortless and easy. Since I really don't use Google Chrome unless I'm faced with a situation like this, my copy of Google Chrome is devoid of any add-ons (honestly, I never took the time to set them up, or I would, minimally, have ad blockers and other assorted add-ons installed).
My five year old son, Ryan, loves the old Gumby shows. So, he was happy when I played The Gumby Movie (1995) for him, which was a "free with ads" selection (image above from near the end of the movie). The movies have options for SD (Standard Definition: 480i or 480p) or HDX (High Definition: 1080i or 1080p). For whatever reason, the HDX option would not play on my computer, but the SD version played just fine. The image was sharp, crisp and clear. To be honest, he watched a lot more of it than I did, but I didn't notice any ads displayed during the playback of the movie. There was a 20 or 30 second ad prior to the playback of the movie, but just a few hours after the playback of the movie, I can't even begin to tell you who sponsored the ad or what it was about.
Vudu definitely has YouTube beat when it comes to the sheer numbers of movies that it offers under the "Free With Ads" option. YouTube just started their service in October with 100 top tier movies. I didn't count the number of "Free With Ads" movies on Vudu, but it was WAY more than 100 top tier movies. Of course, as I disclosed in the December YouTube article, there are even more "B" movies on YouTube that you can view in their entirety, without any kind of ad interruptions.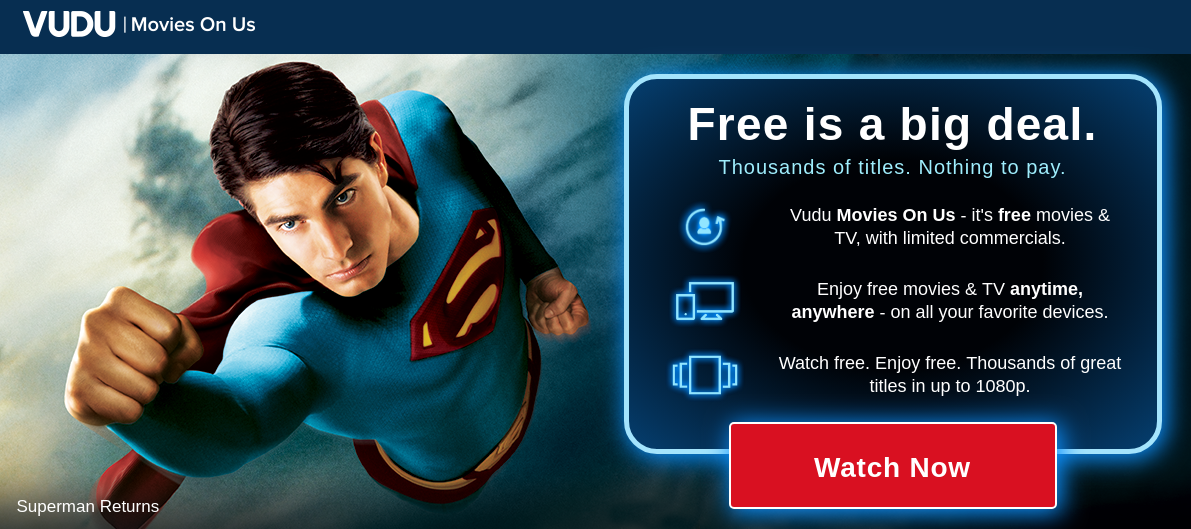 Vudu calls their "Free With Ads" service "Movies On Us," which was launched in 2016. This means that Vudu launched their "Free With Ads" service a full two years before YouTube. With Vudu not being a site I would ordinarily use or travel to, it's no wonder that their "Movies On Us" free service flew under my radar. Their "Movies On Us" service is a true cross-platform service, available on most computer and mobile platforms.
Linux users are accustomed to having plenty of choices. It's choices like this, coupled with "competition" among streaming services (discounting Hulu getting rid of their free, ad supported service in 2016), that make "cutting the cord" from cable and satellite programming services possible and feasible.
For what it's worth, the "free" Hulu service has been replaced with Yahoo! View, which allows you to view the last four episodes of popular shows on U.S. broadcast TV (ABC, CBS, NBC, Fox, etc.). Since I rarely (if ever) watch the programming from the major U.S. broadcasters, I can't find anything of interest there that appeals to mine or my family's viewing habits. They also offer some "movies" that you can stream on Yahoo! View. But, when I pulled up the list of free movies on Yahoo! View, there wasn't a single movie listed that I had heard of or recognized. I had better luck with the "B" movies on YouTube. At least I had heard of some of them, and even recognized a few of them. But, if the programming fare of U.S. broadcasters is your cup of tea, Yahoo! View might be of interest, especially if you missed an episode from the last week or two.
So, happy viewing. It's nice to know that there are plenty of choices out there.