Italian Sausage with Tomatoes and Penne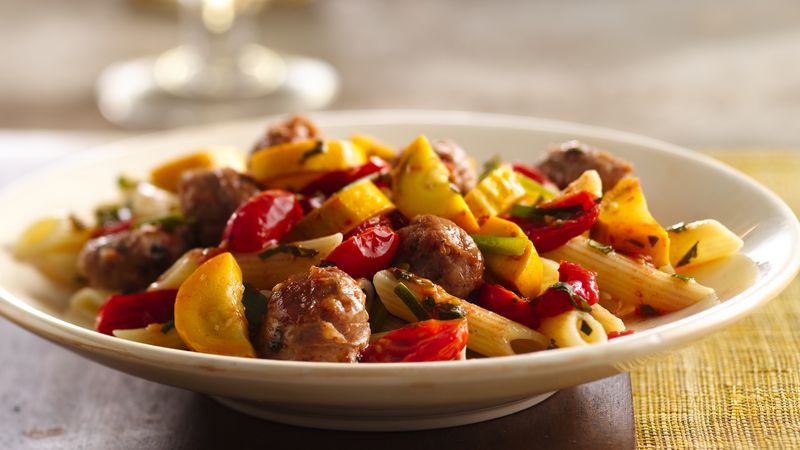 Ingredients
3 cups uncooked penne pasta (9 ounces)
1 pound uncooked Italian sausage links
1/2 cup beef flavored broth (from 32-ounce carton)
1 medium yellow summer squash, cut lengthwise in half, then cut crosswise into 1/4-inch slices
2 cups grape or cherry tomatoes, cut lengthwise in half
1/4 cup chopped fresh or 1 tablespoon dried basil leaves
6 green onions, cut into 1/2-inch pieces (1/2 cup)
2 tablespoons olive or vegetable oil
Directions
1. Cook and drain pasta as directed on package.
2. Meanwhile, cut sausage crosswise into 1/4-inch slices. Spray 12-inch nonstick skillet with cooking spray; heat over medium-high heat. Add sausage; stir-fry 4 to 6 minutes or until brown. Stir in broth. Cover and cook over medium heat 5 minutes.
3. Stir in squash, tomatoes and 2 tablespoons of the basil. Heat to boiling; reduce heat. Cover and simmer 5 minutes, stirring occasionally. Stir in onions. Simmer uncovered 1 minute.
4. Toss pasta, oil and remaining 2 tablespoons basil. Divide pasta among bowls. Top with sausage mixture.
Tips:
One pound fully cooked mild Italian sausages can be used for the uncooked links.
Cut meat and vegetables into pieces of uniform size to ensure even cooking. Meat and poultry will be easier to slice if you freeze them slightly before cutting.
Shave fresh Parmesan cheese over this Italian bowl.