Teriyaki Chicken Meatballs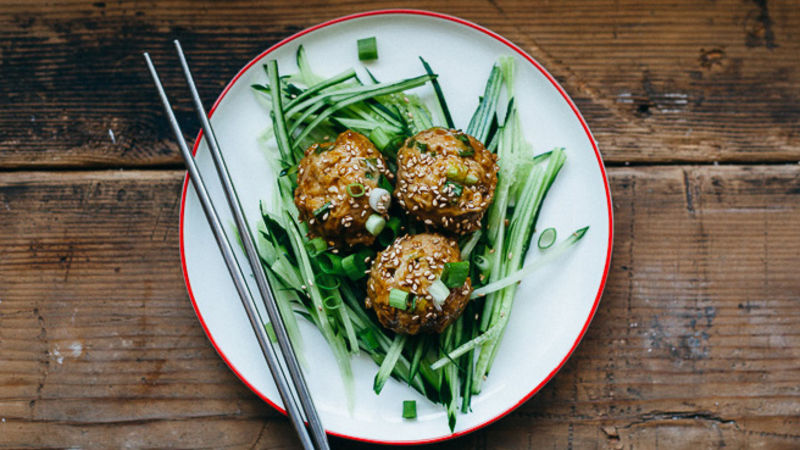 Ingredients:
Meatballs
1 lb ground chicken
1/4 cup panko crispy bread crumbs
1 large egg yolk
2 stalks green onions, finely chopped, plus more for garnish
1 teaspoon sugar
2 teaspoons rice vinegar
2 teaspoons soy sauce
2 cloves garlic, finely chopped
1 teaspoon finely chopped ginger root
Black pepper, to taste
Crushed red pepper, to taste
Sauce
1 cup water
1/4 cup soy sauce
3 tablespoons packed brown sugar
2 tablespoons honey
2 teaspoons sesame oil
2 teaspoons rice vinegar
2 cloves garlic, finely chopped
1 teaspoon finely chopped ginger root
2 teaspoons cornstarch
Serve With Toasted sesame seed, if desired
Soba noodles, rice noodles, cucumber noodles, or rice
Directions:
1. Heat oven to 400F. Line rimmed cookie sheet or casserole dish with cooking parchment paper.

2. In large bowl, mix Meatball ingredients. Scoop out 2-tablespoon-size balls of the mixture, and place on cookie sheet 1 to 2 inches apart.

3. Bake 20 to 25 minutes or until cooked through and slightly browned on top.

4. In 4-quart saucepan, beat all of the Sauce ingredients except for 1/4 cup of the water and the cornstarch, using a whisk. Heat to a simmer over medium heat. In a small bowl, beat together remaining 1/4 cup water and the cornstarch with whisk. When sauce reaches a simmer, drizzle in the cornstarch mixture while beating. Beat until the sauce thickens.

5. If you plan to eat them right away, place cooked meatballs in sauce, and turn them to coat. Sprinkle with green onions and toasted sesame seed, and serve with noodles or rice. If you're wanting to freeze and enjoy later, store meatballs and sauce in separate containers in the freezer up to three months. Thaw in the refrigerator the night before, and reheat everything on the stove before serving.
Expert Tips
These also make great party appetizers! Stick a toothpick in each one for easy snacking, and serve the sauce on the side, or drizzle it over the top.

Try enjoying these on little rolls for meatball sliders!