Grilled Italian Chicken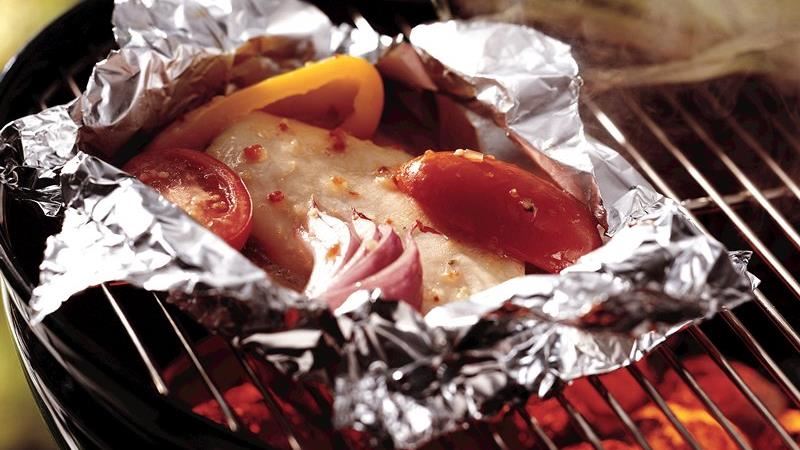 Ingredients:
4 boneless skinless chicken breasts (about 1 1/4 lb)
1 medium yellow bell pepper, cut into 4 wedges
4 plum (Roma) tomatoes, cut in half
1 small red onion, cut into 8 wedges
1/2 cup reduced-fat Italian dressing
Directions:

1. Heat gas or charcoal grill. Cut 4 (18x12-inch) sheets of heavy-duty foil. Place 1 chicken breast, 1 bell pepper wedge, 2 tomato halves and 2 onion wedges on center of each sheet. Pour 2 tablespoons of the Italian dressing over chicken and vegetable mixture on each packet.

2. For each packet, bring up 2 sides of foil over chicken and vegetables so edges meet. Seal edges, making tight 1/2-inch fold; fold again, allowing space for heat circulation and expansion. Fold other sides to seal.

3. Place packets on grill over medium heat. Cover grill; cook 18 to 22 minutes, rotating packets 1/2 turn after 10 minutes, until juice of chicken is clear when center of thickest part is cut (170F). Place packets on plates. Cut large X across tops of packets; carefully fold back foil.

Serves 4
Options:

Individual grill packets are super quick to assemble and very easy to pop on the grill for cooking. For a "no-dishwashing-required" meal, serve the packets on sturdy disposable plates.

Serve these easy packets with a crisp green salad and cantaloupe wedges.