by Meemaw
I had just a few more features I wanted to cover, from Inkscape 1.0. The release notes are here.
Trace Bitmap
A new dialog for vectorizing images is now available from Path > Trace Bitmap. It has the previously separate Trace pixelart and also a tab for centerline tracing.
Fonts
Load additional fonts
Inkscape can now load fonts that are not installed on the system. Inkscape has always loaded additional fonts from its own share folder (in PCLinuxOS it's user/share/inkscape/fonts) and the user's configuration folder (~/.config/inkscape/fonts). Now you can set other folders in Preferences (see Tools > Text > Additional font directories). This is good if you don't want to install every single font to your system. You can just put them in another folder (~/Fonts or something similar) and add that folder in your Inkscape preferences.
Saving the current file as a template
A new entry for saving the current file as a template has been added to the File menu. You need to specify a name for it, and optionally, you can add the template's author, a description and some keywords. A checkbox allows you to set the new template as the default template.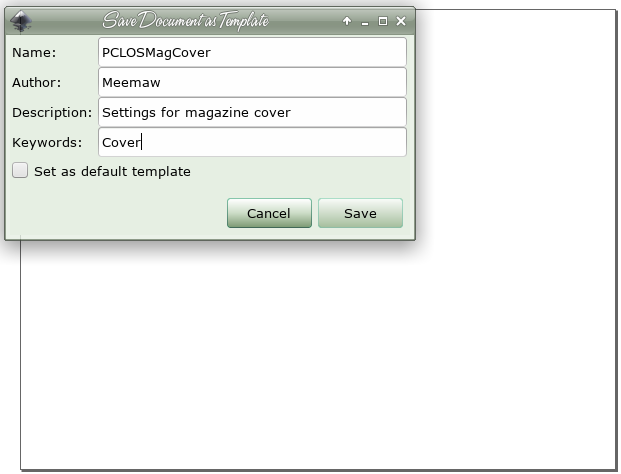 Above, I saved the settings I always change to in Inkscape when I'm working on a cover. I also checked the box to make it the default template so it opens when I create a new document. If you have designed a postcard and the basic settings for all your postcards are the same, you could save it as a postcard template.
Eraser
I don't have a drawing tablet, but I know that many do, so I thought I'd include this.
Added option to control eraser width with a pressure sensitive input device.
Added thinning, caps, and tremor options (as used for calligraphy tool).
New option to erase as clip, which allows the User to non-destructively erase parts of various types of elements, including raster images and clones.
Also, from the Release Notes:
"Custom Icon Sets
Icon sets no longer consist of a single file containing all icons. Instead each icon is allocated its own file. The directory structure must follow the standard structure for Gnome icons.
If you would like to create or convert your own icon set to the new format, please compare the 'hicolor' and 'Tango' icon theme folders, in your Inkscape installation's 'share' directory for suitable examples and check out our guide to making a new multicolor icon theme.
As a side effect of a bug fix to the icon preview dialog, custom UI icon SVG files need to be updated to have their background color alpha channel set to 0 so that they display correctly (see Issue #1661989 (lp))."
Inkscape just gets better and better!